Louise Hendon is the co-founder of Paleo Flourish Magazine – a site that focuses on providing effective and practical advice on health and weight-loss as well Paleo and AIP-friendly recipes to the world. Louise has suffered from an autoimmune condition (angioedema), but through eating better, sleeping more, and de-stressing, she is now completely off all medications and hasn't had any symptoms for over 1 year. To help other people with autoimmune conditions, she authored the cookbook, The Essential AIP Cookbook. Here's Louise introducing one of her favorite recipes from that cookbook, Apple Cauliflower Porridge.
---
One of the things I find hardest on AIP is finding breakfast food! While I'm fine eating leftovers for breakfast, I have to admit it's not what I'm used to.
The Autoimmune Protocol E-Book!
One of my FAVORITE books I used to start the transition to AIP!!! It's so helpful! I printed mine out and spiral bound it. Thank you for this! -Rita Davidson
The Autoimmune Protocol e-book is your up-to-date guide to jump-start your healing with the AIP today.
3oo+ pages of quick-access information on the AIP

4 weeks of meal plans with shopping lists

over 80 family-friendly recipes, all 100% AIP!
Get instant digital access for $19.99
Growing up with Asian parents, we often had eggs with rice porridge in the mornings, or else it was a glass of milk with boiled eggs. Then when I started college in the UK, I loved my big English breakfast (bacon, eggs, tomatoes, and baked beans). Most things I grew up eating for breakfast weren't that bad on the grand scale of things, but they were definitely not AIP-friendly.
So, when I was creating my AIP cookbook, I decided to make sure there were some "normal" breakfast recipes to help others transition more easily.
This apple cauliflower recipe is very easy to make – it takes just 10 minutes. So, even if you're in a rush in the mornings, it's still doable.
Part of the reason why this recipe is so quick to make is because you can steam cauliflower in the microwave in just a few minutes. Having gotten my bachelor's and master's degrees in physics, I still trust in good science and logic. And that's why I agree with Sarah's well-researched article about the safety of microwaves. Microwaves can make your life a lot easier, and this is especially the case when you're spending a lot of your energy trying to heal your body.
And to illustrate just how easy this recipe is, I've take a few photos below of the very few steps involved in this recipe!
The Gut Health Guidebook!
The depth of information, practical tips, and the accessible way Dr. Sarah shows me how to apply complex science to improve my health is truly remarkable. -Wendy
The Gut Health Guidebook is the culmination of 6 years of research. This unprecedented deep dive into the gut microbiome delivers:
A new diet for gut health, built from the ground up

Essential gut microbiome superfoods

20 Keys to gut health
Get instant digital access for $27.99
Prep Time: 10 minutes
Cook Time: 0 minutes
Serves: 2
Ingredients:
Instructions:
Steam the cauliflower florets (or microwave it with some water in a bowl) to soften it.
Place the apple, cauliflower, cinnamon, and coconut milk/water into a blender.
Blend well and serve.
STEP 1: Steam the cauliflower (using a microwave or otherwise) and place into a blender with all the other ingredients.
STEP 2: Blend really well.
*NEW* The Gut Health Cookbook!
The Gut Health Cookbook is fantastic! Thank you for researching and creating The Gut Health Cookbook! Such wonderful recipes! I'm so excited to try them all! -Sue
The Gut Health Cookbook puts the 20 Keys to Gut Health into practice with:
180+ recipes featuring 61 gut health superfoods

Gut health food lists

Why's behind each gut health superfood
Get instant digital access for $27.99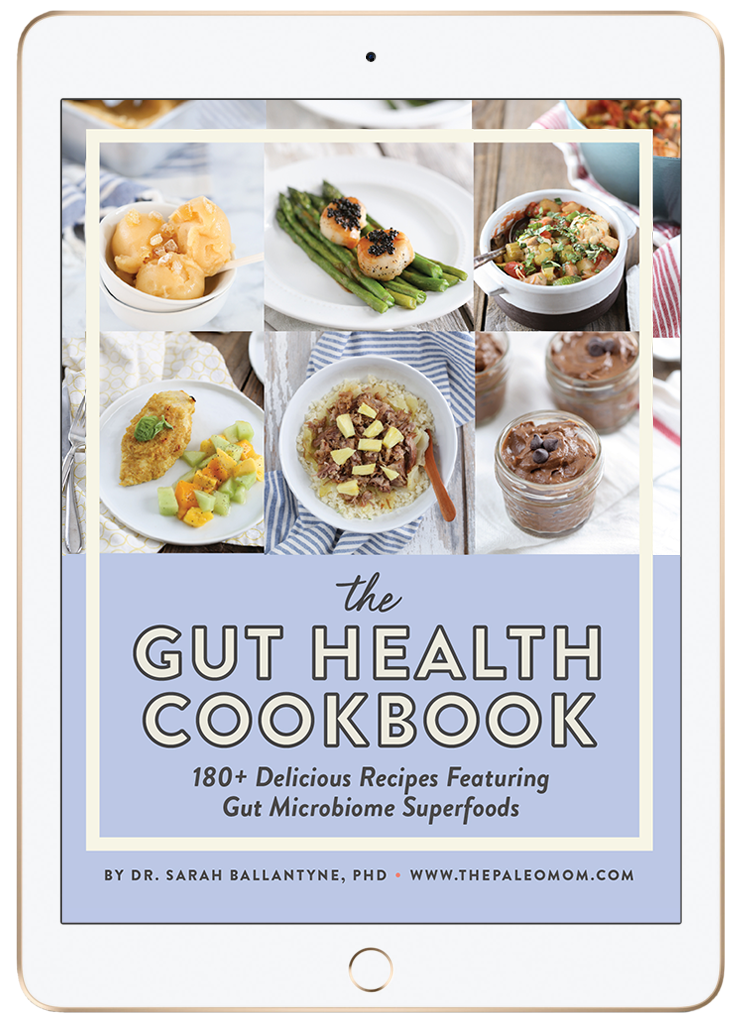 STEP 3: Enjoy – feel free to top with shredded coconut or berries.