Samantha Jo Teague is that feisty, uncensored friend you gravitate towards when you're looking for healing answers. She's a Certified Paleo Nutritional Coach, Health & Nutrition Life Coach, and studying Holistic Wellness Coach who combines primal nutritional therapy with holistic healing protocols for whole wellness results via her Chronically Radiant Heal-Coaching. Samantha blogs at The Unskilled Cavewoman. She is the author of AIP Sheet Pan Recipes (which was designed to make cooking for the autoimmune protocol easy to prep for and clean up after), Whole Food Paleo Reset for the Instant Pot (an eBook that de-junks the Paleo diet…great for those who have had a few of the commonly successful reintroductions on the AIP), and the newest community cookbook, AIP by Season (created to help you heal and eat through the seasons with the autoimmune protocol). You can find her chatting about all things primal and chronic illness on The Unskilled Cavewoman Podcast, and regularly posting wellness inspiration on Instagram and Facebook.
---
Often we can get stuck in a healing rut. I know. I've been there. Many times!
We can feel stuck, bogged down and completely overwhelmed by all we need to do to keep our flares at bay. There's an often tedious assembly of this chronic-illness puzzle…and sometimes it can feel like we are missing a few, if not several, of those puzzle pieces.
Nutrivore Weekly Serving Matrix
An easy-to-use and flexible weekly checklist
to help you maximize nutrient-density.
The Weekly Serving Matrix is very helpful! I've been eating along these lines but this really helps me know where to focus vs. which foods serve a more secondary role. It's super helpful and has taken a lot of worry out of my meal planning. Thanks!

Jan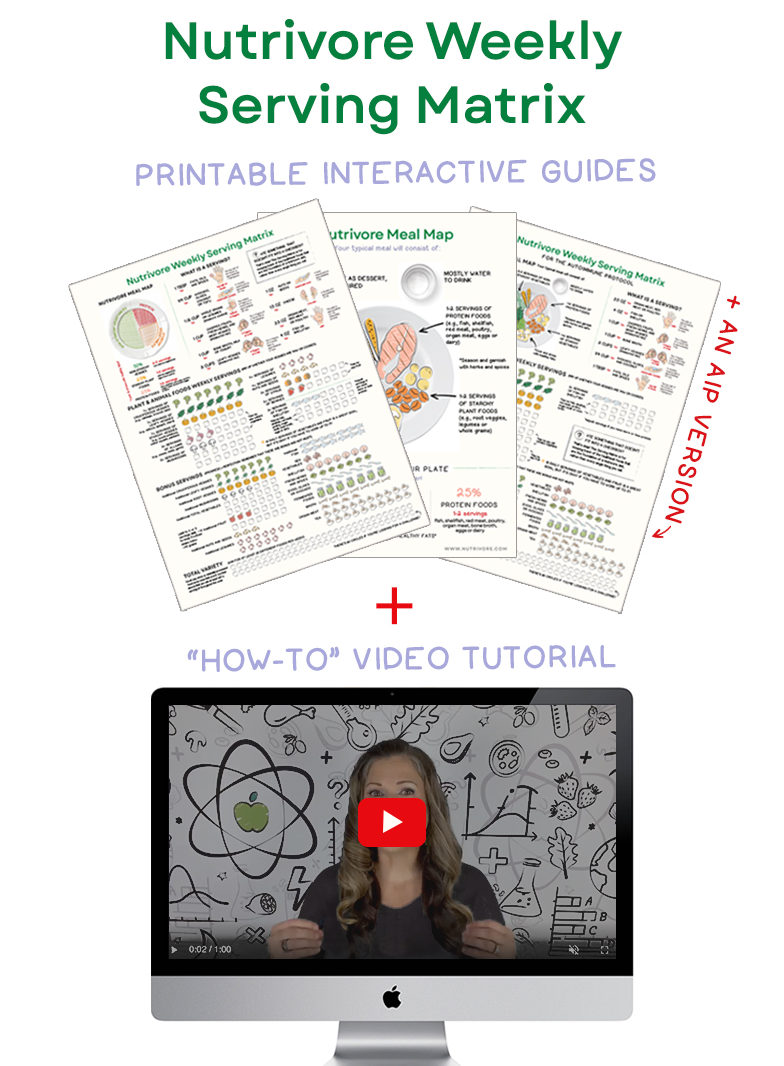 When the AIP became the turning point in my healing journey in 2015, but my then health took a huge dip again and all my reintroductions failed (save for seed-based spices), I knew I had deeper healing to do. It wasn't AIP's fault that I wasn't improving…in fact, without the dietary aspect of the AIP at that point in my life, I am fairly sure I would have gone from being almost immobilized to actually being bedridden. (see the photo of me from 2013 at work as a restaurant chef…completely burnt out.)
I required much more than diet to fully heal:
I had to address Candida overgrowth, eradicate a parasite infestation, employ regular liver cleanses, adjust to gentle exercise, supplementation properly, undergo fecal microbiota transplantation, take natural desiccated thyroid for my Hashimoto's, realign my retroflexed uterus, receive hypnotherapy and counseling, and fully embrace self-care. *whew!*
One of the biggest steps though, when it DID pertain to diet, was focusing on eating more with the seasons. I had to allow a wider variety of produce into my body because eating the same foods over and over again was depriving it of broad nutrient density.
Our ruts can be both mental/emotional and dietary.
This is why I organized the community cookbook, AIP by Season . 101 autoimmune protocol compliant recipes to help you heal through the seasons.
I have been guilty before of relying on the same starch over and over (ahem, sweet potatoes) or the same green vegetable time and time again (enter the kale) just because I know I tolerate them, or due to the fact they are always available at the grocery store, ready to grab and throw in the cart. It's easy to get stuck by what we are comfortable with.
Eating seasonally boasts frugality as well as sustainability.
Knowing what veggies are available during the season and utilizing that knowledge is such an empowering tool for reversing chronic illness. Those two words we hear often: "nutrient density" really DO play a huge role in our healing. Choosing a variety of farm-fresh, local produce which is grown during their natural, peak seasons is not only more beneficial to our bodies but also beneficial to our pocketbook and our environment.
Why this recipe is so special to me.
These Acorn Squash Fajita Bowls were a turning point for me in including a wider variety in my diet. The gourd was purchased in Autumn, its peak season. It wasn't yet another sweet potato (sorry sweet tater, I love ya, but we just needed a little break). The flavor was so different than what I had become used to, and kinda bored with at that.
And it was fun to work within the kitchen…assembling the bowls little works of colorful art which you get to eat directly out of.  A little bowlful of goodness, protein, playful textures and healthy fats. And can we talk about how caramelized onions add that extra luxury to just about any savory dish? *Whoo, goodness…*
It's also a sheet pan recipe…my favorite kind of easy.
AIP by Season boasts 100 more recipes like this one to help you break out of those habits and tune your body into the seasons. And hey, maybe you'll be like me and it will help you get a little more natural vitamin D from the sun while you meet new folks at your local farmer's market. Let's get out there and live a little…then live a lot.
---
Acorn Squash Fajita Bowls
SEASONAL INGREDIENT: ACORN SQUASH
SERVES: 4
TIME TO TABLE: ~ 2 hours
Skip the nightshades and the grains with these fun and simple fajita bowls full of Southwest flavors.
Ingredients
FAJITA CHICKEN:

1 large sweet onion

1+1/2 pounds boneless skinless chicken thighs
2 limes, juiced
1/2 teaspoon ground oregano
1/4 teaspoon turmeric powder
1 teaspoon garlic powder
1 teaspoon ginger powder
1/8 teaspoon ground cinnamon
1/2 teaspoon Himalayan salt
1/2 bunch cilantro, chopped
SQUASH:
2 small acorn squash (about 2 pounds)

1 teaspoon avocado oil
Himalayan salt to taste
MUSHROOMS:
1/2 pound mushrooms, sliced

Himalayan salt to taste
1 Tablespoon avocado oil
GARNISH:
2 medium avocados, sliced

4 radishes, diced
Kalamata olives, sliced (optional)
4 teaspoons nutritional yeast
1/2 bunch cilantro, chopped
1 lime, cut into 4 wedges then halved
Method
Add onion, chicken, lime juice, seasonings and 1/2 bunch cilantro to medium storage container or plastic bag and mix well. Marinate in fridge while you prepare squash.

Place oven rack in center oven. Preheat to 425 F.
Line large sheet pan with parchment paper if desired, and drizzle with 1 teaspoon oil.
Cut squashes in half lengthwise. Place flesh- sides down on sheet pan.
Bake 30 minutes, then use tongs to carefully flip. Squash is done when fork goes through flesh easily. If not tender, cook 5-10 minutes more at a time and test again.
Sprinkle flesh with salt. Set aside to cool 15 minutes, then scoop out and discard seeds with spoon.
While cooling, cook the marinated Fajita Chicken. Set oven to broil at 400 F.
Remove parchment from sheet pan and line with foil if desired (parchment will burn under broiler).
Add chicken in single layer in center of pan. Arrange onions on top. Scatter mushrooms around edges and sprinkle with salt to taste. Drizzle everything with oil.
Broil 30 minutes or until lightly caramelized, then rotate pan and cook 10 to 20 minutes more until onions are very slightly blackened on the tips and chicken is cooked through.
To serve, layer chicken, avocado, radishes, and olives (if using) on top of squash "bowls." Garnish with yeast, cilantro, and lime wedges.

Become a Member for FREE!
The Paleo Mom Members' Area is resource central!  
You'll get FREE, unlimited access to dozens of quality resources, including introductory series, downloadable e-books, exclusive recipes, printables, videos and guides!
You may enjoy these related posts:
Samantha Jo Teague is the blogger behind The Unskilled Cavewoman, and is the …