Kari Owens has coached over 2,000 women to better health. She teaches women how to put themselves first to reconnect with their body and soul. With her guidance, women learn to create a deeper relationship with themselves. Kari's experience comes not only from being Certified Transformational Nutrition Coach, and Certified Yoga Teacher but over a decade of experience working to restore her mind-body from chronic illnesses. You can connect more with Kari on her site, her online community Soul Power, and Instagram.
---
What was missing?
When I was starting on my path to feeling well again, I immersed myself in literature all about food. Fortunately, at that time I found Sarah and her insight around food as medicine proved to be a strategic part of my overall path to greater health.
But somewhere along the way in that journey I discovered there something was missing.


Looking back now, it all makes sense and they seem simple even. But at the time it felt like this gaping hole that I was struggling to figure out how to fill.
After you've been sick for a long time, or you are constantly focusing on just getting well, it's hard to see past what's directly in front of you to actually experience overall life.
Nutrivore Weekly Serving Matrix
An easy-to-use and flexible weekly checklist
to help you maximize nutrient-density.
The Weekly Serving Matrix is very helpful! I've been eating along these lines but this really helps me know where to focus vs. which foods serve a more secondary role. It's super helpful and has taken a lot of worry out of my meal planning. Thanks!

Jan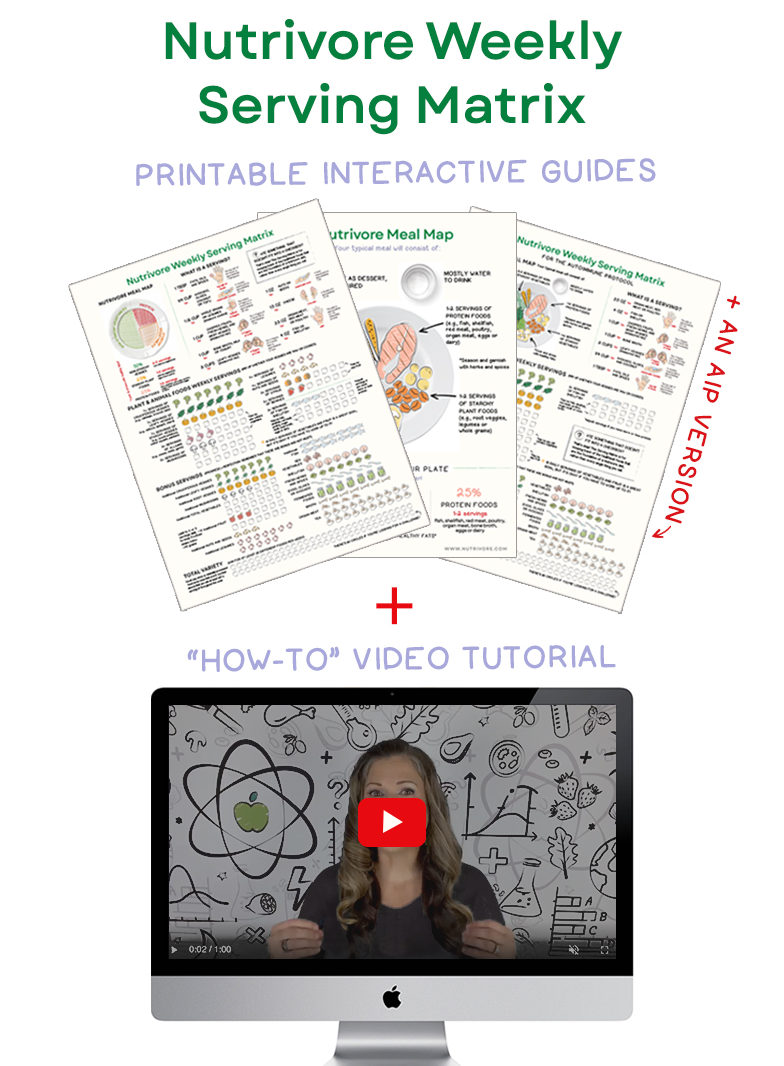 I noticed there was this bigger part of me that wasn't getting the attention I wanted or needed because I was so focused on just the one thing, feeling well again. But that feeling well was primarily focused on my physical experience.
It took a lot of listening to myself, but I finally uncovered a few important things.
One, I knew that I needed more of my own attention. Not just in the form of taking care of my physical well being, but actually attending to my emotional wellbeing.
Two, that joy needed to be a part of my every day. Even if it was just doing something for 10 minutes a day that brought me joy, happiness, satisfaction. It made a difference in my overall experience of that day.
Three, that I wanted to focus on feeding my soul just as much as I was feeding my body. My soul yearned for a greater purpose, for new and fun experiences and to be able to fully be myself.
In identifying these things that I really needed, I came to understand that the big piece missing from my health care was actually self-care.
I needed to attend to myself more in every way possible. I needed to focus on my own needs and protect my emotional wellbeing.
Self-care is different for everyone, it takes many different looks and activities but ultimately it's about asking yourself the question, "what can I do to take care of myself today?"
This is self-care.
In my program, the 4 Pillars to Self-Care I walk you through step by step on how to uncover self-care is for you. My community of Soul Power Women all go through this course when they join, as I see self-care as the fundamental foundation for our entire health.
When I started focusing more on these, the other parts came naturally. The eating better, sleeping better, and moving better were vitally important, but they all got better when I prioritized my self-care.
This may be the missing piece for you. You may find that you "know what you need to do," but have a hard time keeping with it or creating any routine.
This is what I help women do in my program. I help them connect more deeply to themselves so they can understand more holistically what self-care really is for them.
This is the empowering journey for Soul Power Women, connecting you more to your soul so you can know best how to take care of yourself.
Enrollment opens March 1, 2019, for Soul Power and I know that giving yourself this level of understanding may be the missing piece for you too.
For me, it was life-changing. Prioritizing myself made everything else fall into place.
When we prioritize ourselves, we operate in the world from that place. We live the message that taking care of ourselves is highly valued and deeply rewarding. It changes the whole experience of life.
Self-care is the first step in really understanding what you need to prioritize yourself. With Soul Power, I help you do this.
"Self-care is the most deeply nourishing form of taking care of ourselves. It's the greatest form of self-love."

–Kari Owens

Become a Member for FREE!
The Paleo Mom Members' Area is resource central!  
You'll get FREE, unlimited access to dozens of quality resources, including introductory series, downloadable e-books, exclusive recipes, printables, videos and guides!
You may enjoy these related posts:
Kari Owens has coached over 2,000 women to better health. She teaches women how …