Are you seeing fresh figs in the stores and at Farmer's markets? They are in season and we are getting some amazing local organic figs right now. I also love figs because they are a fruit with more glucose than fructose and fresh figs aren't super high in sugar. As you may noticed by looking at my salad recipes, I love the combination of sweet fruit, crunchy nut and peppery green with a tangy dressing. This is another variation, and one that my whole family is really enjoying these days. This salad is delicious with any peppery green; arugula or mustard greens work really well. This will make enough dressing for 3-6 side salad. The directions for the salad below is per person.
*NEW* The Gut Health Cookbook!
The Gut Health Cookbook is fantastic! Thank you for researching and creating The Gut Health Cookbook! Such wonderful recipes! I'm so excited to try them all! -Sue
The Gut Health Cookbook puts the 20 Keys to Gut Health into practice with:
180+ recipes featuring 61 gut health superfoods

Gut health food lists

Why's behind each gut health superfood
Get instant digital access for $27.99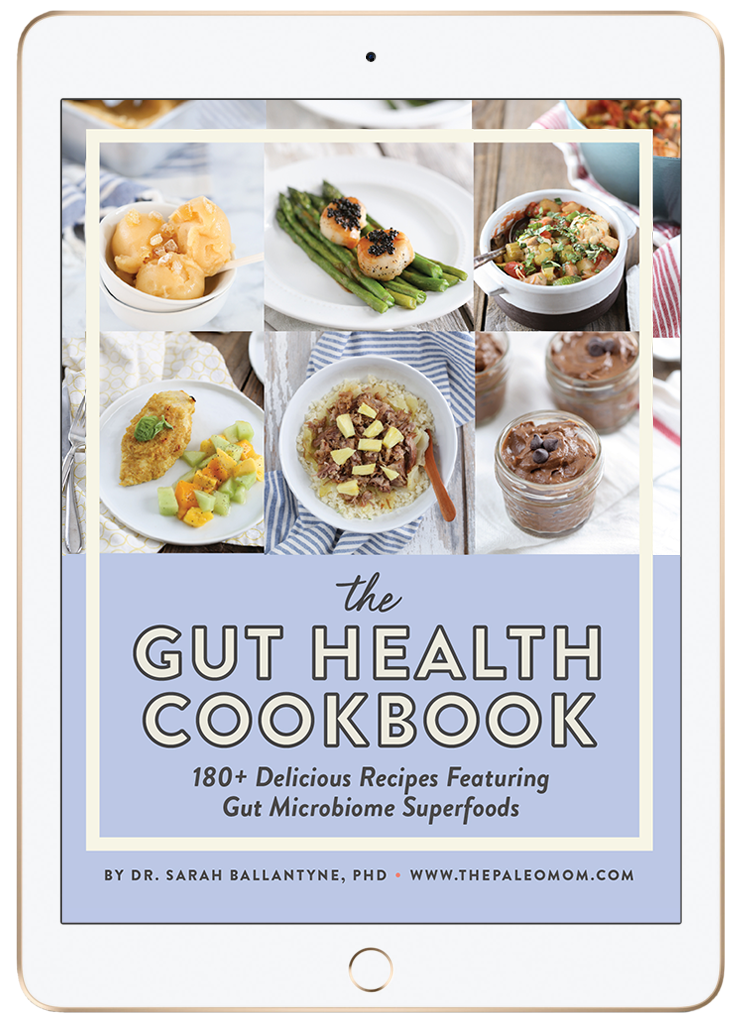 Ingredients (Balsamic Vinaigrette):
1. Whisk all ingredients together. Refrigerate any leftovers.
Ingredients (Salad):
1 cup Arugula (or other peppery green)
1/3 cup Fresh Figs, chopped (about 4-5 figs)
2 Tbsp Pistachios, shelled and unsalted
1-3 Tbsp Balsamic Vinaigrette, to taste
1. Cut figs into quarters or smaller size pieces.
2. Sprinkle chopped fig and pistachios over arugula. Drizzle with vinaigrette to taste.
3. Enjoy!