On this episode of The Whole View podcast, Stacy and I dive into the science and details of environmental allergies. I first describe the mechanism of the IgE-mediated release of histamine, and how it compares with other intolerance and allergic reactions. We discuss the four main categories of environmental allergens: dust mites, animals, pollen and mold. Oh, and also we definitely don't talk about the fifth most common…let's just say, EWWW, no thanks!! Stacy learns the true science behind dust mites which changes her understanding, and we also distinguish between the areas of chemical sensitivity, and environmental allergy (which are not at all the same mechanism, btw!).
I dive into the ways that most practitioners complete testing for environmental allergies, as well as some of the vitamins that seemingly support the body through all of this histamine processing. Most notably, vitamins D and E have been shown to be quite important and effective for supporting allergies, and omega-3 also, the king of anti-inflammatory supplements can also support. Always remember that you should definitely talk to your doctor about any supplementation (especially vitamin D and E, as there are toxicity levels and contraindications with other medications). Another surprising fact that recent studies have uncovered, is that a high-fat diet is particularly bad for allergy conditions! If you are a seasonal or environmental allergy sufferer, there are lots of helpful tips and solutions both in natural and medication forms. Consider consulting with your doctor about the proper use of over-the-counter antihistamines (the second generation of which are quite fascinating and super helpful), as well as consider an allergy shot, which helps to improve the immune tolerance over small exposures through time.
If you enjoy the show, please review it on iTunes
Recommended Reading and Listening
Citations
Environmental exposures and mechanisms in allergy and asthma development
Mechanisms of allergic disease – environmental and genetic determinants for the development of allergy – Campbell – 2015 – Clinical & Experimental Allergy – Wiley Online Library
Dust Allergies | ACAAI Public Website
Zeroing in on the Cause of Multiple Chemical Sensitivity | Office for Science and Society – McGill University
The role of sensory and olfactory pathways in multiple chemical sensitivity
Chemical-induced asthma and the role of clinical, toxicological, exposure and epidemiological research in regulatory and hazard characterization approaches
Save 70% Off the AIP Lecture Series!
Learn everything you need to know about the Autoimmune Protocol to regain your health!
I am loving this AIP course and all the information I am receiving. The amount of work you have put into this is amazing and greatly, GREATLY, appreciated. Thank you so much. Taking this course gives me the knowledge I need to understand why my body is doing what it is doing and reinforces my determination to continue along this dietary path to heal it. Invaluable!

Carmen Maier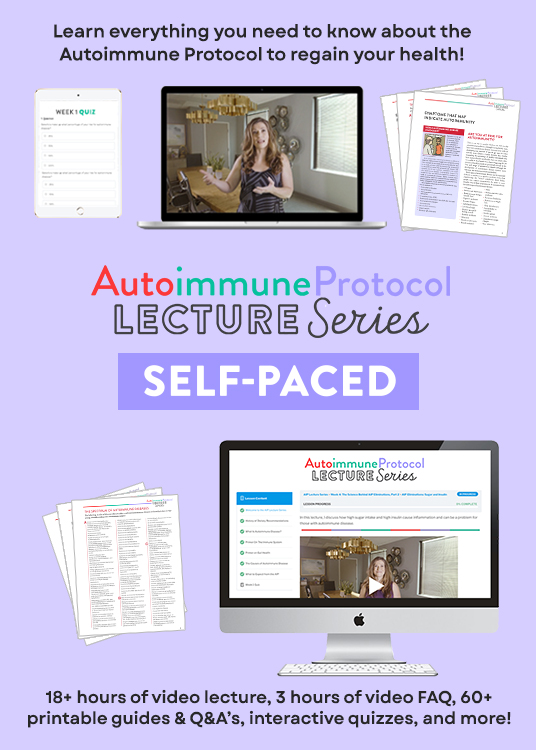 Vitamin D and the development of allergic disease: how important is it?
Vitamin D and Its Role as a Protective Factor in Allergy
Anti-allergic effects of vitamin E in allergic diseases: An updated review – ScienceDirect
Different signals induce mast cell inflammatory activity: inhibitory effect of Vitamin E
High-Fat and Low-Carbohydrate Diets Are Associated with Allergic Rhinitis But Not Asthma or Atopic Dermatitis in Children
High dietary fat intake induces a microbiota signature that promotes food allergy
Nutrients regulate diamine oxidase release from intestinal mucosa
Probiotics (Lactobacillus gasseri KS-13, Bifidobacterium bifidum G9-1, and Bifidobacterium longum MM-2) improve rhinoconjunctivitis-specific quality of life in individuals with seasonal allergies: a double-blind, placebo-controlled, randomized trial | The American Journal of Clinical Nutrition | Oxford Academic
Impact of commonly used drugs on the composition and metabolic function of the gut microbiota
Extensive impact of non-antibiotic drugs on human gut bacteria
Immunological adjuvants in allergy vaccines: Past, present future – ScienceDirect
Duration of Allergen Immunotherapy for Long-Term Efficacy in Allergic Rhinoconjunctivitis
Long-term real-world effectiveness of allergy immunotherapy in patients with allergic rhinitis and asthma: Results from the REACT study, a retrospective cohort study. – The Lancet Regional Health – Europe