In episode 498 of The Whole View podcast, Stacy and Dr. Sarah discuss environmental allergies, their symptoms, the most common allergens, the difference between environmental allergies and chemical sensitivities, and how air pollution can worsen allergies. Then, Stacy and Dr. Sarah share strategies for managing environmental allergies, including reducing exposure, nutritional support, anti-histamine medications and allergy shots.
If you enjoy the show, please review it on iTunes
Join Our Patreon!
Come join our Patreon family! You can support The Whole View podcast and hear what Dr. Sarah and Stacy really think about this topic in this week's exclusive and uncensored behind-the-scenes bonus audio. We love connecting with our Patrons! It's a direct line to submit your questions for upcoming shows, plus you also get access to some cool features like weekly bonus episodes and quarterly live video Q&As where you can ask Dr. Sarah and Stacy anything!
Recommended Reading and Listening
*NEW* Nutrivore Weekly Serving Matrix
An easy-to-use and flexible weekly checklist
to help you maximize nutrient-density.
The Weekly Serving Matrix is very helpful! I've been eating along these lines but this really helps me know where to focus vs. which foods serve a more secondary role. It's super helpful and has taken a lot of worry out of my meal planning. Thanks!

Jan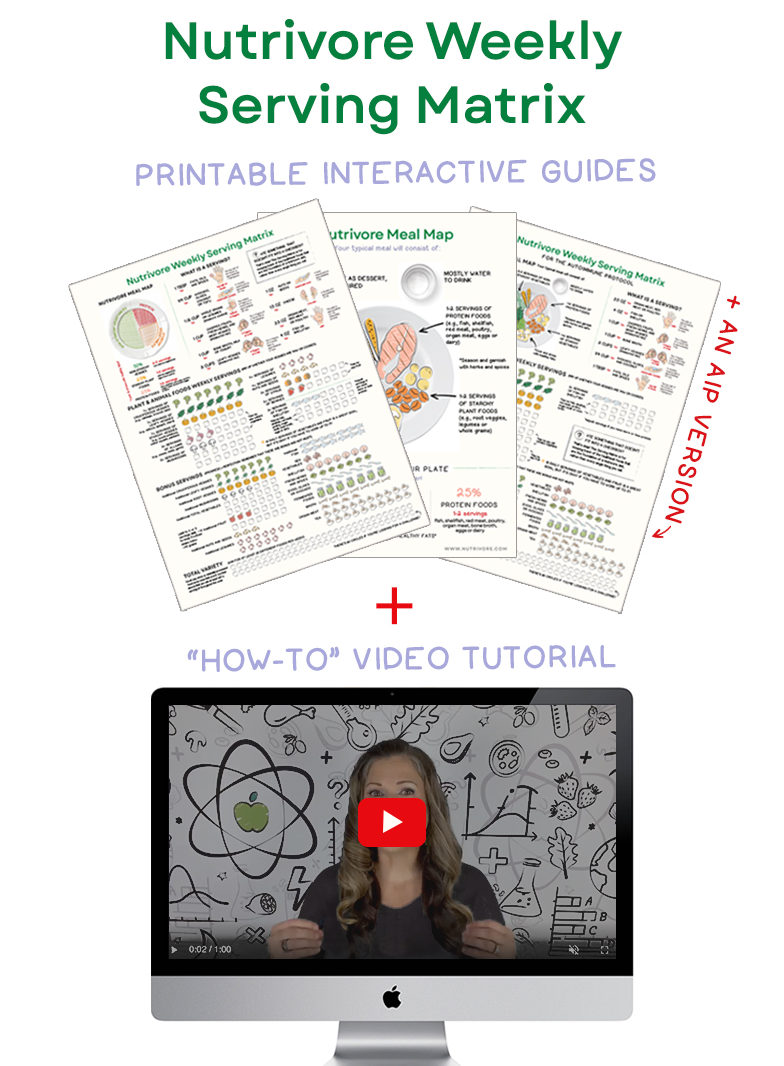 Citations
Environmental exposures and mechanisms in allergy and asthma development
Mechanisms of allergic disease – environmental and genetic determinants for the development of allergy – Campbell – 2015 – Clinical & Experimental Allergy – Wiley Online Library
Dust Allergies | ACAAI Public Website
Zeroing in on the Cause of Multiple Chemical Sensitivity | Office for Science and Society – McGill University
The role of sensory and olfactory pathways in multiple chemical sensitivity
Chemical-induced asthma and the role of clinical, toxicological, exposure and epidemiological research in regulatory and hazard characterization approaches
Vitamin D and the development of allergic disease: how important is it?
Vitamin D and Its Role as a Protective Factor in Allergy
Anti-allergic effects of vitamin E in allergic diseases: An updated review – ScienceDirect
Different signals induce mast cell inflammatory activity: inhibitory effect of Vitamin E
High-Fat and Low-Carbohydrate Diets Are Associated with Allergic Rhinitis But Not Asthma or Atopic Dermatitis in Children
High dietary fat intake induces a microbiota signature that promotes food allergy
Nutrients regulate diamine oxidase release from intestinal mucosa
Probiotics (Lactobacillus gasseri KS-13, Bifidobacterium bifidum G9-1, and Bifidobacterium longum MM-2) improve rhinoconjunctivitis-specific quality of life in individuals with seasonal allergies: a double-blind, placebo-controlled, randomized trial | The American Journal of Clinical Nutrition | Oxford Academic
Impact of commonly used drugs on the composition and metabolic function of the gut microbiota
Extensive impact of non-antibiotic drugs on human gut bacteria
Immunological adjuvants in allergy vaccines: Past, present future – ScienceDirect
Duration of Allergen Immunotherapy for Long-Term Efficacy in Allergic Rhinoconjunctivitis
Long-term real-world effectiveness of allergy immunotherapy in patients with allergic rhinitis and asthma: Results from the REACT study, a retrospective cohort study. – The Lancet Regional Health – Europe