Making your own marshmallows with clean nutrient-dense ingredients is surprisingly easy and quite fun! In fact, the two primary ingredients are honey (see Honey: The Sweet Truth About a Functional Food!) and gelatin (the same protein that makes bone broth so beneficial, see Why Broth Is Awesome and The Health Benefits of Bone Broth). And this festive Halloween twist makes these fun treats you can share with friends, family and co-workers!
Looking for more AIP healthy homemade Halloween treats? I'm sharing my favorites every week this month! Check out:
*NEW* The Gut Health Cookbook!
The Gut Health Cookbook is fantastic! Thank you for researching and creating The Gut Health Cookbook! Such wonderful recipes! I'm so excited to try them all! -Sue
The Gut Health Cookbook puts the 20 Keys to Gut Health into practice with:
180+ recipes featuring 61 gut health superfoods

Gut health food lists

Why's behind each gut health superfood
Get instant digital access for $27.99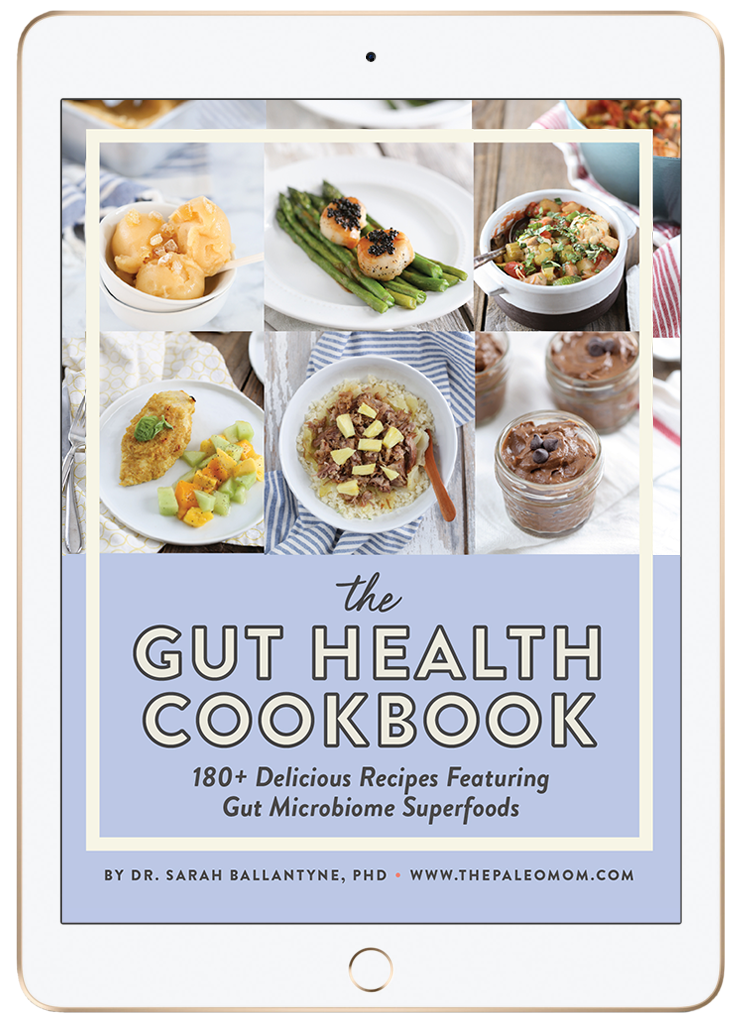 You could, of course, use this exact recipe to make the more typical cube shape marshmallow, perfect for roasting over the campfire, making s'mores (with my Graham Crackers recipe), adding to a cup of hot cocoa (I recommend Eating Evolved), or enjoying on its own. In this case:
place in a greased glass dish instead of piping
once set, invert onto parchment paper or a silicone mat and cut into squares
toss in arrowroot powder to stop them strong sticking to each other
This is also a good back-up if your marshmallow starts to set before you're done piping ghosts. I have to admit that if I get even a little distracted while piping these ghosts, I end up with half a batch as regular ol' marshmallows. Funnily enough, no one in my family has every complained! Lol! However, if you are considering making these as a treat for a party, I recommend making one batch at a time instead of doubling the recipe.
Print
Halloween AIP Marshmallow Ghosts
Yield 1 dozen
Instructions
Heat honey and half the water in a saucepan to 240 degrees.
Meanwhile, bloom the gelatin in the other half of the water.
Put gelatin in bottom of standing mixer and start whipping as you pour the hot honey mixture over top and let it whip on medium high for 10-12 minutes until soft peaks form.
Scoop marshmallow into a piping bag fitted with a 1⁄2-inch round piping tip. Pipe the mixture onto a parchment covered baking sheet dusted with arrowroot powder.
Working quickly, add dried fruit while the marshmallow is still sticky. You will want to pipe 4-5 at a time, then add the "eyes" and "mouth" and then continue piping.
Sprinkle the marshmallows with arrowroot powder and let set 4 hours or overnight.
The Ultimate Support for Your AIP Journey!
Dr. Sarah Ballantyne has delivered an exceptional course and I highly recommend this to anyone looking to improve their health. There is something for everyone. It was extremely helpful and worth the investment. -Marie Schlichtig
The AIP Lecture Series is the ultimate Autoimmune Protocol educational experience! Learn directly from Dr. Sarah!
6-week online course
42 on-demand video lectures
dozens of printable guides
self-discovery exercises and action steps
online forum and guided discussions
support and guidance from Dr. Sarah Ballantyne!
The next session begins January 18th, 2021.
(Use code AIPLS85 to save $85 and get bonus access to the Gut Health Fundamentals online course!)