On this episode, Stacy and I answer a question from our listener (also named Sarah) who asks about managing her symptoms while breastfeeding, and being worried about losing weight on AIP. There are so many things to consider when becoming a parent, including ensuring that your body is providing the nutrients for your child's development. But equally important is remembering to replenish your own body to prevent nutrient deficiencies! Stacy and I are not doctors and we emphasize the importance of first working with your practitioner to get a proper diagnosis while simultaneously feeding your body the nutrients it needs.
Stacy and I talk through some of our personal experiences, how to be AIP while breastfeeding, and the misconception that the AIP is low carb. Also, I discuss some of the key nutrients that are often deficient in lactating individuals (spoiler, they are calcium, zinc, magnesium, vitamin E and B vitamins) and which foods can support these deficiencies. Sarah, we hope this episode helps to clarify some things for you; and to you and all of our listeners in a similar position, you are doing an amazing job, and you are a super mom!
Nutrivore Weekly Serving Matrix
An easy-to-use and flexible weekly checklist
to help you maximize nutrient-density.
The Weekly Serving Matrix is very helpful! I've been eating along these lines but this really helps me know where to focus vs. which foods serve a more secondary role. It's super helpful and has taken a lot of worry out of my meal planning. Thanks!

Jan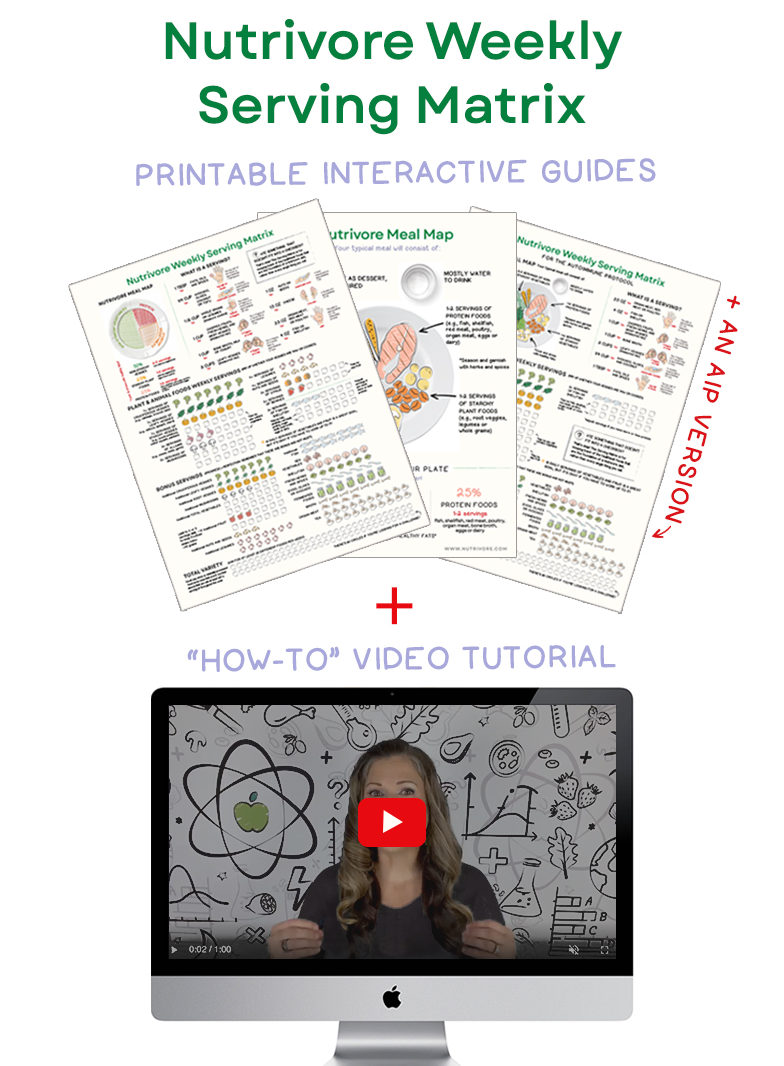 If you enjoy the show, please review it on iTunes!
Recommended Reading and Listening
Citations
Institute of Medicine (US) Committee on Nutritional Status During Pregnancy and Lactation. Nutrition During Lactation. Washington (DC): National Academies Press (US); 1991. 9, Meeting Maternal Nutrient Needs During Lactation. Available from: https://www.ncbi.nlm.nih.gov/books/NBK235579/

Become a Member for FREE!
The Paleo Mom Members' Area is resource central!  
You'll get FREE, unlimited access to dozens of quality resources, including introductory series, downloadable e-books, exclusive recipes, printables, videos and guides!
You may enjoy these related posts:
Eating a nutrient-dense diet is vital for every stage of human life, but it …