Halloween, and indeed any food-centered holiday, can feel like a challenge for anyone with dietary restrictions. And speaking for Paleo moms like myself (and Paleo dads too!), I feel that it's important to find ways to enjoy the fun of Halloween with my kids without the sugar crashes, food dye tantrums, gluten-induced tummy aches, etc.
How do I strike that balance between our dietary priorities and Halloween?
*NEW* The Gut Health Cookbook!
The Gut Health Cookbook is fantastic! Thank you for researching and creating The Gut Health Cookbook! Such wonderful recipes! I'm so excited to try them all! -Sue
The Gut Health Cookbook puts the 20 Keys to Gut Health into practice with:
180+ recipes featuring 61 gut health superfoods

Gut health food lists

Why's behind each gut health superfood
Get instant digital access for $27.99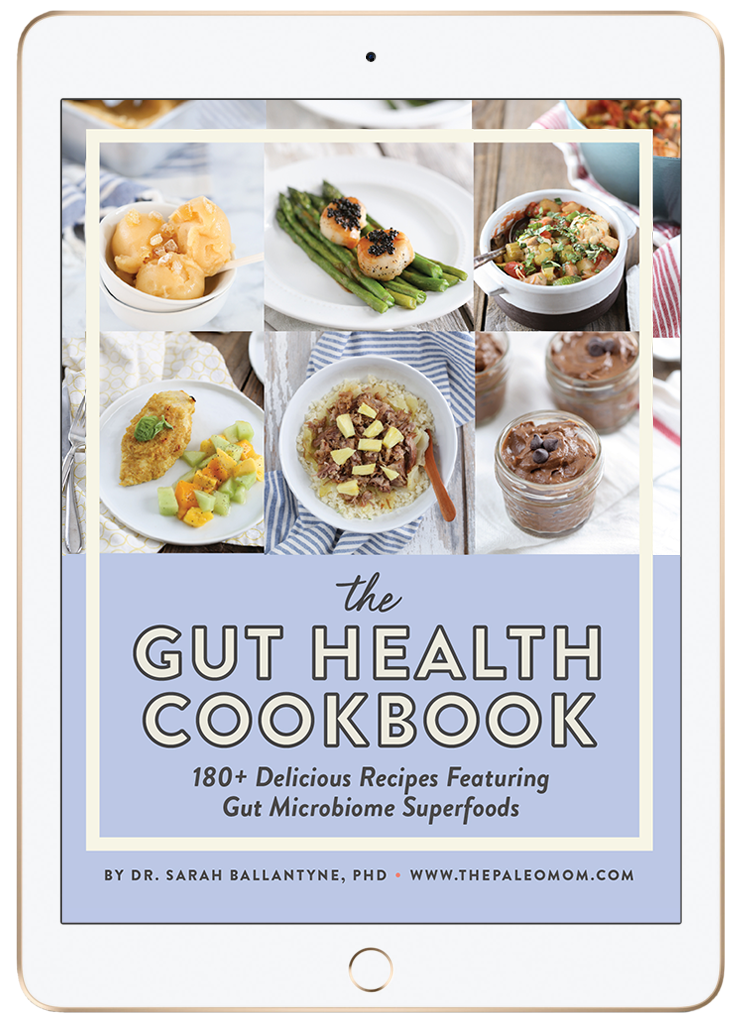 First, I have an awesome repertoire of allergy-free, gluten-free, Paleo-friendly and even AIP-friendly treats that have become as synonymous with Halloween in my house now as fun-size candy bars were when I was a kid. I'll be sharing my favorites with you every week this month! Check out:
Second, we still enjoy decorating the yard, dressing up, and trick-or-treating. Thanks to the many detailed conversations I've had with my girls over the years, they have a very good understanding of what ingredients in candy are problematic for them (they both have overt sensitivities). We go through their trick-or-treat buckets when we get home and they get to keep any non-food items (for example from houses with teal pumpkins) as well as any gluten-free, dairy-free, dye-free, healthier options that our neighbors may have handed out that year. We donate the rest to the troops. When we first went Paleo a little over eight years ago, my girls would trade their candy for a toy. But now, trick-or-treating is so much fun by itself, they don't need any additional bribe. Throw in some fun homemade spooky cookies, and the whole family are happy campers… er, trick-or-treaters!
Print
Halloween AIP Monster Finger Recipes
Yield 2 dozen cookies
Instructions
In a large mixing bowl, cream lard and sugar. Add molasses and mix to combine.
In a separate bowl, mix spices with 1⁄2 cup flour. Add to mixing bowl.
Add remaining flour 1⁄4 cup at a time, alternating with water.
Add baking soda and water mixture and stir to fully combine.
Chill dough for 1 hour.
Shape dough into finger-sized cookies. If the dough is sticking to your fingers, wet your hands.
Pinch in dough at two different points to form knuckles.
With a sharp knife, cut lines into the knuckles for wrinkles. Dip knife in water in between cookies so it doesn't stick.
Spoon jam onto the top of the tip of the cookie, then place your "nail" of choice on top. Spoon jam onto opposite end if desired to resemble the finger being chopped off.
Bake at 350 degrees for 10-12 minutes.