Lately, I've been on a creative kick in the kitchen. This probably has something to do with all of the recipe development I'm doing for my new microbiome book (more information forthcoming soon!). I've been particularly enjoying revisiting old favorite recipes that I never bothered to Paleofy in the past, but feel up to the challenge now! This is one of those recipes. In fact, I first cooked a version of this recipe for my husband soon after we moved in together (about two decades ago!!!!).
I'm a big fan of fruit playing a starring role in meals instead of always being relegated to snacks or dessert (see Why Fruit is a Good Source of Carbohydrates) and this is definitely one of those dishes where the combination of spices reminiscent of the Caribbean with sweet and tangy fruit is just perfect! I recommend serving with a green salad (see The Importance of Vegetables)
*NEW* The Gut Health Cookbook!
The Gut Health Cookbook is fantastic! Thank you for researching and creating The Gut Health Cookbook! Such wonderful recipes! I'm so excited to try them all! -Sue
The Gut Health Cookbook puts the 20 Keys to Gut Health into practice with:
180+ recipes featuring 61 gut health superfoods

Gut health food lists

Why's behind each gut health superfood
Get instant digital access for $27.99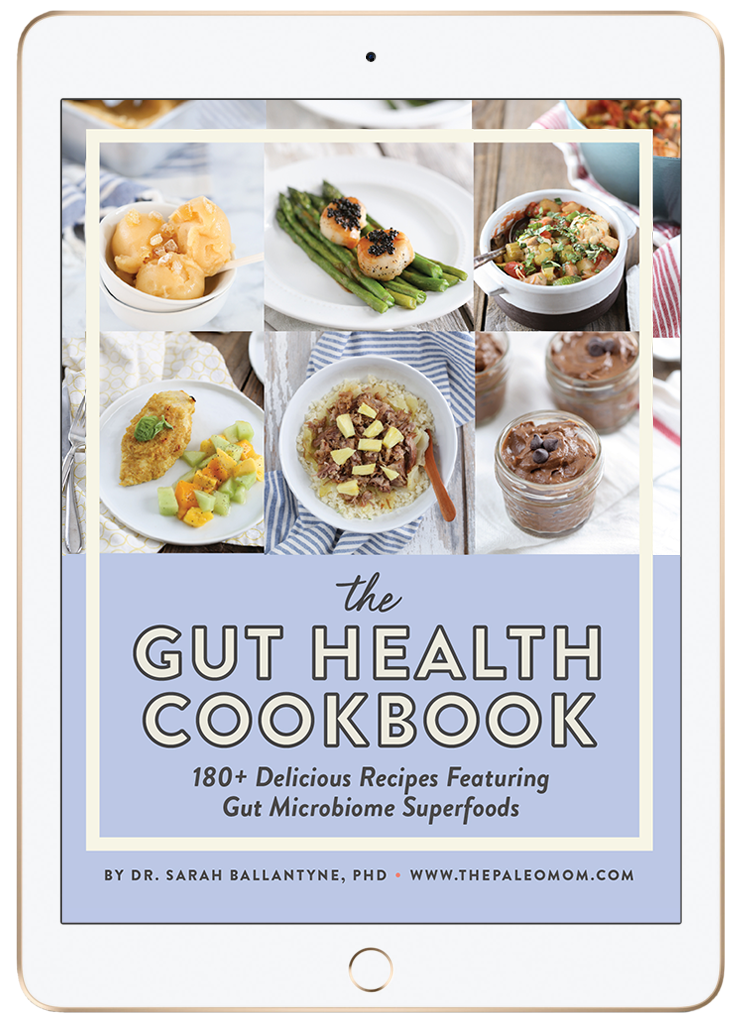 Plain coconut milk yogurt is getting easier and easier to find, but still often contains a variety of emulsifiers (see Is It Paleo? Guar Gum, Xanthan Gum and Lecithin, Oh My!). I have one brand I can get locally that's just made with cultured coconut milk, which is super exciting! You can substitute any type of plain yogurt here (almond milk yogurt, cashew milk yogurt, goat milk yogurt, or regular ol' grass-fed yogurt!) or milk kefir. It's also fun to make your own, see Coconut Milk Kefir "Yogurt".
Island Chicken with Melon Salad
Yield 4 servings
Instructions
Mix onion, yogurt, olive oil, ginger, salt, cumin, turmeric, cinnamon and chili. Coat chicken thoroughly and place in a dish. Refrigerate at least 3 hours and up to overnight.
Preheat broiler on high and arrange oven rack so that chicken will be approximately 5 inches from the heating element.
Arrange chicken on the rack of a boiling or shallow roasting pan. Spread any leftover marinade over the top of the chicken. Broil for 15 minutes, turning half way, until chicken is cooked through and reaches an internal temperature of 160F.
Remove rind and seeds from melon and cut into 1" chunks. Remove peel and pit from mango and cut into 1" chunks. Gently toss melon and mango with peach jam, lime juice and black pepper.
Let chicken rest 5 minutes before serving. Serve with melon salad.