When I think of big turkey dinners, I think of stuffing. It has always been my favorite part, the dish that I look forward to. And, while I have tried many different recipes and variations in my side dishes over the years, I never veered too far away from my mom's tried and true bread-based recipe. This led to quite the conundrum once I committed to cooking a purely Paleo Thanksgiving dinner. I scoured the internet for Paleo stuffing recipes but found nuts to be a universal ingredient. This wouldn't work for me because my mother-in-law is visiting us this year and she is extremely allergic to nuts. So I had to think…
It took quite a lot of contemplation to arrive at mushrooms and eggplant as the chief ingredients for this stuffing. I banked on the fact that they were vegetable sponges, used in other recipes to absorb the flavors around them. It worked perfectly. They held their shape and flavor while also absorbing the fat and juices and flavor from the turkey itself. The end result was a moist, textured, ridiculously delicious stuffing… the best stuffing I have ever had!
*NEW* The Gut Health Cookbook!
The Gut Health Cookbook is fantastic! Thank you for researching and creating The Gut Health Cookbook! Such wonderful recipes! I'm so excited to try them all! -Sue
The Gut Health Cookbook puts the 20 Keys to Gut Health into practice with:
180+ recipes featuring 61 gut health superfoods

Gut health food lists

Why's behind each gut health superfood
Get instant digital access for $27.99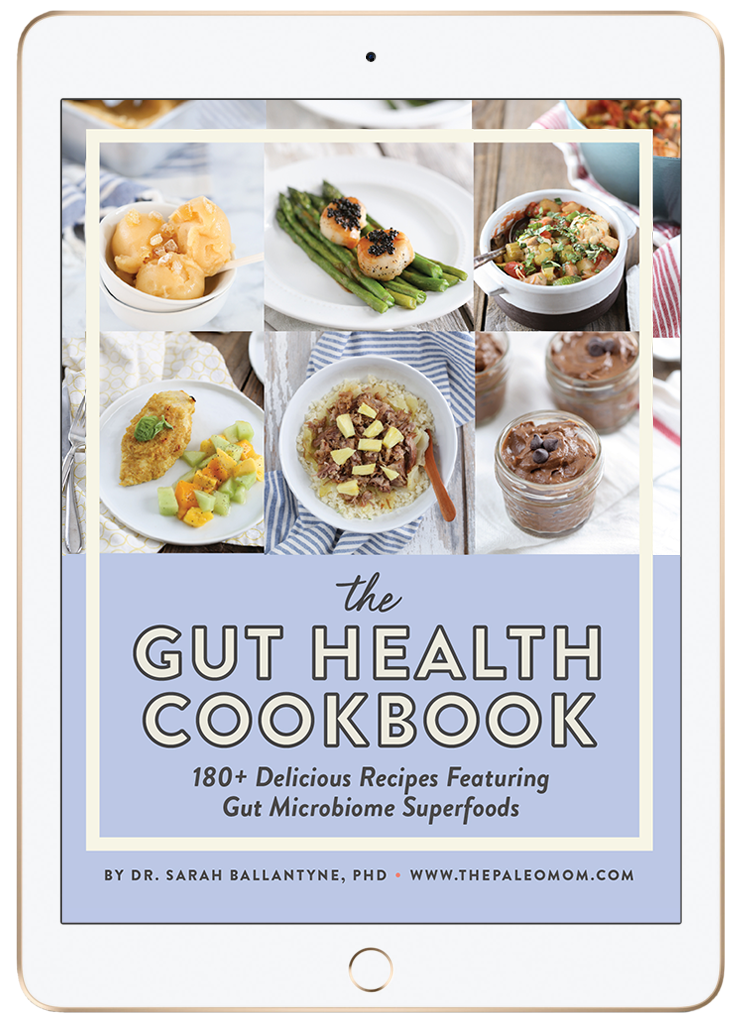 A note on the ingredients: I used an assortment of mushrooms for this dish, and while the flavor and texture was delightful, I don't think it is strictly necessary for this stuffing to work. In other words, use your favorite mushrooms and don't be afraid to go cheap and use 2 lbs of regular old white or cremini mushrooms. I do recommend buying good quality bacon and butter from grassfed cows. The high quality fats are one of the reasons this stuffing is so wonderful (and guilt free!).
Prep Time: 15 minutes, plus 1 hour to sit
Cook Time: 30 minutes, plus turkey cook time
Serves: 4-6
The Ultimate Support for Your AIP Journey!
Dr. Sarah Ballantyne has delivered an exceptional course and I highly recommend this to anyone looking to improve their health. There is something for everyone. It was extremely helpful and worth the investment. -Marie Schlichtig
The AIP Lecture Series is the ultimate Autoimmune Protocol educational experience! Learn directly from Dr. Sarah!
6-week online course
42 on-demand video lectures
dozens of printable guides
self-discovery exercises and action steps
online forum and guided discussions
support and guidance from Dr. Sarah Ballantyne!
The next session begins January 18th, 2021.
(Use code AIPLS85 to save $85 and get bonus access to the Gut Health Fundamentals online course!)
Ingredients:
2 large eggplants, peeled and cut into ½" cubes
2 Tbsp salt (for salting the eggplant, not for the final stuffing)
2 lbs assorted mushrooms (I used 1 lb baby bella, 8oz chanterelle, 4oz oyster, and 4oz royal trumpet)
6 oz reduced-sodium uncured bacon
1 medium yellow onion, chopped relatively fine
2-3 stalks celery, cut into ¼" slices
1 Tbsp fresh parsley, finely chopped
1 Tbsp dried (whole leaf) savory
2-3 Tbsp grass-fed butter or other good cooking fat (more bacon fat, tallow, coconut oil, etc.)
13-15 pound turkey (for bigger or smaller bird, scale accordingly)
1. Toss the eggplant with the salt and let sit in a colander in the sink for at least one hour. This step is critical for getting the eggplant to hold its shape and not turn to mush.
2. Rinse the salt off the eggplant, then place eggplant on several pieces of paper towel on the counter or a baking sheet. Cover with more paper towel and gently squeeze excess water out of the eggplant. Set aside.
3. Chop bacon into small pieces (I like to use scissors for this job) and place in a cold skilled (cast iron is great here). Now, heat the skillet over medium-high heat, stirring fairly frequently.
4. When bacon is mostly cooked, add eggplant and cook, stirring frequently, until eggplant is cooked and starting to brown. If eggplant starts to stick, add 1 Tbsp butter.
5. Set bacon and eggplant aside in a large bowl and return skillet to the stovetop. Now add 1 Tbsp butter with onion and celery. Cook until onion and celery have softened.
6. Add mushrooms to skillet (you may need to do this in two batches depending on the size of your frying pan). If vegetables start to stick, add another tablespoon of butter.
7. Cook until mushrooms are nicely sautéed, but still firm. Add to eggplant and bacon in the big bowl.
8. Toss vegetables with savory and parsley until well combined. Let cool 15-30 minutes so it's cool enough to handle to stuff the turkey.
9. Remove neck and giblet bag from turkey and place on a roasting pan. Stuff the turkey with the eggplant and mushroom mixture, utilizing both the front and back cavities. Make sure to wash hands and clean well afterward to protect yourself from possible salmonella contamination.
10. Season the turkey with your favorite spices (I like salt, pepper and paprika) and roast at 325F for 3½-4 hours, or until temperature reaches 180F.
11. Let the turkey rest 10-15 minutes before removing the stuffing and carving the turkey. Enjoy!