I seem to be on a nut-free cut-out cookie kick these days. Maybe it's Valentine's Day. Or maybe it's knowing that my mother-in-law, who is allergic to nuts, will be visiting this spring and I want to have yummy options for her. Either way, here is another nut-free cut-out cookie recipe for you! These cookies have a lovely flavor on their own and don't really need the frosting (but boy, are they ever yummy with the frosting! and pretty too!). Freeze-dried Strawberries
are getting easier and easier to find in stores (I typically buy them at Trader Joes because it's a great portable snack for the kids). Make sure you check the ingredients on your rum extract to make sure there are no wheat ingredients.
Note: White chocolate chips are very difficult to find without at least some milk ingredients. Two brands to look for are Lieber's Decorating Chips
and VeganSweets White Chocolate Chips
. Both of these are available relatively inexpensively online. Another option is to buy pure cocoa butter and make your own white chocolate (check out this cookie recipe for directions, you'll probably want to triple or quadruple the batch).
*NEW* The Gut Health Cookbook!
The Gut Health Cookbook is fantastic! Thank you for researching and creating The Gut Health Cookbook! Such wonderful recipes! I'm so excited to try them all! -Sue
The Gut Health Cookbook puts the 20 Keys to Gut Health into practice with:
180+ recipes featuring 61 gut health superfoods

Gut health food lists

Why's behind each gut health superfood
Get instant digital access for $27.99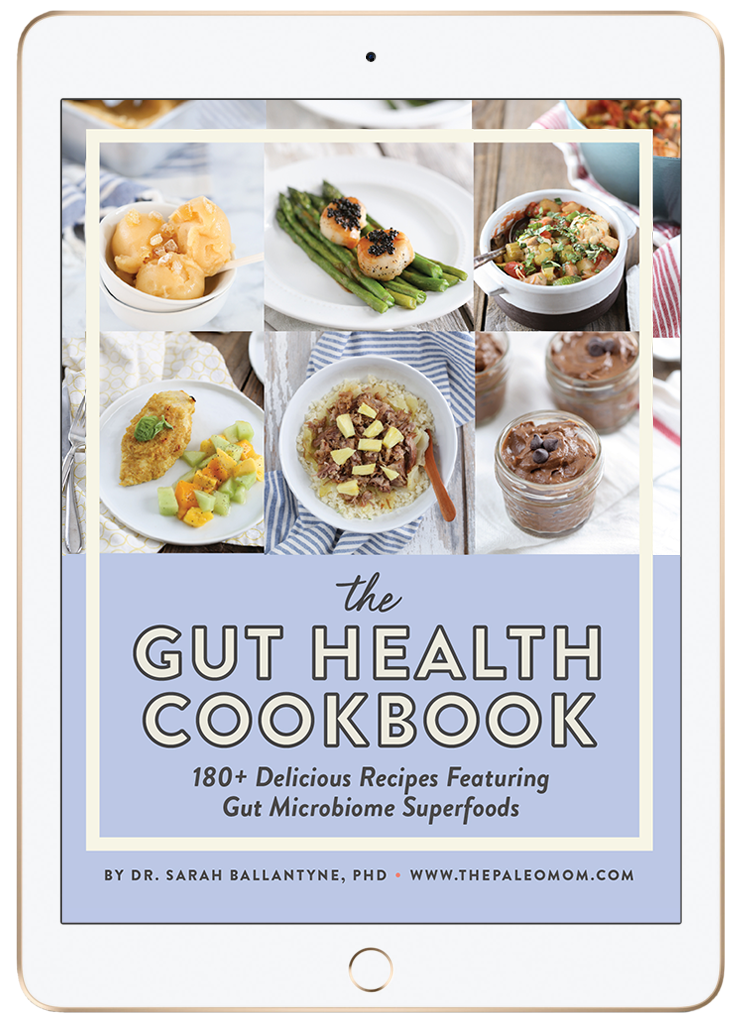 Ingredients (Orange-Strawberry Cut-Out Cookies):
1. Melt coconut oil in the microwave on medium power. Let cool slightly.
2. Process freeze dried strawberries in a small food processor until completely powdered.
3. Mix honey, rum extract, orange zest, eggs and freeze-dried strawberries. Add coconut oil, stirring well to make sure you don't scramble the eggs.
4. Add in coconut flour and stir very well. Place dough in fridge to harden, at least 1 hour.
5. Preheat oven to 350F. Line a baking sheet (or two) with parchment paper.
6. Roll dough out between two sheets of parchment paper to ¼" thick. Use your favorite cookie cutter to cut out shapes. Place relatively close together on the cookie sheet. Ball leftover dough together and roll out again. Keep going until all the dough is used up.
7. Bake for 12 minutes (adjust depending on the size of your cookies). Let cool on cookie sheet or a wire rack. Enjoy!
Ingredients (Strawberry White Chocolate Frosting):
1. Melt white chocolate and coconut milk in the microwave on medium power. Check and stir frequently because white chocolate seizes easily. Let cool slightly.
2. Process freeze dried strawberries in a small food processor until completely powdered.
3. Mix strawberry powder into chocolate mixture.
4. Spread over cookies immediately, while the frosting is still warm. Let cool (and harden) on a wire rack or cutting board. Enjoy!
The Ultimate Support for Your AIP Journey!
Dr. Sarah Ballantyne has delivered an exceptional course and I highly recommend this to anyone looking to improve their health. There is something for everyone. It was extremely helpful and worth the investment. -Marie Schlichtig
The AIP Lecture Series is the ultimate Autoimmune Protocol educational experience! Learn directly from Dr. Sarah!
6-week online course
42 on-demand video lectures
dozens of printable guides
self-discovery exercises and action steps
online forum and guided discussions
support and guidance from Dr. Sarah Ballantyne!
The next session begins January 18th, 2021.
Register now to get bonus instant access to the Gut Health Fundamentals online course!
Do you need help finding any ingredients? Check out Important Pantry Items for the Paleo Baker.