Can you believe Thanksgiving is almost here? In less than a week, Americans will gather around the table for one of the most food-centered holidays in our annual calendar. What's not to love?!? Actually, Thanksgiving is my favorite holiday. I love everything about it: taking some time to reflect on what we can be grateful for, turkey dinner with all the trimmings, pumpkin pie, and an extra long weekend spent with close friends and family! This year, I'm going back to basics, with this new recipe for Classic Bread Stuffing, Paleo-style!
I know this time can be stressful for those of us on a restricted diet, but I want to encourage you to think of Thanksgiving in a positive light! It's a perfect time to flex your cooking muscles, introduce non-Paleo family members to amazing flavors, and nourish yourself with decadent recipes you wouldn't usually cook.
Whether you're following the AIP or are strictly Paleo, this roundup will provide some options for filling your Thanksgiving spread with compliant food. If you still need help sourcing your Paleo ingredients, go back and check out How to Source a Perfectly Paleo Thanksgiving! Now is the time to plan your menu!
If you've been asked to bring a side dish or dessert to Thanksgiving dinner at someone else's house, there are amazing options below. I'm partial to the new Classic Bread Stuffing recipe you'll find at the bottom of this post, because there's simply nothing like being able to indulge in "bready" sides alongside your family.
I'd love to hear what your Paleo Thanksgiving spread looks like below!
Side dishes
Cauliflower Gravy (AIP)
Green Salad with Italian Vinaigrette (AIP)
The Gut Health Guidebook!
The depth of information, practical tips, and the accessible way Dr. Sarah shows me how to apply complex science to improve my health is truly remarkable. -Wendy
The Gut Health Guidebook is the culmination of 6 years of research. This unprecedented deep dive into the gut microbiome delivers:
A new diet for gut health, built from the ground up

Essential gut microbiome superfoods

20 Keys to gut health
Get instant digital access for $27.99
Maple-Cranberry Sauce (AIP)
Root Vegetable Casserole (AIP)
Roasted Brussels Sprouts (AIP)
Eggplant and Wild Mushroom Stuffing
Classic Bread Stuffing (see recipe below)
Main dishes (non-turkey)
*NEW* The Gut Health Cookbook!
The Gut Health Cookbook is fantastic! Thank you for researching and creating The Gut Health Cookbook! Such wonderful recipes! I'm so excited to try them all! -Sue
The Gut Health Cookbook puts the 20 Keys to Gut Health into practice with:
180+ recipes featuring 61 gut health superfoods

Gut health food lists

Why's behind each gut health superfood
Get instant digital access for $27.99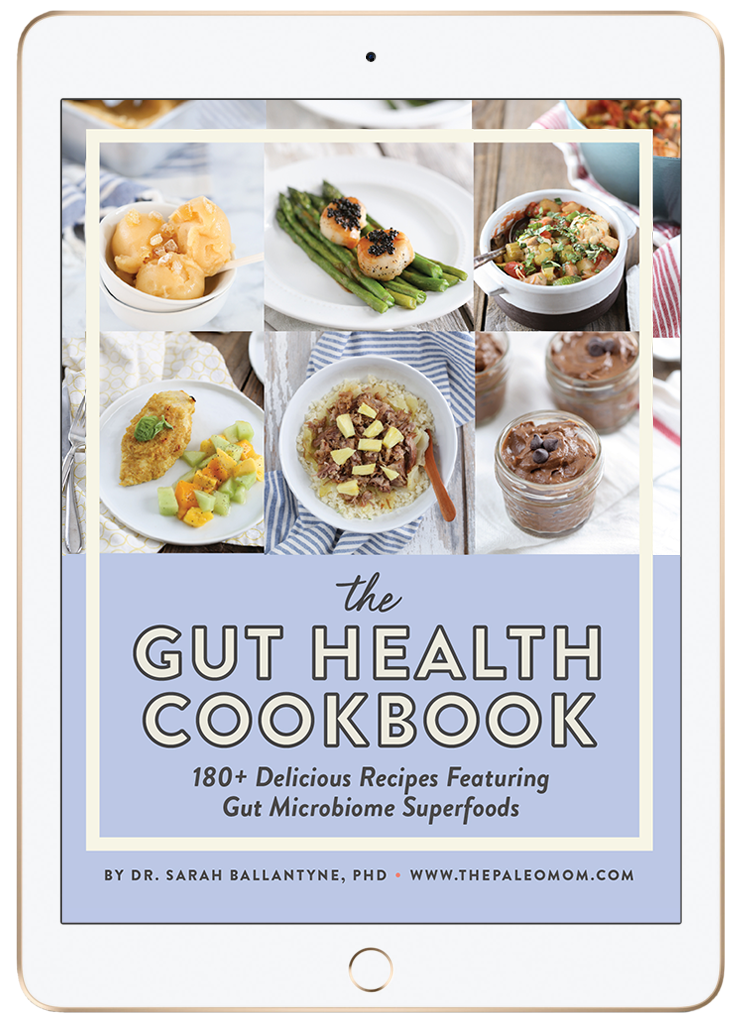 Looking for a turkey recipe? I got you covered. Head to the bottom of this post for my FREE Thanksgiving Feast ebook for even more recipes, including how I prepare my turkey.
Dessert

Apple Pie (AIP)
Classic Paleo Bread Stuffing
This stuffing recipe is my take on the classic. No cranberries, sausage, apples, bacon, bourbon, or browned butter. Just classic bread stuffing, Paleo style.
Because the bread needs to be dry and toasty to avoid soggy stuffing, this recipe does require a little planning ahead. Just make sure you prepare your loaf of bread at least one day in advance (but you can make it earlier than that if that works better for your Thanksgiving schedule), and then toast the cubes the night before. This will give you that soft spongy bread texture on the bottom, with a little toasty bread from the top mixed in.
Prep time: 10 minutes, plus time to make bread
Cook time: 2 hours
Yield: 6-8 servings
The Gut Health Collection!
I love Dr. Sarah's passion for educating people and helping everyone on their journey to wellness!! -Mindy
The Gut Health Guidebook delivers a comprehensive deep dive into gut health, building a new diet for optimal health from the ground up, based on the gut microbiome.
The Gut Health Cookbook puts the scientific framework into practice with 180+ delicious recipes that each center on at least one of 61 gut health superfood ingredients.
Save $10 with the Gut Health Collection!
Ingredients:
Directions:
The night before you're going to make your stuffing, cube the loaf of bread. Spread cubes onto a baking sheet and bake for 45 minutes at 250 degrees. Place in a large bowl and let it sit out uncovered, overnight.

When you're ready to prepare your stuffing, preheat the oven to 400 degrees. Grease 1.5 quart baking dish with butter or coconut oil.

In a large skillet, melt butter over medium heat. Add onions, celery and garlic and saute until softened. Add mixture to bowl with the bread cubes.

Add seasonings and broth to bread bowl and toss to combine.

Pour stuffing into prepared baking dish.

Cover with foil and bake for 40 minutes. Remove foil and bake for an additional 15 minutes until bread is toasty.
It's not too late to plan your Thanksgiving feast! Download The Paleo Mom's Thanksgiving Feast for full Paleo and AIP menus, recipes, timelines and more.
Download The Paleo Mom's Thanksgiving Feast here!