Tara Perillo is the founder and blogger behind Paleo Cajun Lady and the author of AIP Paleo Cajun Cookbook, and the upcoming The Autoimmune Athlete. She is a displaced Cajun from Louisiana, who now resides in Illinois with her hubby and little dog, Giddy. In 2013, Tara was diagnosed with Systemic Lupus Erythematosus (SLE) and Psoriasis. She had been diagnosed with Vitiligo, at a young age. As a certified herbalist and homeopath, she chose to heal herself with the nutritional and lifestyle changes outlined in Sarah Ballantyne's The Paleo Approach. After almost two years following the autoimmune protocol (AIP), she is now in full remission, and has healed a majority of the damage done by Lupus. She is currently enjoying her new status as an autoimmune athlete, health advocate and fitness trainer.
*NEW* The Gut Health Cookbook!
The Gut Health Cookbook is fantastic! Thank you for researching and creating The Gut Health Cookbook! Such wonderful recipes! I'm so excited to try them all! -Sue
The Gut Health Cookbook puts the 20 Keys to Gut Health into practice with:
180+ recipes featuring 61 gut health superfoods

Gut health food lists

Why's behind each gut health superfood
Get instant digital access for $27.99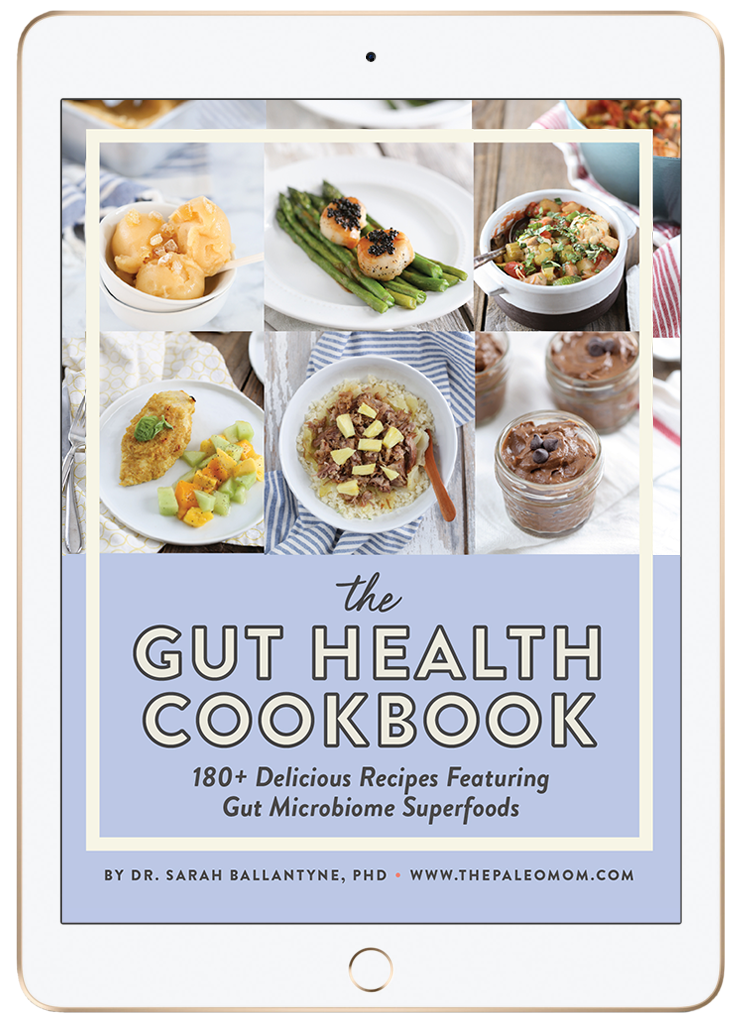 Creole Blackberry Shrimp Salad with Praline Pecans
Makes 4 salads
Prep Time: 30 minutes
Cook Time: 10 minutes
Praline Pecans (Omit for AIP)
1/2 cup raw pecan pieces
2 tablespoons coconut sugar
1 teaspoon gluten-free, alcohol-free vanilla extract
1 tablespoon coconut oil
Salad
The Gut Health Guidebook!
The depth of information, practical tips, and the accessible way Dr. Sarah shows me how to apply complex science to improve my health is truly remarkable. -Wendy
The Gut Health Guidebook is the culmination of 6 years of research. This unprecedented deep dive into the gut microbiome delivers:
A new diet for gut health, built from the ground up

Essential gut microbiome superfoods

20 Keys to gut health
Get instant digital access for $27.99
4 slices bacon, cut into 1/2 inch strips
1 pound raw shrimp, peeled and deveined
1 tablespoons each garlic powder and Herbs de Provence
1/2 teaspoon each cayenne pepper (omit for AIP) and salt
3 green onions, sliced
8 cups Spring Mix greens, or choice of lettuce
1 cup fresh blackberries
sea salt, to taste
Creole Blackberry Vinaigrette
1 cup fresh blackberries
1/4 cup extra virgin olive oil
1/4 cup balsamic vinegar
1 teaspoon creole mustard (omit for AIP)
1 clove garlic
1 tablespoon honey
1/4 teaspoon sea salt
Make praline pecans first. Preheat oven to 400° F. Lay pecan pieces on a baking pan lined with parchment paper. Mix together coconut sugar, vanilla and coconut oil. Sprinkle sugar mixture over pecan pieces. Place in oven and bake until sugar mixture melts, about 2 to 3 minutes. Be careful not to burn. Remove from oven and allow to cool and harden, about 10 minutes.
Cook bacon strips in large frying pan, over medium heat. As bacon is frying, sprinkle shrimp with herbs and spices. Once bacon is crispy, remove strips from pan, and set aside on paper towels to drain. Carefully, drop shrimp into frying pan and stir, coating in bacon grease. Add green onions to pan. Cook until shrimp are pink and cooked through, about 10 minutes. As shrimp is cooking, make creole blackberry vinaigrette. Place all ingredients for vinaigrette into blender. Process until smooth.. When shrimp is done cooking, remove from heat.
Assemble salads by placing 2 cups spring mix or lettuce onto each of 4 salad plates. Spoon 1/4 of shrimp over lettuce on each plate. Add 1/4 cup fresh blackberries to each plate. Break apart praline pecans, and sprinkle onto each salad. Add bacon strips to each salad. Drizzle on creole blackberry vinaigrette. Add salt to taste. Serve.