By questioning the status quo PaleoBOSS Lady informs the community how to rewrite their narrative on life, health-care and living. 
PaleoBOSS Lady is a walking miracle in the conscious living movement creating awareness through life experience, self-empowerment and her post graduate education in psychology focused on building communities. You can also find PaleoBOSS Lady on Facebook, Instagram, Twitter, Pinterest, and YouTube.
---
Woke up today cranky and my goal of the day was to write a blog post on "Changing the Narrative" for one of the leaders in the Paleo movement: The Paleo Mom. Not only is this an honor it is also something I have been excited about and working on in my mind for the last 10 days. Yet today the day set aside to write the blog to inspire others about how to change their current narrative I woke up cranky and all I want to do is punch a wall lying on my back kicking and screaming "no" like a 5 year old.
The Autoimmune Protocol E-Book!
One of my FAVORITE books I used to start the transition to AIP!!! It's so helpful! I printed mine out and spiral bound it. Thank you for this! -Rita Davidson
The Autoimmune Protocol e-book is your up-to-date guide to jump-start your healing with the AIP today.
3oo+ pages of quick-access information on the AIP

4 weeks of meal plans with shopping lists

over 80 family-friendly recipes, all 100% AIP!
Get instant digital access for $19.99
Sometimes in life we just have 'off days' both mentally and physically and yet we still have to be accountable to our life. For some of us that means family, children, significant others, pets, a job and commitments that come in all forms where "tomorrow" is not an acceptable outcome.
What do you do when life is not offering the narrative you want or you just need to get through the day when the current narrative does not support your planned outcome?
For many of you that do not know why I am PaleoBOSS Lady® I would like to share a little bit about myself so you can understand why I would be writing this blog and also how The Paleo Mom came to ask me to share something about myself. For the last 1235+ days (whose counting) I have considered myself a walking miracle. You see prior to my miracle status I feared homelessness or being institutionalized in the face daily and literally in every sense of the word.
For almost 30 years I have lived with Multiple Sclerosis (MS) and for 10+ with the most debilitating form: secondary progressive MS. My life became unmanageable on so many levels about 5 years ago. I had little to no use of my hands, trouble swallowing, full time help & had depleted my entire life savings due to huge healthcare costs all before the age of 50. At this time history had shown time and again MS to be one of the most disabling autoimmune disorders with the longest living population in institutions 2nd only to those suffering from mental illness. I was certain my days were numbered and I was completely desperate, scared and fear was controlling my life and my outcome.
In 2011, at the suggestion of a physical therapist that had just been diagnosed as having celiac they asked me to think about giving up gluten. I was running out of options and food was the only area I had not fully embraced a huge change and the only place with wiggle room left in my 'Bag of Tricks." Being 100% Italian giving up gluten was a huge consideration, but desperate times called for desperate measures.
The Gut Health Guidebook!
The depth of information, practical tips, and the accessible way Dr. Sarah shows me how to apply complex science to improve my health is truly remarkable. -Wendy
The Gut Health Guidebook is the culmination of 6 years of research. This unprecedented deep dive into the gut microbiome delivers:
A new diet for gut health, built from the ground up

Essential gut microbiome superfoods

20 Keys to gut health
Get instant digital access for $27.99
Within 21 days of saying goodbye to gluten my life started to change and drastically. Prior to giving up gluten I lived with involuntary limb jumping that made it impossible to drive or perform many daily tasks that most of us take for granted. Suddenly my arms and legs stopped flailing around like an outdoor blow up ornament and were in my control for the 1st time in years. This made it clear that I had a mission and that was to look at my food.
Thankfully the Internet is a great resource for all of us and I began my manic search for resources and help. The golden gates of miracles opened up and I saw a TedTalk done by Dr. Terry Wahls. In this talk she shares how she too had secondary progressive MS and was once in a tilt reclining wheelchair and now appeared before the cameras standing & walking on stage all by herself.
HOPE entered my life for the 1st time in almost 30 years! Little did I know that in order for this hope to be reality my narrative on life & how I lived needed to change regarding almost everything I knew or held sacred.
Once again I researched how I could change my narrative based on years of living a subconscious life. In typical PaleoBOSS Lady® fashion I found a new cutting edge post modern form of psychotherapy called Narrative Therapy that focuses on how to change your narrative through the use of language. Immediately I decided to focus on the study of Narrative Therapy during my BA and postgraduate studies all while I was implementing my own life style changes geared toward The Wahls Protocol.
In a very short time I began working directly with the co-founder of Narrative Therapy, David Epston, doing research papers on the effects of Narrative Therapy regarding those living with disease. Through my studies I learned techniques using language to help question the status quo to produce a desired outcome. This was the beginning of a truly focused effort on how to change my life and current narrative of desperation and fear to hope and my miracle status. No longer was MS deciding my life trajectory based on fear.
So here I sit today cranky and based on the above miracle me story how could that even be possible? Waking up, walking, talking, seeing and peeing should be enough to give me daily joy? Not so. We are all human with days, moments and experiences that often leave us not feeling our best self and offering a status quo that is not filled with hope and joy. How do we overcome those moments in our fast, paced often-planned minute-to-minute lives?
On this day a conversation with myself had to happen immediately upon recognizing I was not my best self. I needed to ask if there was an underlying physical cause that could be identified? Not sleeping well, not enough movement or nature in my life or anything that I could see in my lens that may have contributed to my current narrative of cranky?
Next I needed to evaluate the "must-do" of the day and what that looked like for me. Last but not least in order to change my narrative I had to identify what steps needed to be taken to offer a different outcome other than the one I was experiencing.
Seldom if ever do we engage in conscious conversation with ourselves. Many of us live on auto pilot mode daily. Alarms go off, we get up, make coffee/tea, work, home, dinner, TV then bed. Little time spent actually engaging in honest self-dialogue that focuses on the body, mind and soul connection. Quite honestly we often start each day by simply doing and doing the 'same' over and over again living a subconscious existence beyond the check list of tasks each day holds.
*NEW* The Gut Health Cookbook!
The Gut Health Cookbook is fantastic! Thank you for researching and creating The Gut Health Cookbook! Such wonderful recipes! I'm so excited to try them all! -Sue
The Gut Health Cookbook puts the 20 Keys to Gut Health into practice with:
180+ recipes featuring 61 gut health superfoods

Gut health food lists

Why's behind each gut health superfood
Get instant digital access for $27.99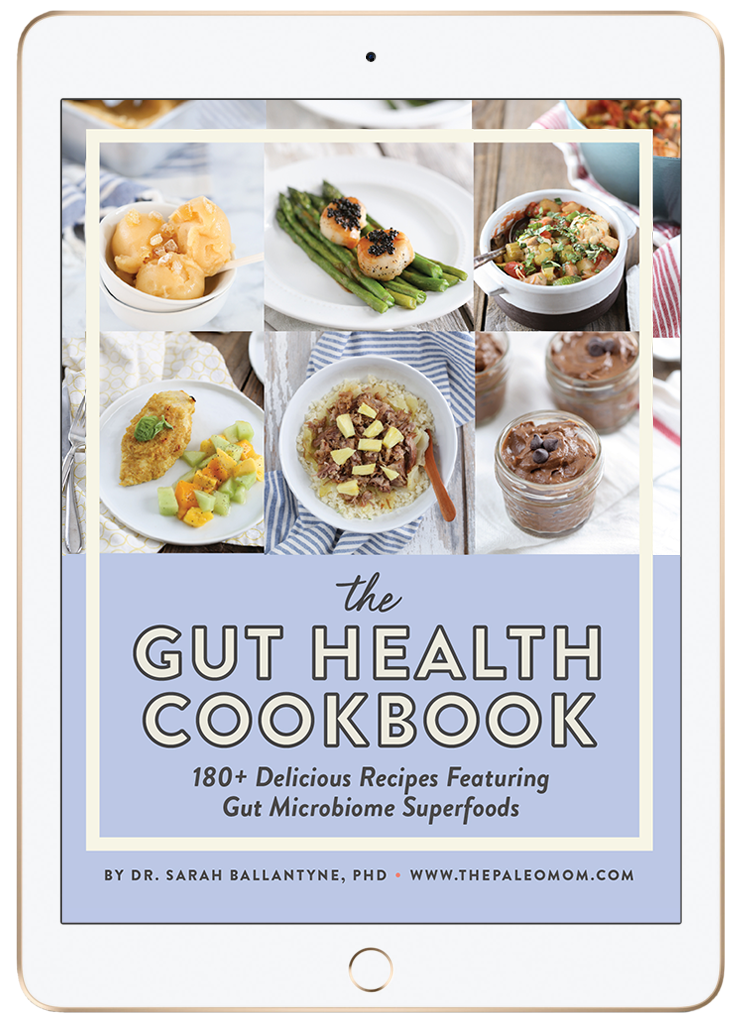 Today my dialogue informed me that yes I would share this real time account of how my narrative needed changing and also that I am going to allow my person to be cranky all day if that is how I am feeling. However it is not going to define my person beyond here and now. Being cranky is okay for a hot minute. I also realized that my day had no plans that included acts of simple joy and this needed to change if cranky was coming on board.
My narrative change included a day in the garden planting, do grounding and energy work while nourishing the place in me where hope became a reality and my dreams realized: clean food & being one with nature. These acts allowed my mind to focus on the task at hand while providing my psyche space for what I was feeling without beating myself up. I allowed for cranky and by the time I was done in the garden cranky was gone and hope was back in action.
In order to become garden girl I committed myself to getting my blog post done, checking my emails and then re-scheduling any appointments that could be handled on a less cranky day. These small changes honored my person and my commitments while maintaining space for the mood change that had entered my life space.
Changing the narrative is about engaging in conversation with yourself and owning your space 100%. Living a life on autopilot offers a narrative that is driven by everything but you and your desired outcomes. A life driven without clear intention of producing desired life outcomes is not even a dress rehearsal. Last time I checked we have one life here on earth and at least a dress rehearsal is in order to truly live. Question your status quo and manifest your life because there is a miracle status waiting for all of us if we ask ourselves what that outcome might be. I believe everyone is a miracle and by questioning the status quo I am certain you can find yours. Namaste.