Many of us have learned the hard way that there's really no secret shortcut for weight loss. Eating a nutrient-dense diet, staying physically active, and practicing portion control are the time-tested (though not particularly glamorous!) ways of achieving and maintaining a healthy body weight. I've written extensively about the role that diet and lifestyle play in healthy weight loss, and if weight loss is a primary goal for you, I recommend reading all of the following:
But, what if there was something that could help move the process along once we've got diet and lifestyle dialed in… something with clinical results and mechanistic evidence? Something that we could do from the comfort of our own home, that doesn't require anything strenuous or painful? It turns out, that thing exists—and it all involves certain wavelengths of light! Yes, we can use red light therapy for weight loss.
The Ultimate Support for Your AIP Journey!
Learn directly from the creator of the Autoimmune Protocol—Dr. Sarah!
Thank you for your warmth, your AIP mastery, and your dedication to answering each and every one of our questions with such kindness and attention to detail. Thank you for teaching the science behind the principles. The amount of energy you put into creating this course and responding to us in real-time is felt and APPRECIATED!!
-Nicole Wood
The next session of The AIP Lecture Series begins January 10th, 2022.
Quick Review of Red Light Therapy
As we saw previously (see Joovv Red Light Therapy for Autoimmune Disease), red light therapy is one of those "sounds too good to be true" treatments that actually is true!
The science is there in spades, and so are the stories (including my own) of people who've experienced the benefits first-hand. By exposing our bodies to specific wavelengths within the red and near-infrared light spectrum (at the right dosage and for the right amount of time), we can increase ATP production within our cells, promote healing, boost collagen production, treat skin conditions, reduce inflammation, improve autoimmunity, and so much more! In particular, red light in the mid-600s nm range and near-infrared light in the low-800s nm range have been identified as "sweet spots" for delivering a host of health benefits, across an overwhelming span of studies.
The increase in ATP production is effectively a boost in basal metabolic rate, meaning we burn more calories during the day even if we're not doing much. That by itself may be why red light therapy has been shown to support fat loss, but there's another mechanism also at play that's worth discussing in detail.
Red Light Therapy for Weight Loss
Amazingly, red light therapy can also help us lose more body fat. And this isn't just speculation or anecdote—it's something that's been demonstrated over and over in controlled trials done on humans! Existing research has shown that wavelengths of 635 nm can significantly reduce overall body circumference measurements of regions that have been spot-treated, including the waist, thighs, upper arms, and hips (and, studies are increasingly showing that these effects remain in place long-term!). For example, one study of 86 participants found that red light treatment, delivered every other day for two weeks, was able to reduce combined waist, hip, and thigh measurements by an average of 2.99 inches. Another study of 54 adults found that one weekly low level laser procedure, for a total of six weeks, and using a wavelength of 635 nm and power output of 17mW, was able to induce an average fat loss of 5.4 inches (for waist, hip, thigh, and upper abdomen circumference combined). Additional other trials abound with similar results!
In fact, due to its effectiveness, low level laser therapy (the more technical term for red light therapy) is a mainstay in a type of cosmetic procedure called body contouring (AKA, reducing fat in certain areas of the body), and has also been used for enhancing the effects of liposuction and reducing cellulite. (Yes, you read that right… red light therapy can reduce cellulite! Multiple studies have shown that low level lasers can cause objective improvements in the appearance of cellulite in the lower body.) And, unlike more invasive procedures designed to strip away fat, red light therapy causes zero pain appears to be free of adverse effects.
So, how does it work? For the past two decades, researchers have been exploring different hypotheses about how red light affects fatty tissue, and there's still no full consensus. One of the original ideas is that low-level lasers drill pores into the membranes of fat cells (adipocytes), allowing lipids to literally spill out and disperse. This hypothesis was proposed in 2002 after an experiment done on 12 healthy women, using a 10-mW diode laser with a red light wavelength of 635 nm. The study found that non-treated fat cells appeared as grape-shape nodes, but laser-treated fat cells lost 80% of their fat after four minutes of laser exposure, and 99% of their fat after six minutes of laser exposure. The fat that leaked out collected in the interstitial space (spaces within the body's tissues that are outside of the blood vessels). And, even more amazing, the researchers looked at microscopic images of the fat tissue taken at x60,000 and were able to see transitory pores (drilled in from the laser) and completely deflated fat cells, like balloons that had been popped with a pin!
The Gut Health Guidebook!
Diet and lifestyle to nurture your gut microbiome and heal leaky gut!
The depth of information, practical tips, and the accessible way Dr. Sarah shows me how to apply complex science to improve my health is truly remarkable. -Wendy
So, what mechanism underlies this fascinating effect? As discussed previously (see: Joovv Red Light Therapy for Autoimmune Disease), exposure to specific wavelengths in the red and near-infrared spectrum causes a photochemical reaction in our cells that activates the enzyme cytochrome C oxidase. When this enzyme is activated inside enlarged fat cells, it leads to secondary cascades (such as the activation of cytosolic lipase and nitric oxide), causing the formation of temporary pores in the cells' membrane. (For example, it's possible that increased levels of reactive oxygen species (ROS) following red light exposure could induce lipid peroxidation, where ROS reacts with lipids in cell membranes and causes temporary damage in the form of a pore.) These transitory pores release intracellular lipids, which the body then metabolizes further. (Adding more support to that idea, it's also possible that red light exposure activates a series of steps that lead to stimulation of cytoplasmic lipase, which is an enzyme that converts triglycerides into fatty acids and glycerol (which can then pass right through those fat cell pores!).) Note: this means that we have to burn the fat that is released from fat cells (at least most of it… some of it may be cleared via our lymphatic system), but red light therapy is able to bypass many of the hormone-driven limitations on accessing stored fat that can stall weight loss for many of us.
That being said, while a large number of additional studies support this hypothesis (and it's pretty hard to argue with the images captured of pores opening up in fat cells and allowing lipids to spill out!), a handful of other studies using low level lasers have failed to replicate the original study's findings, making the "pore" hypothesis still controversial in some research circles. However, it's important to note that the studies that didn't support this hypothesis were using very different methodology and experimental parameters (for example, targeting brown fat instead of yellow fat). Other proposed mechanisms—for example, the activation of a cascade leading to the death of fat cells (and the subsequent release of lipids they contain)—have received much less experimental support. But, there is some evidence that regardless of forming transitory pores, red light therapy may affect systemic lipid metabolism (rather than just localized fat metabolism) in ways that aren't yet fully understood.
So, what should we make of all this? Although nothing can replace eating a nutrient-dense diet with reasonable portions and maintaining an appropriate level of physical activity, red light therapy for weight loss is a legitimate way to enhance fat loss (and potentially even target specific areas of our body—something we're often told is impossible without surgery!). And, best of all, the studies yielding successful results generally use wavelengths in the mid-600s nm, the same range that Joovv lights can emit. That means we can obtain the benefits of red light therapy without enrolling in a clinical trial or going in for professional treatments… we can do it from the comfort of our own homes!
Joovv for At-Home Red Light Thearpy
In order for red light therapy to work, a number of variables (including power density, wavelength, dosage, and pulse structure) need to be in an optimal "sweet spot" that delivers the therapeutic benefit. Currently, Joovv is the main consumer product on the market that optimizes all the variables needed to hit that therapeutic window. Many other products out there use dosages and power outputs that are too low to achieve benefits, don't use the right wavelengths, or don't target large enough areas of our bodies (or better yet, target our entire body!). What I love about Joovv is that it delivers clinical benefits by using a high power output (research shows benefits start coming when we receive at least 4-6 Joules/cm2 of energy from red lights, and Joovv products can deliver this level in a matter of minutes!), and by using scientifically proven wavelengths (660 nm, 850 nm, or a combination of both—with 660 nm having greater benefits for the skin, and 850 nm having greater benefits for deep tissue healing). This ensures Joovv's products offer the same therapeutic value seen in red light therapy research and with professional red light therapy treatments, making these lights an amazing investment.
I've personally been using Joovv for several months, twenty minutes per day on most days. And while my main motivation for using my Joovv was reduction in inflammation (particularly fibromyalgia symptoms which tend to flare easily, such as when I'm a little stressed or didn't sleep well one night), I've noticed substantial weight loss over that same time period (like nearly twenty pounds). And, my weight has been steady for several years so this is really exciting for me. Even better, body composition analysis by my functional medicine doctor confirms that the weight I've lost is entirely fat (I've actually gained about eight pounds of muscle over the same period). Now in the interest of full disclosure, I did change a couple of other things at the same time (thyroid hormone dose and a couple of supplements), so Joovv might not deserve all of the credit. However, I think the science clearly supports that Joovv definitely played a role. And when coupled with the benefits I've seen to my skin, reductions in fibromyalgia pain, and an overall boost in energy and mood, it's hard not to be over-the-top excited about this amazing biohack.
The Gut Health Cookbook!
180+ delicious recipes featuring 61 gut health superfoods!
The Gut Health Cookbook is fantastic! Thank you for researching and creating The Gut Health Cookbook! Such wonderful recipes! I'm so excited to try them all! -Sue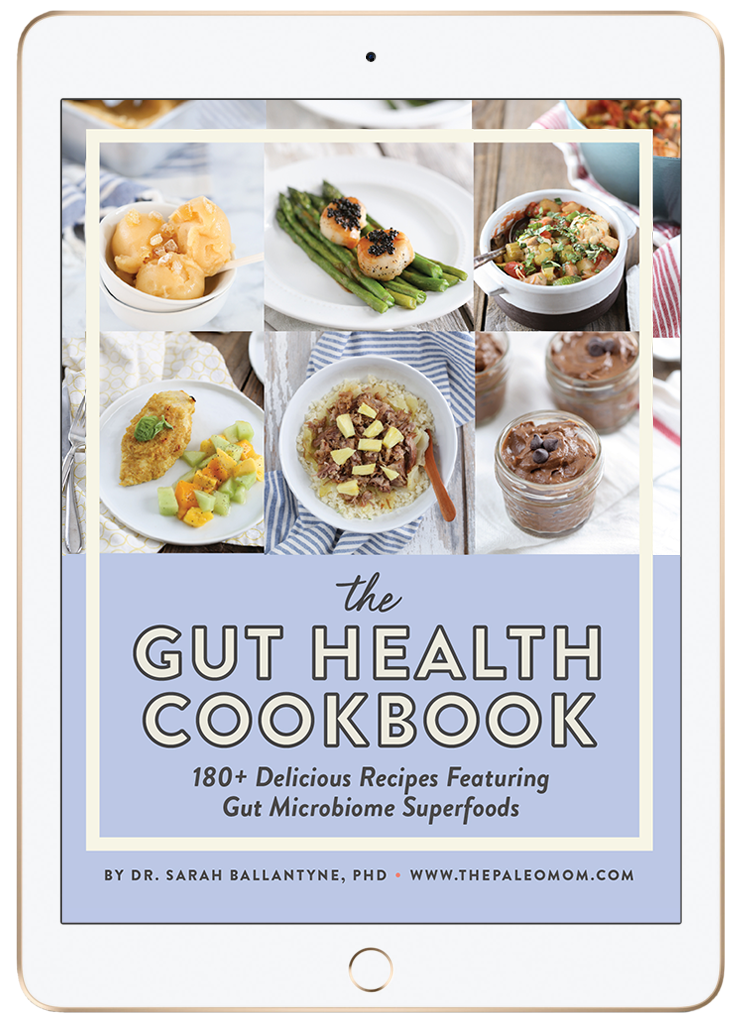 Citations
Avci P, et al. "Low-Level Laser Therapy for Fat Layer Reduction: A Comprehensive Review." Lasers Surg Med. 2013 Aug; 45(6): 349–357.
Jackson RF, et al. "A double-blind, placebo-controlled randomized trial evaluating the ability of low-level laser therapy to improve the appearance of cellulite." Lasers Surg Med. 2013 Mar;45(3):141-7. doi: 10.1002/lsm.22119.
Jankowski M, et al. "Low-level laser therapy (LLLT) does not reduce subcutaneous adipose tissue by local adipocyte injury but rather by modulation of systemic lipid metabolism." Lasers Med Sci. 2017 Feb;32(2):475-479. doi: 10.1007/s10103-016-2021-9. Epub 2016 Jul 6.
McRae E & Boris J. "Independent evaluation of low-level laser therapy at 635 nm for non-invasive body contouring of the waist, hips, and thighs." Lasers Surg Med. 2013 Jan;45(1):1-7. doi: 10.1002/lsm.22113.
Neira R, et al. "Fat liquefaction: effect of low-level laser energy on adipose tissue." Plast Reconstr Surg. 2002 Sep 1;110(3):912-22; discussion 923-5.
Nestor MS, et al. "Effect of 635nm Low-level Laser Therapy on Upper Arm Circumference Reduction." J Clin Aesthet Dermatol. 2012 Feb; 5(2): 42–48.
Nestor MS, et al. "Body contouring using 635-nm low level laser therapy." Semin Cutan Med Surg. 2013 Mar;32(1):35-40.
Thornfeldt CR, et al. "A Six-week Low-level Laser Therapy Protocol is Effective for Reducing Waist, Hip, Thigh, and Upper Abdomen Circumference." J Clin Aesthet Dermatol. 2016 Jun; 9(6): 31–35.