The importance of exercise is ingrained into many of our minds, and for good reason: physical activity routinely shows up as health-protective in studies, and we've identified a wide range of mechanisms explaining why that's the case. Getting regular moderate exercise decreases risks of cardiovascular disease, type 2 diabetes, depression, and some cancers. In fact, the World Health Organization has identified the lack of physical activity as the fourth leading risk factor for mortality, being responsible for an estimated 3.2 million deaths each year globally! With such strong science supporting its role in our lives, physical activity is a clear tenet of the Paleo framework.
The Benefits of Exercise
Some of the benefits of exercise are obvious. Increasing muscle mass causes an increase in metabolism, making it easier to maintain a healthy weight. Most people like the way they look better when they have bigger and more defined muscles. And it's just plain handy to be stronger, faster, more flexible, and more agile. But there are some additional benefits that we might not immediately think of as we contemplate adding more or different types of activity to our lives. Regular exercise improves our insulin sensitivity, modulates our cortisol levels, stabilizes our moods through the release of endorphins and can even help normalize our circadian rhythms (see Why is Exercise So Important)!
Exercise also reduces inflammation by reducing levels of proinflammatory cytokines (chemical messengers of inflammation) in fat tissue and inhibiting important inflammatory mediators (specifically Toll-like receptor and IL-1 signaling).  This makes living an active lifestyle key for mitigating chronic disease. The anti-inflammatory and immunomodulatory effects of activity are evident immediately after even gentle exercise (one study showed a significant increase in secretory IgA and defensin immediately following a 90-minute yoga practice) and also build over time (another study showed that secretory IgA continues to increase over 3 years with walking for 45 minutes five times per week). In fact, we can reap the big rewards simply from moving more throughout the day and avoid prolonged periods of inactivity (see The Benefits of Gentle Movement).  Even a 2-minute movement break every 20 minutes of otherwise sedentary (i.e., sitting) time can completely negate the health detriments of inactivity.
Nutrivore Weekly Serving Matrix
An easy-to-use and flexible weekly checklist
to help you maximize nutrient-density.
The Weekly Serving Matrix is very helpful! I've been eating along these lines but this really helps me know where to focus vs. which foods serve a more secondary role. It's super helpful and has taken a lot of worry out of my meal planning. Thanks!

Jan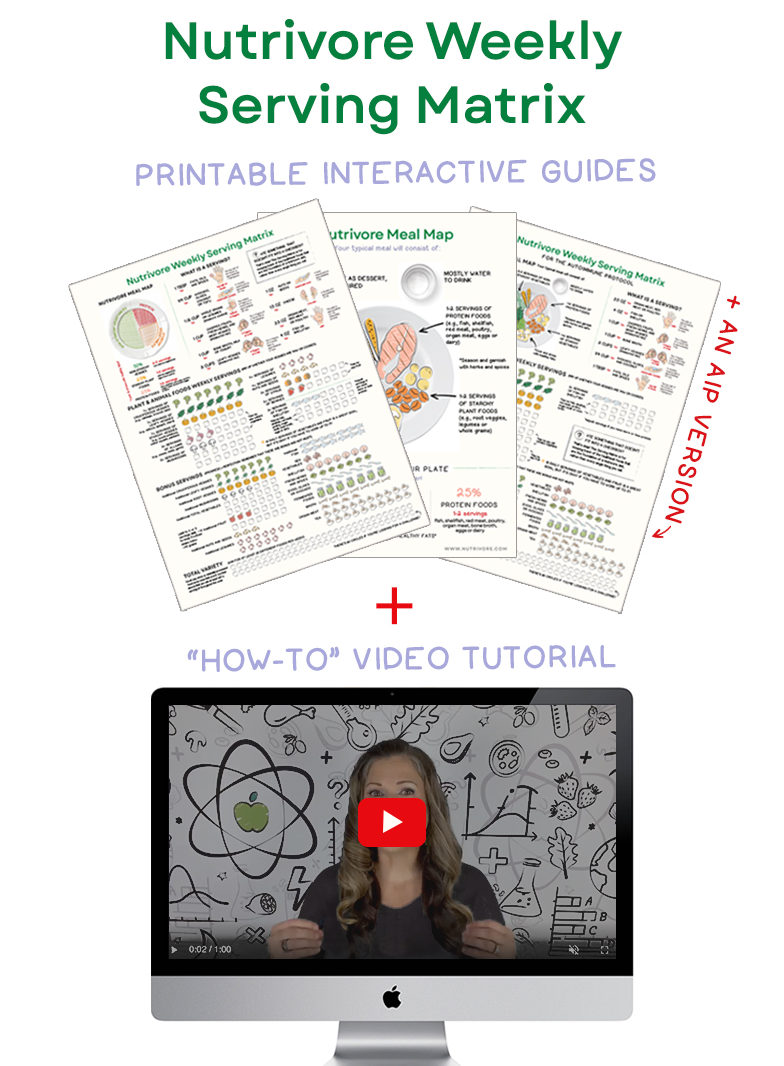 How Much Should I Exercise?
Studies show major health benefits with at least 150 minutes (2.5 hours) of moderate-intensity activity or 75 minutes of vigorous activity each week (it doesn't matter if this is spread out throughout the week or all at once one day of the weekend).  But, the more active you are, the greater the health benefits (provided you are giving your body sufficient recovery time between strenuous or exhaustive workouts, see Why Exercising Too Much Hurts Your Gut). For even greater health benefits, aim for 300 minutes (5 hours) of moderate-intensity activity or 150 minutes (2.5 hours) of vigorous activity each week. You can absolutely mix it up with some moderate activity and some vigorous activity (use the Rate of Perceived Exertion Chart to identify whether your intensity level is moderate or vigorous). As a general rule, 1 minute of vigorous activity is about equivalent (in terms of health benefits) to 2 minutes of moderate activity.  And, it's important to include at least 2 days per week of muscle-strengthening activity targeting all of the major muscle groups  (legs, hips, back, chest, abdomen, shoulders, and arms) within the week.
Working Out at Home
With this kind of weekly time commitment for optimal health benefits, a great way to set ourselves up for success is to build a workout program right in our own home. I find home workouts are amazing for many people because they eliminate a major barrier: time! Cutting down travel time to the gym, park or recreation center gives us back more minutes for exercise. By setting up a home gym or investing in some simple pieces of equipment, we often give ourselves even more open time slots to work out, such as when our kids are napping. Heck, I've even been known to squeeze in a few squats while I'm waiting for something to boil on the stovetop!  The other advantage to home workouts?  Over the long run, they tend to save tons and tons of money, not to mention the time spent commuting to the gym!
The programs below are completely amazing for building a home workout routine, and they run the gamut from kettlebells and quick metabolic conditioning to more gentle bodyweight movements. They all include scaleable modifications for beginners and moves challenging enough for advanced fitness fanatics.
Strong From Home
Developed by Noelle Tarr of Coconuts and Kettlebells,  Strong From Home is a complete home workout library will give you everything you need to develop a killer strength routine at home! It arrives as a downloadable PDF with photo demonstrations of every exercise, detailed routines, and recommendations on inexpensive equipment needed for some of the workouts. What I like most about Noelle's approach is that it's, well, approachable—there's no fancy jargon and very little frilly equipment. Instead, you'll get high-quality instruction, real-life advice, and an intense workout.
Noelle is offering 50% off Strong From Home with the code "STAYHOME" and her Home Workout Guide completely for FREE.
Autoimmune Strong
Autoimmune Strong is a favorite of mine because it's so thoughtfully created for those of use with autoimmune disease. It comes from the mind of Andrea, another Certified Personal Trainer and Nutritional Therapy Practitioner who suffered herself with fibromyalgia, chronic pain, and chronic fatigue. After becoming frustrated with the cycle of exercising and experiencing negative symptoms, she designed a program with these conditions in mind. The result is a blend of exercise, community support and diet and lifestyle recommendations that are truly unique. The routines are 10-30 minutes long, so they really fit into a busy schedule well. I love this program for anyone at any level of a healing journey. Movement is so important in any form, and with Autoimmune Strong you can feel confident your specific needs are being taken into account.
Andrea is offering a month of Autoimmune Strong for just $4.99 ($15 discount off the original price!) Offer is good until April 7th, 2020. Use code PM15OFF at check out.
Primal Play
Darryl Edwards' Primal Play classes are the one session I ALWAYS make time for at Paleo f(x) because they are challenging but also so. much. fun! Darryl's take on fitness focuses on engaging our primal instincts for play with fun, physically challenging games we can take anywhere—no equipment needed! This is such a beautifully different take on "working out," and one I believe really aligns with our natural styles of movement. This is the program I recommend for anyone who's bored with their fitness routines or just looking for fresh ways to bring movement back into their life!
Darryl is offering his e-Book, Intro To Animal Moves completely for free! And, if you enjoy that, you will love his newest book, Animal Moves!
Get the entire Go To Bed Online Program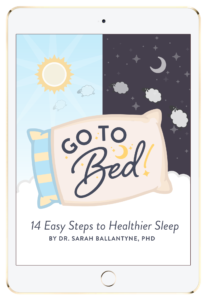 Recharge your life with better sleep!
This is the most comprehensive sleep program ever created! Get all the WHYs and HOW TOs!
Includes 350+ page guidebook and 14-day challenge! Plus great bonuses!
You may enjoy these related posts:
The importance of exercise is ingrained in our minds, and for good reason: …