Red light therapy, also called photobiomodulation or low level laser therapy (LLLT), is one of the most exciting tools we can add to our health arsenal. Previously, I've shared the science on how low level laser therapy can benefit autoimmune disorders (see Joovv Red Light Therapy for Autoimmune Disease), weight loss (see Joovv Red Light Therapy for Weight Loss), and pain management (see Joovv Red Light Therapy for Pain Management), as well as potentially impact immunity and tumor growth in cancer (see Red Light Therapy for Cancer: Fact or Fiction?). We can add to that list some scientifically verified benefits for oral health, skin health, joint health, eye health, athletic performance, inflammation, collagen production, muscle recovery, and wound recovery!
But, there's still another huge area this type of therapy holds promise for: our mental health! A growing body of research is showing that low level laser therapy can specifically affect the brain, and in doing so, significantly improve symptoms of depression and anxiety. These days, we could probably all use a little boost for our mental health.
How does low level laser therapy work? As a recap, exposure to certain wavelengths in the red and near-infrared spectrum launches photochemical reactions within our cells. When chromophores inside our mitochondria absorb photons from the red and infrared light spectrum, their electrons get excited and leap into a higher-energy orbit. The result is newly available energy that our bodies can use for a variety of cellular tasks, including turning on beneficial genes and synthesizing important proteins—among much more! (For more details, see Joovv Red Light Therapy for Autoimmune Disease and Joovv Red Light Therapy for Pain Management.)

Save 80% Off the Foundations of Health
Expand your health knowledge on a wide range of topics relevant to you, from how to evaluate scientific studies, to therapeutic diet and lifestyle, to leaky gut and gut microbiome health, to sustainable weight loss, and much more!!!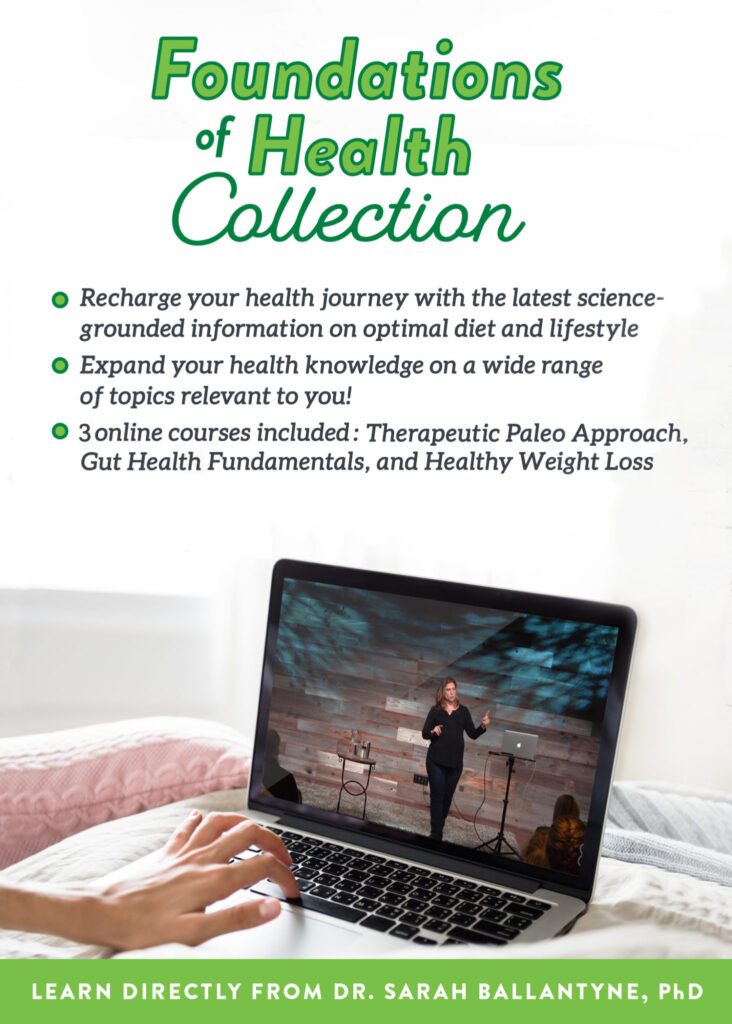 Red and Near-Infrared Light and the Brain
We already know that red light therapy can affect different parts of the body by penetrating both the skin and deeper tissue. But, what about the brain? Although the skull blocks a significant amount of red light from passing through, certain near-infrared wavelengths can penetrate the skull more deeply and effectively than shorter wavelengths. Experiments have shown that the 808 – 835 nm wavelengths can reach a brain depth of 4 – 5 cm (superior to the 660 nm and 940 nm wavelengths also tested!). Higher power densities and pulsed emission settings may also make near-infrared light transmission even more effective for penetrating brain tissue.
Once the light reaches the cerebral cortex, it increases blood flow, improves oxygen availability and consumption, and stimulates mitochondria to produce more ATP. From there, it can benefit the brain in a number of ways, including by increasing lymphatic drainage, reducing edema, increasing angiogenesis, decreasing neuron excitotoxicity, reducing inflammation, enhancing synaptogenesis, increasing brain-derived neurotrophic factor and other neutrophins, increasing neuron progenitor cells, and boosting levels of the antioxidant superoxide dismutase. Whew! Even more impressive, the impact of low level laser therapy in the near-infrared spectrum can last far beyond each treatment session, due to activating signaling pathways and transcription factors that alter protein expression in the brain. And, some evidence suggests that low level laser exposure elsewhere on the body can still benefit the brain, due to the process of remote photobiomodulation (where the low level laser induces systemic signaling that affects even non-irradiated tissue and organs). In fact, one mouse study tested this by covering the animals' heads in aluminum foil to prevent radiation from reaching the cranium; with low level laser applied only to the rest of their bodies, the mice still saw a statistically significant effect on their neurocognitive behavior!
As a result of these direct and lingering effects, the use of near-infrared light therapy for the brain—called transcranial photobiomodulation—can bring measurable improvements to disorders like depression, anxiety, and PTSD, as well as lifestyle factors that affect mental health (including sleep and stress). Let's look at what the science shows!
Red Light Therapy for Depression and Anxiety
Studies in animals and humans have shown that depression and anxiety coincide with certain mitochondrial alterations—including changes in cellular respiration and the generation of ATP, the energy currency of all cells (see How Does Sugar Fit into a Healthy Diet?). So, it might not come as a surprise that low level laser therapy, targeting mitochondria, can have an impact on these conditions!
A number of experiments have tested red light therapy in animal models of depression. In one study using rats, daily near-infrared light treatment for one week (using a continuous 804 nm wavelength) reversed the animals' reserpine-induced depressive symptoms. A longer study in mice saw a reduction in depression-like behaviors after 28 days of 30-minute long laser treatments (808 nm wavelength). Another rat study tested both red and near-infrared light treatments—four times per week for a total of three weeks—and found the 810 nm wavelength, but not the 630 nm wavelength, significantly decreased depressive-like behaviors. The 810 nm wavelength was also shown to reduce depressive-like behaviors in at least three additional rodent studies, using treatments of four times weekly for three weeks, once daily for five consecutive days, and three times per week for three weeks. Likewise, rodent studies suggest that low level laser therapy can help reduce symptoms of anxiety. In a rat model of anxiety and posttraumatic stress syndrome, red light therapy led to a reduced fear of extinction and a reduction in fear recall. Another rodent study exploring the mechanisms behind low level laser therapy and depression suggested that the effects are due to elevating ATP biosynthesis and mitochondrial complex IV specifically in the prefrontal cortex, as well as reversing neurotransmitter abnormalities in this brain region.
So, what about in humans? The first clinical trial of red light therapy for depression and anxiety found that a single treatment with an 810 nm laser (applied to the participants' foreheads) led to improvements in their depression and anxiety scores at the two-week follow-up. For some patients, the improvements persisted at the four-week follow-up as well. In addition, cerebral blood flow in the frontal pole region was enhanced during the treatment.
Another larger trial in humans found that treatment with 810 and 980 nm lasers (applied to the forehead and both temples for 9 – 12 minutes per area, for a total of eight to 34 sessions per person) resulted in 92% of the participants seeing improvements in their depression symptoms, while 82% went into clinical remission (as measured by the Quick Inventory of Depression Symptomatology-Self Report score). What's more, the participants remained in remission for up to 55 months after treatment! All but two of the participants also stopped experiencing suicidal ideation. It's worth noting that this is a far greater effect than antidepressants, which at best, improve depressive symptoms in up to 60% of people.
Red Light Therapy for Stress
Stress is a major threat to mental health (see also How Stress Undermines Health and Paleo for Mental Health). In fact, chronic stress has been shown to generate long-lasting changes in the brain that can predispose us to anxiety and mood disorders later on—including by generating more myelin-producing cells and white matter, decreasing the number of stem cells that mature into neurons, impairing communication within the brain, increasing the connectivity between the hippocampus and amygdala (the area responsible for "fight or flight"), and decreasing the connectivity between the hippocampus and prefrontal cortex (the area responsible for decisions and responses).
On a physiological level, stress occurs when a stimulus—like a chemical agent, environmental condition, or event—activates the hypothalamic-pituitary-adrenocorticol (HPA) axis, leading to a release of stress hormones and triggering the fight-or-flight response. Although our bodies are adapted to handle periodic acute stress, prolonged stress is a whole different story (see How Stress Undermines Health for the grand tour of all the ways chronic stress can harm us!).
Given the above, we might be wondering: could red light therapy also help us physically cope with stress, and support our mental health through that avenue? The answer appears to be yes! In a mouse model of chronic restraint stress, low level laser therapy (using 810 nm wavelength on depression model mice) improved behavior and decreased blood levels of the stress hormone cortisol, raised serotonin levels in the prefrontal cortex and hippocampus, and decreased nitric oxide concentrations in those same brain regions.
In a trial of 11 patients with traumatic brain injury, all four participants who met the criteria for PTSD experienced dramatic improvements in their PTSD checklist scores after 18 sessions of low level laser therapy (three times per week for six weeks, using a combination of 870 nm and 633 nm wavelengths, for 20 minutes per session). Another larger study with over 50 patients undergoing treatment for PTSD found that virtually all saw a significant improvement in quality of life and emotional stability following low level laser therapy. (Disclaimer: given the complexity of PTSD, it's wise to seek professional support along with any other therapeutic approaches like red light therapy!)
Red Light Therapy to Improve Sleep
Like stress, sleep (or lack thereof!) has a major impact on mental health. In fact, sleep deprivation (6 hours or less per night) is associated with a 25 – 38% increased risk of developing depressive symptoms, and chronic insomnia has been linked to a greater risk of developing anxiety disorders. The good news is, low level laser therapy may help improve sleep quality and protect against sleep-deprivation induced brain changes! See also Sleep and Disease Risk: Scarier than Zombies!, The Link Between Sleep and Your Weight, Sleep Requirements and Debt: How do you know how much sleep you need? and How Much Sleep Do We Need? Understanding the Hunter-Gatherer Evidence.
Only a handful of studies have been conducted on low level laser therapy and sleep, but the ones we do have are promising. In one trial of female basketball players, 30 minutes of red light treatment each night for two weeks (using a 658 nm wavelength) significantly improved sleep quality and increased blood levels of melatonin (a hormone that regulates the sleep-wake cycle). Additional research shows that red light therapy can help with sleep inertia, or the grogginess that comes after we wake up in the morning: in a study of 30 adults, wearing red light masks at night (emitting 628 nm wavelength into each closed eyelid) resulted in significantly less sleepiness after waking up, and also improved performance in some tasks after the sleep period.
And in sleep-deprived mice, low level laser therapy (810 nm daily for three days) was able to prevent cognitive impairment induced by insufficient sleep, while also enhancing the antioxidant status and mitochondrial activity in the animals' hippocampal brain regions. (Although that doesn't necessarily mean the animals slept better, it does show that low level laser therapy can counteract some of the damage from sleep deprivation, possibly protecting against the brain changes that predispose towards depression and anxiety.)
Currently, trials are also underway testing the effects of red light therapy on obstructive sleep apnea, a condition that affects about 20% of the population and that can severely impact sleep quality. Time will tell if red light therapy can help with this condition, too!
Adding Red and Near-Infrared Light Therapy to the Toolkit
It's important to keep in mind that while low level laser therapy shows promise for supporting our mental health, it's not a substitute for the basics: a nutrient-dense diet, getting enough sleep, exercising, meditating, and prioritizing stress management, see also Paleo for Mental Health. But, science supports the idea that it can be an excellent adjunct to these things. And, the use of near-infrared light to support mental health is as low-risk as it gets: very few side effects have ever been reported from this type of therapy, and the potential for it to help alleviate symptoms of anxiety and depression is unmistakable.
So, why choose Joovv for red and near-infrared light therapy?
Joovv is my choice for at-home light therapy device because it maximizes all of the variables (including power density, wavelength, dosage, and pulse structure) to deliver therapeutic doses of the two best-studied sweet-spot wavelengths for photobiomodulation, including for the above-detailed benefits for mental health, stress and sleep: red (660 nm) and near-infrared (850 nm). Plus, their solo units are modular so you can customize and build over time, attaching your Joovv to a stand or hanging on the back of your bedroom or bathroom door! You can control it from buttons on the side or from an app on your smartphone.
Joovv recently announced their 3rd generation models, now available for pre-order! There's so many great new features, but the thing I'm most excited about is the increase in treatment distance. When I use my 2nd generation Joovv before bed (12 minutes per side, if you're curious), I have to stand really close, about 4 inches away. With the new 3rd generations, the treatment distance will increase to 16 to 24 inches! I'm already fantasizing about all the ways I could multitask while Joovv-ing with that kind of distance! Another awesome feature of the Joovv 3rd generation models is the Recovery+ mode which delivers pulsed infrared light, which as we discussed above means greater penetrance and benefit to the brain.
Citations
Askalsky P & Iosifescu D, et al. "Transcranial Photobiomodulation For The Management Of Depression: Current Perspectives." Neuropsychiatr Dis Treat. 2019 Nov 22;15:3255-3272. doi: 10.2147/NDT.S188906. eCollection 2019.
Caldieraro MA, et al. "Transcranial Photobiomodulation for Anxiety Disorders and Post-traumatic Stress Disorder." Clinical Handbook of Anxiety Disorders. 219:283-295.
Chetty S, et al. "Stress and glucocorticoids promote oligodendrogenesis in the adult hippocampus." Mol Psychiatry. 2014 Dec;19(12):1275-1283. doi: 10.1038/mp.2013.190. Epub 2014 Feb 11.
Eshaghi E, et al. "Transcranial photobiomodulation prevents anxiety and depression via changing serotonin and nitric oxide levels in brain of depression model mice: A study of three different doses of 810 nm laser." Lasers Surg Med. 2019 Sep;51(7):634-642. doi: 10.1002/lsm.23082. Epub 2019 Mar 18.
Figueiro MG, et al. "Effects of red light on sleep inertia." Nat Sci Sleep. 2019 May 3;11:45-57. doi: 10.2147/NSS.S195563. eCollection 2019.
Gordon LC & Johnstone DM. "Remote photobiomodulation: an emerging strategy for neuroprotection." Neural Regen Res. 2019 Dec;14(12):2086-2087. doi: 10.4103/1673-5374.262573.
Hamblin MR, et al. "Shining light on the head: Photobiomodulation for brain disorders." BBA Clin. 2016 Oct 1;6:113-124. doi: 10.1016/j.bbacli.2016.09.002. eCollection 2016 Dec.
Henderson TA & Morries LD. "Multi-Watt Near-Infrared Phototherapy for the Treatment of Comorbid Depression: An Open-Label Single-Arm Study." Front Psychiatry. 2017 Sep 29;8:187. doi: 10.3389/fpsyt.2017.00187. eCollection 2017.
Johnstone DM, et al. "Targeting the body to protect the brain: inducing neuroprotection with remotely-applied near infrared light." Neural Regen Res. 2015 Mar;10(3):349-51. doi: 10.4103/1673-5374.153673.
Liu, T C-Y et al. "Photobiomodulation on Stress." International Journal of Photoenergy. 2012 Aug 9;2012. doi: 10.1155/2012/628649.
Neckelmann D, et al. "Chronic insomnia as a risk factor for developing anxiety and depression." Sleep. 2007 Jul;30(7):873-80. doi: 10.1093/sleep/30.7.873.
Salehpour F, et al. "Transcranial near-infrared photobiomodulation attenuates memory impairment and hippocampal oxidative stress in sleep-deprived mice." Brain Res. 2018 Mar 1;1682:36-43. doi: 10.1016/j.brainres.2017.12.040. Epub 2018 Jan 4.
Schiffer F, et al. "Psychological benefits 2 and 4 weeks after a single treatment with near infrared light to the forehead: a pilot study of 10 patients with major depression and anxiety." Behav Brain Funct. 2009 Dec 8;5:46. doi: 10.1186/1744-9081-5-46.
Xu Z, et al. "Low-Level Laser Irradiation Improves Depression-Like Behaviors in Mice." Mol Neurobiol. 2017 Aug;54(6):4551-4559. doi: 10.1007/s12035-016-9983-2. Epub 2016 Jul 5.
Zhao J, et al. "Red light and the sleep quality and endurance performance of chinese female basketball players." J Athl Train. 2012;47(6):673–678. doi: 10.4085/1062-6050-47.6.08