The most remarkable improvement I've seen with my continued use of the Joovv Red Light Therapy device is the complete disappearance of residual fibromyalgia pain. I credit the Autoimmune Protocol diet and lifestyle for reducing my fibro pain to a level that was ignorable and that didn't interfere with my day-to-day activities. But, it was using the Joovv that brought my pain the rest of the way to a zero. Joint and muscle pain is so common in autoimmune disease (whether it's attributable to fibromyalgia or not) that this got me interested in taking a closer look at the research into red and near Infrared light therapy for pain management. The scientific evidence is exciting!
Quick Review of Red Light and Near Infrared Light Therapy
Research on red light and near infrared light therapy has become a hot topic, and proven benefits include various skin benefits (including wrinkle reduction!), weight loss, oral health improvement, improved muscle recovery, better sleep quality, enhanced thyroid health, reduced joint pain and reduced inflammation, speedy wound recovery, and more!
In fact, there are over 3,000 published clinical studies on light therapy (more technically called photobiomodulation) and over 200 of them are double-blinded, randomized, and placebo-controlled. That makes red and near infrared light therapy one of the most rigorously studied biohacks around!
Save 80% Off the Foundations of Health
Expand your health knowledge on a wide range of topics relevant to you, from how to evaluate scientific studies, to therapeutic diet and lifestyle, to leaky gut and gut microbiome health, to sustainable weight loss, and much more!!!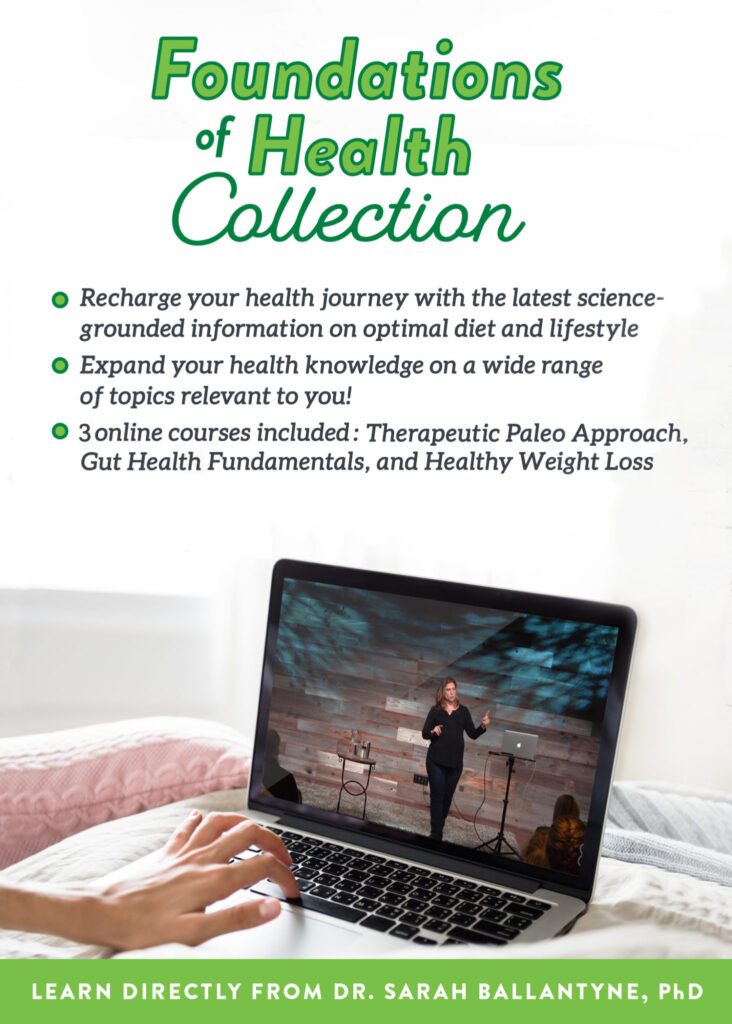 I wrote about red and near infrared light therapy extensively in Joovv Red Light Therapy for Autoimmune Disease and Joovv Red Light Therapy for Weight Loss, but I thought it was worth taking a moment to summarize how the specific wavelengths of light used by the Joovv can provide such impressive and diverse health benefits..
On a super technical level, red light therapy causes a photochemical reaction within our cells. Chromophores (which are responsible for a molecule's color) in our mitochondria absorb photons from red and infrared light, causing electrons in those chromophores to get excited and jump into a higher-energy orbit. As a result, our body can use this new stored energy for a variety of cellular tasks, which then have wide-ranging benefits for our health. In fact, the increased cellular metabolism (from an up to 200% increase in ATP production!) means that beneficial proteins can be synthesized, beneficial genes can be turned on, and cellular health in general can be improved!
Some of the specific mechanisms through which red and near infrared light therapy benefits our health include:
Modulation of reactive oxygen species (ROS):
increases endothelial Nitric Oxide Synthase (eNOS), impaired eNOS is implicated in the development of hypertension, preeclampsia, diabetes mellitus, obesity, erectile dysfunction, and migraine
decreases inducible Nitric Oxide Synthase (iNOS), a major mediator of inflammation and stress -induced insulin resistance
increases superoxide dismutase (SOD), extremely important antioxidant
decreases cyclooxygenase-2 (COX-2), there's a whole class of anti-inflammatory drugs that inhibit COX-2
Induces transcription factors that play role in:
protein synthesis
cytokine modulation
cell proliferation
growth factors (muscle recovery, tissue repair, collagen formation)
angiognesis
tissue oxygenation
endogenous antioxidant enzymes (SOD, eNOS)
liver regeneration
inflammatory mediators
CNS health (increases bone-derived neurotrophic factor, protective against neurodegenerative disease and TBI)
Immune cells are strongly affected by red light therapy
strongly anti-inflammatory
improves wound healing
reverses age-related immune dysfunction
promotes "M1-related immunoregulation" (immune balancing)

antiviral immunity
antitumor immunity (inhibits tumor growth in studies)
pathogeneisis of autoimmune disease
Effects on fibroblasts (collagen-forming cells)
enhances production of basic fibroblast growth factor,
increases the proliferation, maturity, and motility of fibroblasts (a type of cell that produces collagen and extracellular matrix).
resulting increase in collagen production responsible for much of the skin and joint benefits.
Impressive right? If you want to get into more of the nitty gritty of these mechanisms, check out Joovv Red Light Therapy for Autoimmune Disease and Joovv Red Light Therapy for Weight Loss.
As an aside: I wonder if, in our hunter-gatherer days, our increased exposure to infrared wavelengths from the sun thanks to living outdoors plus red light wavelengths from fires for cooking played a major (unappreciated) role in our health. This is a tough hypothesis to prove, but I believe that red and near infrared light therapy is replacing something that's missing in our Western cultures.
Okay, let's talk specifically about pain management!
Fibromyalgia Pain
This is an exciting new area of research; in fact, four papers evaluating red light therapy in fibromyalgia (also called photobiomodulation or low level laser therapy [LLLT]) have been published so far this year! These add to some well-designed studies to form a convincing picture of red and near infrared light therapy as an effective treatment for fibromyalgia pain.
An 2014 placebo-controlled randomized clinical trial evaluated red light LLLT in fibromyalgia sufferers (wavelength 670nm; 4J/cm2 energy deposition at all 18 American College of Rheumatology-identified tender points for just over 8 minutes total, three times per week for 4 weeks) and showed marked improvement compared to placebo in physical impairment, work missed, pain, fatigue, stiffness, anxiety, and depression scores.
A 2016 placebo-controlled randomized clinical trial evaluated near infrared LLLT in fibromyalgia sufferers (wavelength 850nm; 2J/cm2 energy deposition at predetermined painful points for 3 minutes at each point, 5 days per week for 3 weeks) and showed improvements in night pain, depression, quality of life and functionality scores.
A 2018 placebo-controlled, randomized and blinded clinical trial evaluated red and infrared combo LLLT in fibromyalgia sufferers (wavelengths 640nm, 875nm, 905nm; each of 10 tender points were treated for 5 minutes, with total energy deposition being 39.3J, twice per week for 10 weeks) showed improvement in reduce the tender point numbers, pain threshold, anxiety, depression, fatigue, sleep, difficulty sleeping, and quality of life scores.
Wavelength is important here. A recent study using 808nm wavelengths showed no effect on fibromyalgia pain as did another recent study at 780nm. Also, there seems to be synergistic effects of red and near infrared wavelengths, meaning that an infrared sauna would not be as effective as combo therapy.
Chronic Low Back Pain
A 2007placebo-controlled, randomized and blinded clinical trial evaluated near infrared LLLT in chronic low back pain sufferers (wavelength 810nm, energy deposition 27J/cm2, each of 8 points in the lower back were eradiated for a total of about 20 minutes, twice per week for six weeks, combined with exercise) and showed that near infrared light therapy and exercise decreased pain, increased lumbar flexion, and reduced disability compared to exercise alone.
This study adds to results from a few earlier studies that weren't placebo controlled. For example, a 2003 clinical trial evaluating LLLT in chronic low back pain (wavelengths 600–984 nm spectrum, energy deposition 1J/cm2, 5 times per week for 4 weeks) showed improvement in pain and functional disability with or without exercise.
Neck Pain
There's so much research on red light and near infrared light therapy on neck pain that there are multiple meta-analysis studies!
A 2009 meta-analysis of 16 studies evaluating LLLT for neck pain showed that it reduces pain immediately after treatment in acute neck pain and results for chronic neck pain sufferers could last up to 22 weeks after completion of treatment! They showed that 830nm was the most effective wavelength for treatment with total energy deposition of about 6J.
A 2013 meta-analysis of 17 studies evaluating LLLT for neck pain showed that it reduces both acute and chronic neck pain and improves functionality measurements (like range of motion), again with the most robust data for 830nm wavelengths but also data to support benefits from 630nm and 905nm.
Joint Pain
As discussed in Joovv Red Light Therapy for Autoimmune Disease, there's also compelling evidence that red and near infrared light therapy can reduce pain and improve joint mobility in rheumatoid arthritis.
One meta-analysis of five placebo-controlled trials showed that LLLT reduced pain in rheumatoid arthritis sufferers by 70% compared to placebo, reduced morning stiffuness by 27.5 minutes and improved tip to palm flexibility by 1.3 cm! A more recent meta-analysis of 22 trials found that when using appropriate energy doses, and when applied directly to affected areas, low level laser therapy could be a good alternative to NSAIDs in terms of relieving joint pain (with similar effectiveness but without the side effects).
A 2017 clinical trial evaluated LLLT in chronic food and ankle pain attributable to chronic achilles tendovaginitis, chronic plantar tendovaginitis, ankle torsion and hallux valgus (wavelength 830nm, energy deposition 20.1 J/cm2, 4 points treated for 30 seconds each on each foot twice per week for 4 weeks) and showed significant improvement in pain, but not range of motion.
There's also compelling evidence that LLLT can reduce pain and improve functional measurements in osteoarthritis. For example, a 2016 clinical trial in patients with osteoarthritis showed that LLLT (wavelengths 658nm and 785nm) was able to provide large improvements in pain, joint swelling and mobility in as little as 5 treatments, with maximal effects seen at 7 to 10 treatments.
Pain, In General
The scientific evidence goes on…. There's studies showing red and near infrared light therapy can reduce pain caused by orthodontic procedures, cancer, temporomandibular disorders, systemic sclerosis, sciatica, diabetic neuropathy, and burning mouth syndrome! And, there's clinical trials in the works for other painful chronic conditions, like multiple sclerosis.
There's a theme here though. Similar to other health outcomes, in order for red light therapy to effectively reduce pain, a number of variables (including power density, wavelength, dosage, and pulse structure) need to be in an optimal "sweet spot" that delivers the therapeutic benefit. The best absorption by our tissues peaks in the ranges of 660-670 nm and 830-850 nm. Also important, if the light being used doesn't have enough irradiance (or the time it's applied for is too short), there won't be any therapeutic response; if the light being used has too much irradiance (or the time it's applied for is too long), the therapeutic response will likewise diminish. In other words, dialing all these factors to the sweet spot is pretty critical! Studies that evaluate wavelengths outside of the sweet spot show mixed results, and studies that use low irradiance also show mixed results.
Why Joovv?
Currently, Joovv is the main consumer product on the market that optimizes all the variables needed to hit that therapeutic window. Many other products out there use dosages and power outputs that are too low to achieve benefits, don't use the right wavelengths, or don't target large enough areas of our bodies (or better yet, target our entire body!).
Joovv maximizes clinical benefits by using
a high power output (research shows benefits start coming when we receive at least 4-6 Joules/cm2 of energy from red lights, and Joovv products can deliver this level in a matter of minutes!)
scientifically proven wavelengths (both 660nm and 850 nm).
Joovv just launched completely redesigned devices! There are a ton of new features, including:
New FDA-approved electrostatic-coated LEDs that deliver even more intensity and have passed rigorous 3rd-party testing.
Brand new modular design that lets you build a full-body Joovv system now—OR over time. The cool thing is that you can start with just one Joovv, and add on to it over time. Sort of like legos for light therapy!
Lastly, all Joovvs now come with a cool built-in Bluetooth control that's compatible with their new app as well as multiple connected home devices like Alexa and Google Home. "Alexa, I want to Joovv for 10 minutes." Pretty cool, right?!
Citations
Baltzer AW, Ostapczuk MS, Stosch D. Positive effects of low level laser therapy (LLLT) on Bouchard's and Heberden's osteoarthritis. Lasers Surg Med. 2016 Jul;48(5):498-504. doi: 10.1002/lsm.22480. Epub 2016 Feb 2.
Chow RT, Johnson MI, Lopes-Martins RA, Bjordal JM. Efficacy of low-level laser therapy in the management of neck pain: a systematic review and meta-analysis of randomised placebo or active-treatment controlled trials. Lancet. 2009 Dec 5;374(9705):1897-908. doi: 10.1016/S0140-6736(09)61522-1. Epub 2009 Nov 13. Review. Erratum in: Lancet. 2010 Mar 13;375(9718):894.
da Silva MM, Albertini R, de Tarso Camillo de Carvalho P, Leal-Junior ECP, Bussadori SK, Vieira SS, Bocalini DS, de Oliveira LVF, Grandinetti V, Silva JA Jr, Serra AJ. Randomized, blinded, controlled trial on effectiveness of photobiomodulation therapy and exercise training in the fibromyalgia treatment. Lasers Med Sci. 2018 Feb;33(2):343-351. doi: 10.1007/s10103-017-2388-2. Epub 2017 Nov 23.
da Silva T, da Silva FC, Gomes AO, Viana AO, Gonçalves MLL, Rodrigues MFSD, Horliana ACRT, da Silva DFT, Chavantes MC, Fragoso YD, Branco LP, Motta LJ, Fernandes KPS, Mesquita-Ferrari RA, Bussadori SK. Effect of photobiomodulation treatment in the sublingual, radial artery region, and along the spinal column in individuals with multiple sclerosis: Protocol for a randomized, controlled, double-blind, clinical trial. Medicine (Baltimore). 2018 May;97(19):e0627. doi: 10.1097/MD.0000000000010627.
de Freitas LF, Hamblin MR. Proposed Mechanisms of Photobiomodulation or Low-Level Light Therapy IEEE J Sel Top Quantum Electron. 2016 May-Jun; 22(3): 7000417. doi: 10.1109/JSTQE.2016.2561201
de Souza RC, de Sousa ET, Scudine KG, Meira UM, de Oliveira E Silva EM, Gomes AC, Limeira-Junior FA. Low-level laser therapy and anesthetic infiltration for orofacial pain in patients with fibromyalgia: a randomized clinical trial. Med Oral Patol Oral Cir Bucal. 2018 Jan 1;23(1):e65-e71. doi: 10.4317/medoral.21965.
Djavid GE, Mehrdad R, Ghasemi M, Hasan-Zadeh H, Sotoodeh-Manesh A, Pouryaghoub G. In chronic low back pain, low level laser therapy combined with exercise is more beneficial than exercise alone in the long term: a randomised trial. Aust J Physiother. 2007;53(3):155-60.
Germano Maciel D, Trajano da Silva M, Rodrigues JA, Viana Neto JB, de França IM, Melo ABM, Barros da Silva TYP, de Brito Vieira WH. Low-level laser therapy combined to functional exercise on treatment of fibromyalgia: a double-blind randomized clinical trial. Lasers Med Sci. 2018 Jun 21. doi: 10.1007/s10103-018-2561-2.
Gross AR, Dziengo S, Boers O, Goldsmith CH, Graham N, Lilge L, Burnie S, White R. Low Level Laser Therapy (LLLT) for Neck Pain: A Systematic Review and Meta-Regression. Open Orthop J. 2013 Sep 20;7:396-419. doi: 10.2174/1874325001307010396. eCollection 2013.
Gur A, Karakoc M, Cevik R, Nas K, Sarac AJ, Karakoc M. Efficacy of low power laser therapy and exercise on pain and functions in chronic low back pain. Lasers Surg Med. 2003;32(3):233-8.
Gür A, Karakoç M, Nas K, Cevik R, Saraç J, Demir E. Efficacy of low power laser therapy in fibromyalgia: a single-blind, placebo-controlled trial. Lasers Med Sci. 2002;17(1):57-61.
Izukura H, Miyagi M1, Harada T1, Ohshiro T2, Ebihara S1. Low Level Laser Therapy in patients with chronic foot and ankle joint pain. Laser Ther. 2017 Mar 31;26(1):19-24. doi: 10.5978/islsm.17-OR-2.
Jang H, Lee H. Meta-Analysis of Pain Relief Effects by Laser Irradiation on Joint Areas Photomed Laser Surg. 2012 Aug; 30(8): 405–417. doi: 10.1089/pho.2012.3240
Kingsley JD, Demchak T, Mathis R. Low-level laser therapy as a treatment for chronic pain Front Physiol. 2014; 5: 306. Published online 2014 Aug 19. doi: 10.3389/fphys.2014.00306
Ruaro JA, Fréz AR, Ruaro MB, Nicolau RA. Low-level laser therapy to treat fibromyalgia. Lasers Med Sci. 2014 Nov;29(6):1815-9. doi: 10.1007/s10103-014-1566-8. Epub 2014 May 7.
Tieppo Francio V, Dima RS, Towery C, Davani S. Prolotherapy and Low Level Laser Therapy: A Synergistic Approach to Pain Management in Chronic Osteoarthritis. Anesth Pain Med. 2017 Oct 15;7(5):e14470. doi: 10.5812/aapm.14470. eCollection 2017 Oct.
Vayvay ES, Tok D, Turgut E, Tunay VB. The effect of Laser and taping on pain, functional status and quality of life in patients with fibromyalgia syndrome: A placebo- randomized controlled clinical trial. J Back Musculoskelet Rehabil. 2016;29(1):77-83. doi: 10.3233/BMR-150600.