Meal Planning has, for me, always been like that pile of stinky garbage lingering in the corner of my kitchen.
Should I take it out? Yes.
Will I take it out? Probably not until I'm laying in bed listening to the garbage trucks pick up my neighbors' trash.
I've meal planned (and remembered my garbage, fwiw) in the past. I know that it saves me time, money and sanity and helps me stay healthy by meeting nutritional goals. Like that stinky pile of garbage, things are just better when I get ahead of it.
Save 80% Off the Foundations of Health
Expand your health knowledge on a wide range of topics relevant to you, from how to evaluate scientific studies, to therapeutic diet and lifestyle, to leaky gut and gut microbiome health, to sustainable weight loss, and much more!!!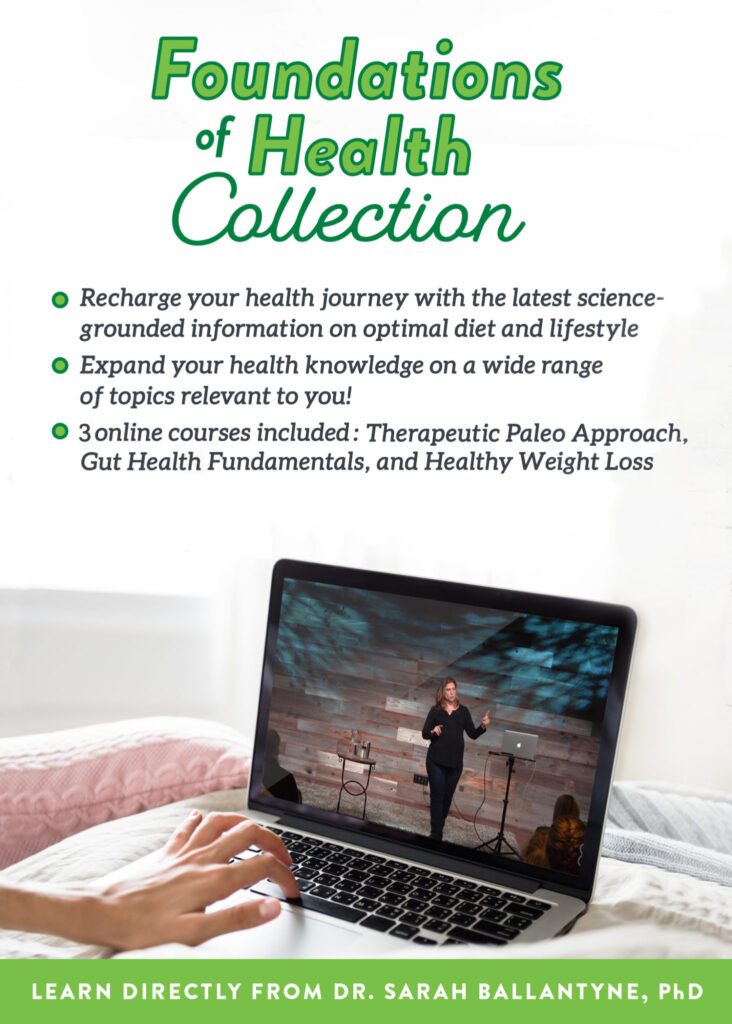 Real Plans' idiot-proof meal planning service finally made my meal plan on a consistent basis, a feat I attribute to its super-simple online interface, excellent customer service, and amazing iPhone App. It was so easy that things got harder when I didn't use it.
Real Plans gifted me a one-month subscription so I could take it for a spin. In this post, I'll take you through how my boyfriend and I planned a month of meals with Real Plans and which features we loved best.
Starting Out
Real Plans assumes you need some serious meal planning help—not a bad thing, considering the hectic pace at which most of us function. After an initial questionnaire, Real Plans takes your preferences into account and populates a schedule with the number of meals you requested each week.
This is handy if you're new to Paleo, have fewer weekly routines or are just out of inspiration. The recipes are fantastic, and run the gamut from basics (nice if you have something new from a CSA, for instance) to dinner-party-fancy. Plus, there's something there for every dietary preference. Real Plans is not just Paleo, and I think that's a plus.
While I appreciated these features, I didn't actually allow Real Plans to do everything for me each week (I have a hard time letting go). We have fairly set routines in our house, often eating the same types of meals every week. This works for us. Since we have a better idea of what we want to eat each week, we found we'd initially overestimated how many planned meals we wanted and ended up deleting many of the automatic entries.
I recommend doing the questionnaire with your whole family to get a good reading on what you'll want each week. You can always add later using the Recipe Box feature, a nifty tool that searches according to your preferences.
Call In a Professional
Real Plans has grown exponentially since it first landed on my radar, and one of the best new features is its "talk-to-a-real-person-style" live help calls.
The Real Plans interface has so many features that getting to know the program was difficult. While it's really nice to be able to tell the machine that I want leftovers every Wednesday and that Taco Tuesday is on repeat, I'm not sure I would have figured this out without a help call. This would annoy me more if it wasn't simple to call in help. I definitely recommend spending a few minutes talking to Real Plans' helpful staff after buying a subscription (you'll be prompted to do so)—it'll make your investment worthwhile.
I scheduled one of these during my first week with the service and picked up all sorts of helpful tips and insider secrets.
My help desk attendee shared, for instance, that she uses Real Plans as a food diary to track her migraine symptoms. She adds a note if she wakes up in the morning with a headache, and since foods are already listed, she can quickly track her symptoms. Genius!
Make It Work For You
We loved that Real Plans is flexible enough to work around your needs. While it certainly has the ability to plan an entire Whole 30 worth of meals or generate enough AIP recipes to put your elimination phase on autopilot, it can also import recipes and has space for individualized notes.
This was important for us because we're control freaks.
Our weekly schedule during this month was gluten free but included dairy. I wasn't eating nightshades, but my boyfriend was mainlining them a couple times a week. We also like to take on one big cooking project a week, like making Philly Cheese Steaks from scratch.
The Real Plans recipe database is pretty vast. For $1 each per month, you can add recipes from bloggers like Autoimmune Wellness, Nom Nom Paleo, Wellness Mama, PaleOMG and our own dear Paleo Mom. The Whole 30 features are even more robust, allowing for different start dates and advanced preferences that I imagine would make the toughest parts of the program much easier.
But sometimes your boyfriend just wants to import a Jambalaya recipe from NYT Cooking. Real Plans has you covered there too. Imported recipes—whether they're your own or ones dug out of the depths of the web—import fairly easily and even sync up with the shopping list. These recipes are saved after you import them, allowing you to build your own little virtual recipe box of favorites within Real Plans.
The added notes feature is handy too. I used this to add in notes where adding a recipe would mess up my ingredient list, like "leftover muffins" for breakfast or "big salad" for lunch.
Take It Along For The Ride
The mobile app is a big selling point for Real Plans, and I can totally see why. It has all the functionality of the online program. In fact, if you wanted to, you could run the whole thing from your phone or tablet.
Our favorite part of the app was the weekly shopping list. It automatically populates as you add meals or individual ingredients to your plan. I know, I know, it's not that hard to write down your own list. But I'm all about saving a few minutes, especially when I've gone to the effort of meal planning already. Plus, the features are just handy.
For instance, I love that when I'm shopping, I can click on an individual ingredient and see what recipe I'm using it for, which helps me make more informed substitutions.
All in all, the list makes shopping for a family incredibly easy, and I imagine it only gets more helpful with a bigger list.
Of course, if you're more about the physical paper, you can easily print your meal plan, shopping list, and timeline each week. I'll admit I printed the plan and put it on our fridge for easy access.
My only qualm with this feature was that Real Plans only allows for one favorite store and an "online" option. I would love to be able to make different lists for Trader Joe's, Whole Foods and the Farmer's market, for instance.
All Things Considered
Real Plans helped us plan more effectively—from leftovers to big cooking "projects," we kept our ingredients in one place and had fewer "I forgot the lemons" moments than before. We also saved money by reducing waste and avoiding expensive ingredients.
The Real Plans interface and app were simple to use, and I loved the addition of recipes from Autoimmune Wellness, Real Plans, and Nom Nom Paleo, which help flesh out the options in my Recipe Box. I was also able to make sure I met nutritional goals like eating more fish and veggies.
I'd recommend Real Plans to any busy family who wants to focus on health while maintaining their sanity (and budget).
---
Note: this post is part of a series of reviews written by my Digital Content Manager, Claire. Products were provided for review free of charge, but opinions are Claire's. I may receive affiliate commission from one or more of the links in this post.