Kari Owens has coached over 2,000 women to better health. She teaches women how to put themselves first to reconnect to their body and soul. With her guidance women learn to create a deeper relationship with themselves. Kari's experience comes not only from being Certified Transformational Nutrition Coach, and Certified Yoga Teacher, but over a decade of experience working to restore her mind body from chronic illnesses. You can connect more with Kari on her site, her online community Soul Power and Instagram.
---
I'm sure you've been there before. A relationship that leaves you feeling terrible and wondering how you let yourself get into in the first place. Or feeling like you're broken from chronic illness and not sure where along the way you lost the desire and connection within.
Years ago I ended an incredibly painful relationship. I spent years putting someone else's needs above my own in a way that completely negated my own. I ended that relationship feeling defeated, that I'd yet again chosen to fall into the pattern of giving everything, and sacrificing myself in the process.
Nutrivore Weekly Serving Matrix
An easy-to-use and flexible weekly checklist
to help you maximize nutrient-density.
The Weekly Serving Matrix is very helpful! I've been eating along these lines but this really helps me know where to focus vs. which foods serve a more secondary role. It's super helpful and has taken a lot of worry out of my meal planning. Thanks!

Jan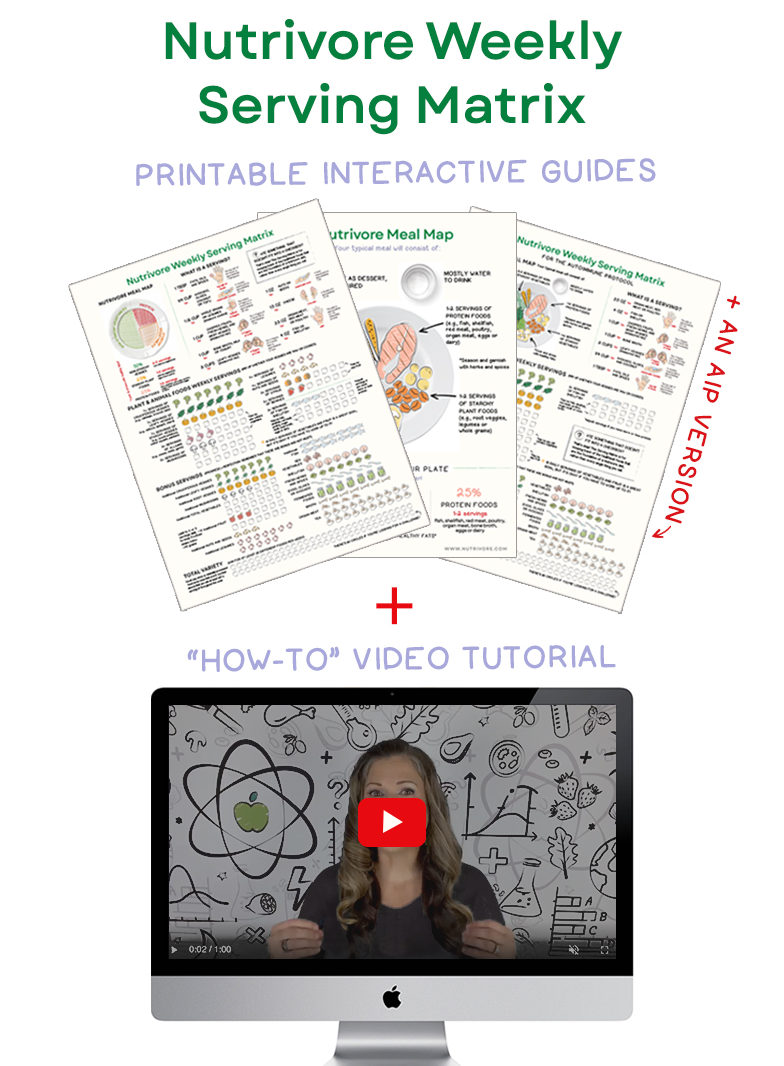 I didn't understand it. It didn't make sense why I continued to put myself in relationships where I'd completely give up my own boundaries and self-acceptance.
After that relationship I swore off dating for three years. I spent time actually getting to know myself, and getting clear on what actually mattered to me. Going into it, I thought I'd come out of the time with a very clear picture of the perfect guy for me.
The reality is what I learned, wasn't the roadmap to find the right guy for me. Instead I learned I was more afraid of myself than I was any guy. I thought about dating, but ultimately I was worried that I'd fall back into my old habits.
I didn't trust myself.
I spent that four years really working on getting to place where my relationship to myself was rock solid. I had to trust that I wouldn't sacrifice myself again for the illusion of companionship.
You may relate to this story. The cycle of not trusting and trying to learn to trust is common.
Think about your health, do you trust yourself to make the decisions about your body? To understand your own needs and then go and meet them for yourself?
When I work with clients, most of them women, one of the first things I learn in talking to them is that we have all been taught fundamentally not to trust ourselves from a very young age. They start looking to me for the answers, and as their guide, I have to show them that the answers are already within themselves.
We all are born with a level of intuition. As children this intuition leads and guides most of what we do inherently, along with the guidance of parents. Over time though as we develop more communication, we're exposed to how we're expected to do things, rather than how we are intuitively led in our natural ways.
As we're exposed to this more there are a few fundamental things we learn:
We are not our own authority.
We should outsource for answers.
It is not safe to be with yourself.
When you think about the people you trust and look to help you navigate your life, it's parents, doctors, government, and communities. We're taught early on that these are the people to trust, and that what they say is the rule. This is where we first start to lose the connection to ourselves. We learn that we are helpless and don't have the answers we need.
So then we outsource for the answers to the people we're told that have them.
To regain this trust with ourselves we have to practice it. We have to cultivate that inner connection that we all really long for. You have to come to the realization and ultimately the commitment that you are worthy of is your own trust, and then commit to keeping it.
When you first enter into a relationship with someone. What is it that makes you trust them? What is it that makes them appear trustworthy?
The first thing you do, is you decide to trust this person, because it feels worth it. Then, you learn over time that they are a trustworthy person. You may hit bumps in the road, but you will continue practicing and putting your trust them because it matters. This is a choice.
So what about yourself? Why is it harder to have this trust with yourself? The fundamental answer is because it's so much easier to give up on ourselves than on anyone else in our lives. We are quick to judge and criticize ourselves, making it all the more difficult to actually not only build, but maintain that trust.
When you read that, or even say it out loud it sounds ridiculous right? But we do it. How many times have you given up on yourself? How many times have you decided not to do something simply because you didn't believe, you didn't trust you could do it?
Trusting yourself is the number one super power in creating the life you truly desire!
So here are my 5 steps to getting you on the journey to trusting yourself.
1. Forgive yourself for past mistakes
Let go what you're holding against yourself in the past. We cannot move forward if we continue to relive, and berate ourselves for ways we've walked in the world. You have to get to a point where you're at peace with you're past, because your future is counting on it.
2. Change the conversation with yourself
Shifting the tone from the blame game to understanding is crucial. Imagine that you're having this conversation with a dear friend, how might it go? Change your language to match how you actually deserve and want to be talked to. If you're struggling with this, a good reminder is "how can I speak more gently with myself?"
3. Affirm your belief in yourself
Start lifting yourself up. No one wakes up all of the sudden feeling elevated, they do the work to get themselves to a point where believing in themselves comes natural. I've worked with affirmations for years and they have been hugely life changing. Once you believe you can do something, the trust falls right into place
4. Practice self-compassion
When was a time you were kind to yourself today? The truth is, we will often break our own trust. Yes, I know that sounds counterintuitive but it's true, just like in a relationship with anyone else. In this case, compassion is the ticket, viewing yourself as a child is immensely helpful when talking to yourself and practicing self-compassion. It is okay if you trusted yourself to do something and you didn't, you can and will rebuild that trust in the next opportunity.
5. Make an agreement with yourself
When you enter in any relationship you make an agreement outright that you're entering into a dynamic where you trust the other person to hold your best interest. There's no difference when it comes to you. Make that agreement, write it down if it helps you and then continue to hold yourself accountable because you deserve this level of care from yourself.
Nobody is perfect. There will be times where you stumble in this journey. Let yourself be free enough to trust you inner self. With gentleness and the practice of self-compassion you can do this.
Once you've decided to trust your deepest self you are rewarded with so much that is right, that you never knew you could have. You will know what's true, what matters, listening to your intuition will come easy, and so much of your strength will shine through.
Give yourself your own shoulder, and your inner trust will become your strongest ally.

Become a Member for FREE!
The Paleo Mom Members' Area is resource central!  
You'll get FREE, unlimited access to dozens of quality resources, including introductory series, downloadable e-books, exclusive recipes, printables, videos and guides!
You may enjoy these related posts:
Kari Owens has coached over 2,000 women to better health. She teaches women how …