It's no secret that Morrocco Method's shampoo turned my hair around after decades of struggle with scalp psoriasis. Even after I switched to Paleo, I couldn't figure out how to make a hair care routine work for me. I was constantly fighting to give my hair body and shine, dealing with an inflamed and itchy scalp, and generally struggling to style my hair in a way I could be proud of.
Enter Morrocco Method. This line of amazing, all-natural hair care is unlike anything I've experienced before. When I found it several years ago, I couldn't believe what an immediate difference it made in my hair and scalp. And I've used it ever since! It relies on plant extracts, clay, seaweed and a few other natural ingredients to create a blend that gently cleanses and removes impurities while actually strengthening my hair. Seriously, I'm proud of my hair for the first time in my entire life.
The Autoimmune Protocol E-Book!
One of my FAVORITE books I used to start the transition to AIP!!! It's so helpful! I printed mine out and spiral bound it. Thank you for this! -Rita Davidson
The Autoimmune Protocol e-book is your up-to-date guide to jump-start your healing with the AIP today.
3oo+ pages of quick-access information on the AIP

4 weeks of meal plans with shopping lists

over 80 family-friendly recipes, all 100% AIP!
Get instant digital access for $19.99
(To find out more about the products I use, check out my special Paleo Mom Package!)
Fast forward to 2017. Morrocco Method has expanded their line, and I couldn't be happier. This amazing company remains grounded and committed to clean ingredients, and they've created products for the whole family, including babies and pets! They've even developed a dry shampoo that helps me extend my style even further through my sweaty WOD's. And of course, everything is chemical and sulfate free, raw and super Paleo.
In this post, I'll give you the scoop on a few of the newest products I've tested and loved from Morrocco Method.
The Gut Health Guidebook!
The depth of information, practical tips, and the accessible way Dr. Sarah shows me how to apply complex science to improve my health is truly remarkable. -Wendy
The Gut Health Guidebook is the culmination of 6 years of research. This unprecedented deep dive into the gut microbiome delivers:
A new diet for gut health, built from the ground up

Essential gut microbiome superfoods

20 Keys to gut health
Get instant digital access for $27.99
Baby Shampoo
I so wish the Heavenly Essence Baby Shampoo had been around when my girls were babies! As it is, my daughters are both using this soothing, gentle shampoo blend with Green Tea and Aloe Vera because it's perfect for kids and babies alike.
When it comes to baby shampoo, we're really talking about an all-over body wash (although this baby would probably appreciate MM's conditioning ingredients as well). While all of MM's shampoos can be used as body washes, I like the idea of an extra-gentle blend for delicate skin.
Morrocco Method's Sea Essence Baby Shampoo, which combines nori and kombu kelp with sunflower seed oil to nourish, is also a great option for little ones. I love that these are completely clean and free of foaming agents, so you won't have to worry about it getting into your little one's eyes.
I follow the suggested directions of diluting the baby shampoo 1 to 1 in a little squirt bottle for my girls. My oldest has been using it daily and my youngest biweekly (she has magic hair that never gets gross even when she goes weeks between shampooing) and they both say it's their favorite!
Pet Shampoo
Have you noticed how difficult it is to find a clean shampoo for your pet? I totally sympathize with pet owners who work hard to treat their animal babies like their human ones. Our options are really limited! That's why I'm SO excited about MM's line of pet shampoos for dogs, horses, and cats.
Although all their shampoos can be used interchangeably among your pets, I'm selfishly excited that they have a special blend for each—including a dry shampoo for those water-hating kitties! This is a total game-changer for the two cats in my family (who turn into 300-pound wrestlers the instant I try to get them into the tub!). Now I know I can clean my cats up (on the occasions they can't do it themselves, which totally does happen) with a flea and tick-prevention formula that actually includes catnip and rosemary!
I think that's especially important because my cats are almost guaranteed to ingest anything I put on their coats.
The dog and horse formulas are also carefully crafted. Morrocco Method developed a foam-free dog formula with rosemary and lavender that's also flea and tick-resistant, and a foam-free horse shampoo that's designed to nourish skin and prevent dandruff, itching, and fungus with chamomile and clary sage.
Pet owners, rejoice!
*NEW* The Gut Health Cookbook!
The Gut Health Cookbook is fantastic! Thank you for researching and creating The Gut Health Cookbook! Such wonderful recipes! I'm so excited to try them all! -Sue
The Gut Health Cookbook puts the 20 Keys to Gut Health into practice with:
180+ recipes featuring 61 gut health superfoods

Gut health food lists

Why's behind each gut health superfood
Get instant digital access for $27.99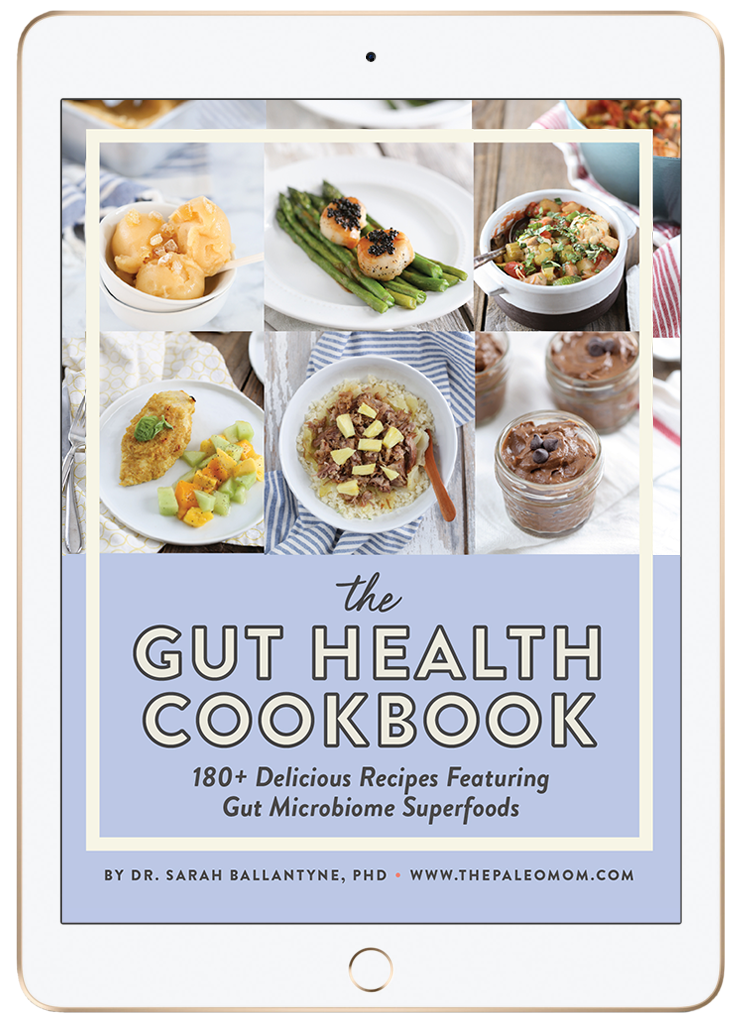 Dry Shampoo
I admit that when dry shampoo first became a thing, I was too scared to try it because even the most natural options weren't both non-aerosol and chemical-free. So you can imagine my super-jazzy-hands excitement when Morrocco let me know they developed a clay-based dry shampoo that's incredibly effective!
The Volcanic Powder Dry Shampoo uses clays, minerals, and botanicals to draw out impurities from the roots and follicles of my hair while leaving my natural oils intact. It goes beyond your normal dry shampoo, too, with aloe vera and prickly pear powder to seal in moisture and balance pH levels (translation: very shiny hair!).
I like to shake some along my part, let it sit for about 10 minutes and then shake it out (if you have straight hair, you could brush it out). After a few minutes, my hair seems to absorb the powder and starts looking super shiny and clean again! Since long hair is so time-consuming to wash and style, this has been a game-changer in terms of extending the time between shampooing (I can go a full week!), getting more out of my styling efforts (it adds hold), and giving my curls volume.
Shampoo and Conditioner
Though I highlighted MM's shampoo above, I can't resist the urge to emphasize again how amazing this stuff is. The formula doesn't have any foaming agents. Instead, the clays and kelp create a mud-like mask that's best worked in when diluted and poured onto my hair over a couple rinses.
Pro tip: I like to mix it 1 to 3 with warm water in a squirt bottle, which really helps distribute it throughout my scalp, then work it in with my hands for an awesome scalp massage. I like to let it sit in my hair while for a few minutes and rinse it out right at the end of my shower.
I love, love, love the Sea Essence Shampoo, but Morrocco Methods "5 Elements" system is designed to be regularly rotated for best results. You can also choose from Heavenly Essence, Apple Cider Vinegar, Pine Shale (for normal to flaky scalp), or Earth Essence (for normal to oily scalp), depending on your preferences. I have all five in my bathroom, although I don't rotate through them evenly. I recommend starting with a Travel Set if you're unsure, as it'll allow you to find your favorites.
Morrocco Method conditioner, the Pearl Essence Cream Rinse or Floating Lotus Conditioner, is much like their shampoo in consistency but is left on a little longer before rinsing to condition the hair. I love working in conditioners when my hair needs a boost of hydration! One trick I love is to apply the shampoo to my roots and the conditioner to the the rest of my hair, let it sit for ten minutes and then rinse out!
The Gut Health Collection!
I love Dr. Sarah's passion for educating people and helping everyone on their journey to wellness!! -Mindy
The Gut Health Guidebook delivers a comprehensive deep dive into gut health, building a new diet for optimal health from the ground up, based on the gut microbiome.
The Gut Health Cookbook puts the scientific framework into practice with 180+ delicious recipes that each center on at least one of 61 gut health superfood ingredients.
Save $10 with the Gut Health Collection!
Spray Conditioner
My wavy hair seems to soak up moisturizing ingredients, so I use one of the MM spray conditioners nearly every day. The Sapphire Volumizer Mist Conditioner and Moisturizer and Diamond Crystal Mist Conditioner and Moisturizer (say that five times fast) are great detanglers, but also have wonderful anti-inflammatory and moisturizing ingredients for my scalp. Plus, they're no fuss, so I use them on my daughters' hair to help brush out tangles. They even make a great after-sun spray for skin!
After shampooing, I spray my hair thoroughly with one of the spray conditioners (I alternative between Sapphire Volumizer and Diamond Crystal), making sure to get my scalp too. In between shampoos, I like to apply dry shampoo to my roots and then, after I've shaking out the excess, apply one of the spray conditioners to the tips of my hair to keep them moisturized (bye bye split ends!).
Whether you want to add shine, body and volume, or detangle, they're light and use the same standard of clean, safe ingredients as everything else in the MM line.