By questioning the status quo PaleoBOSS Lady informs the community how to rewrite their narrative on life, health-care and living. PaleoBOSS Lady is a walking miracle in the conscious living movement creating awareness through life experience, self-empowerment and her post graduate education in psychology focused on building communities. You can also find PaleoBOSS Lady on Facebook, Instagram, Twitter, Pinterest, and YouTube.
---
"What Minimalism is really all about is reassessment of your priorities so that you can strip away the excess stuff—the possessions and ideas and relationships and activities—that don't bring value to your life."
– Colin Wright
My healing trajectory escalated as my minimalist approach to life increased. It's funny that I was not making these changes thinking my health would benefit. My motivation was to respect the earth while I began to realize possessions were a distraction and nothing more.
Save 80% Off the Foundations of Health
Expand your health knowledge on a wide range of topics relevant to you, from how to evaluate scientific studies, to therapeutic diet and lifestyle, to leaky gut and gut microbiome health, to sustainable weight loss, and much more!!!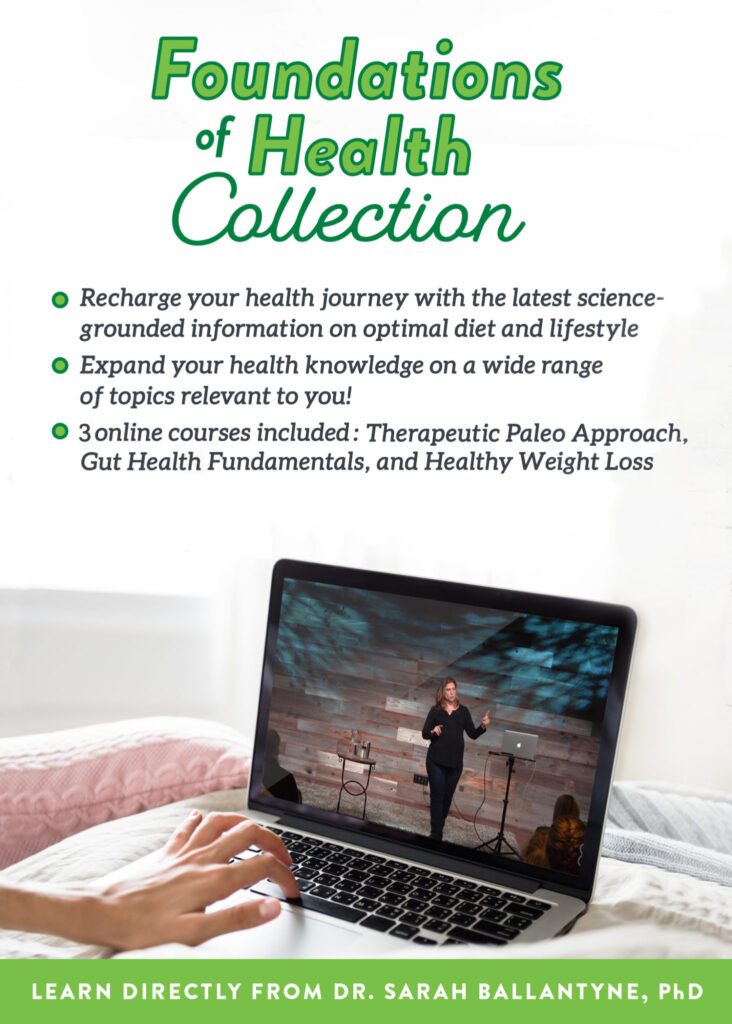 The minimalist journey that landed me living in 60 square feet took over a decade to happen. It began combining big leaps mixed with baby steps. Most of my minimalist choices were instigated by the desire to start creating a life narrative that focused less on stuff and more on experiences. I saw this as a bio-hack to optimal health and living.
Due to the effects of Multiple Sclerosis (MS) on my body downsizing became a necessary reality when I could no longer navigate stairs. I had balance and visual issues making steps a hazard to me. With great sadness we left my daughters childhood home and moved to a one-floor condominium which translated to a large downsizing going from a 6500 – 3 story home to a one floor 3300 square feet condominium. We also downsized cars going from 5+ down to 2. I classify this as a big leap and it was our first.
When we made this leap we also made a huge shift and abandoned things like the good china and crystal coupled with the everyday collection. From this point forward only the best would do and the everyday collection hit the chopping block. Only Waterford and Lenox for daily eating. What a concept! Another huge eye opener was how we had quite a collection and duplicates of everything. Still to this day I cannot imagine why we rebought so many things.
It did not take me long to realize how much these changes gave me both more permission and energy to live life. I was able to begin going to the YMCA three days a week for MS swim classes, which by the way, began my longest most successful climb to miracle status. The increase in energy having a smaller home to care for was palpable and I was using this energy to focus on life and living.
From this point forward minimalistic changes were based on house size and location of where I lived. At the time all of the above happened I was living on the east coast and weather became a big issue for my body. In fact humidity and its effects triggered my debilitating attack. My body would be limp in hot & humid weather and like the Tin man in cold & damp weather. I found myself a prisoner in my home and did not believe this environment was conducive to healing and knew something had to change.
I made a bold decision and decided the day my daughter went off to college to Boston, I moved west to Venice Beach, California. The weather in Venice lives between 50 and 75 all year with virtually zero humidity. Another leap into downsizing came with this move. I went from 3300 to 1600 square feet, down to 1 car and moved across the country literally knowing not a single soul. Once again my healing space grew larger and the journey to miracle status grew each time simply because it created the space for living.
I continued this journey of downsizing my space over the next 9 years eventually living in 450 square feet. To this day it will always be my perfect house, location and size. This home was where the real miracle status for me personally evolved. It was also the first home I was able to live independently in years. I was beyond proud and knew that the size of my home played a huge role in why I was healing. I had one 2foot closet in this little cottage and it held everything I owned. To this day I have pride in that statement.
Happening along side home downsizing I took baby steps in wardrobe reduction. When I turned 40 I gave away any clothes that did not fit me at that moment. You know the clothes you believe you will someday wear again mixed with the clothes you wear when you gain a few pounds. All those had to go.
Not going to lie it was startling to see how many fell into either of these categories. All I kept thinking about was "what that did to my psyche having more clothes that didn't fit then did?" Nothing good was coming from this practice of hoarding clothes.
Fast forward to my 50th birthday and I made the transition to only wear black, white, grey plus denim.
No other colors in the wardrobe with the majority of my wardrobe being second hand. My closet would become a mix and match paradise. With everything working together you can create a ton of outfits with only a few pieces. Shoes followed the same system.
With each step of minimalism my body continued to heal more and more. I was starting to be able to begin moving my body freely & pain was leaving my life as a daily reality. The less time I spent on stuff the more time I spent on me and the results are still mind blowing to this day.
The announcement of the tour took minimalism to the next level because I was going to living out of a small Fiat. The only way I could do this tour was to get my total possession down to about 100 pieces. This was my biggest task and attempt at minimalism to date.
Here are some of the MUST have items & clothes I included in my Fiat –
Yoga Mat
Yamuna Foot Wakers
Zoodler
Cast Iron Pan
Sauce pan
Nutri-Bullet
Aprons (for cooking classes)
Book
Insulated mug
Glass water bottle
Can opener
Silverware
Plates
Scissors
Glass container
Angel Cards
Laptop
Headphones
Microphone
Beach chair
Beach Towel
Bath Towel
Pizzelle Iron
Knives
Kettle
Immersion blender
French press
My breakdown of clothes –
6 Jeans
2 Workout Pants
3 Tights
2 Pants
3 Shorts
1 Skort
5 Dresses
10 Shirts
1 Beach Cover up
4 Sweaters
2 Denim Jackets
7 Pairs Shoes
1 Bathing Suit Top
2 Bathing Suit Bottoms
2 Winter Jackets
2 Nightgowns
1 Poncho
3 Belts
1 Back Pack
I quickly learned that this truly was my list of do or die things. I never missed possessions when living this way. In fact the only thing I missed touring in my Fiat were family events like Sunday dinner, birthdays and holidays. Never once do I recall ever missing a possession once my life touring.
The minimalism with touring elevated my healing status to BAM and my body was able to do things beyond comprehension like driving for 10+ hours and living in a van, which is a very physical way of life.
Less for me = More healing.
A week ago I moved into an apartment; which is weird after being on the road for years. I plan to continue living a minimalist life having more space than in the van. The transition has been somewhat overwhelming when you realize how much space you have verses what you need to live. Once you realize how little you need to be truly happy the thought of acquiring stuff can feel like a negative in life. I am being very mindful of each step I am taking right now.
I have made the decision to work hard to continue this minimalist journey I am on because no matter what I cannot deny my road to miracle status completely elevated when I moved into the Fiat and was a bare minimal girl. The freedom and sense of gratitude this way of life offers me to date is unmatched.
I am working hard to keep this level of consciousness around consumerism at the top of my life list and even though I am now living in an apartment my journey remains minimal. I look forward to sharing more on this in upcoming blog posts. Transitioning from van life to apartment life does not change a minimalistic lifestyle it just redefines it.
"A tool that can assist you in finding freedom."

– The Minimalist