Sophie Van Tigelen is a passionate foodie, recipe developer, author, and photographer. Diagnosed with Hashimoto's thyroiditis in 2009, she used the Autoimmune Protocol (AIP) to reverse her condition and today, Sophie lives a full and vibrant life free from the anxiety and flare-ups that often accompany autoimmune diseases. With her food and lifestyle blog, A Squirrel in the Kitchen, Sophie shares her AIP experience and empowers others to develop new habits to promote good health and wellness. Through years of experience, she has developed simple strategies to be successful on AIP, including numerous mouth-watering, allergen-free recipes that everyone (even those without autoimmune diseases) can enjoy. Sophie is on a mission to make the Autoimmune Protocol – and all that it encompasses – more accessible and sustainable for anyone looking for a more nutritious, more delicious, more health-conscious life.
You can find Sophie on her blog, A Squirrel in the Kitchen, Facebook, Instagram, and Pinterest.
The Autoimmune Protocol E-Book!
One of my FAVORITE books I used to start the transition to AIP!!! It's so helpful! I printed mine out and spiral bound it. Thank you for this! -Rita Davidson
The Autoimmune Protocol e-book is your up-to-date guide to jump-start your healing with the AIP today.
3oo+ pages of quick-access information on the AIP

4 weeks of meal plans with shopping lists

over 80 family-friendly recipes, all 100% AIP!
Get instant digital access for $19.99
---
You've probably heard it before: getting organized and being prepared both contribute greatly to a successful implementation of AIP into your life. The temporary restrictions on the foods you can eat during the elimination phase of the Autoimmune Protocol make it so that you are less likely to fly by the seat of your pants when it comes to feeding ourself!
Very much like you wouldn't set out in a small aircraft without a flight plan, a little bit of planning in the kitchen will ensure that your AIP journey goes smoothly and you reach your destination safely.
If you have already incorporated meal prep into your weekly routine, you know the benefits of cooking your meals in advance far outweighs the inconvenience of the work it represents.
If you are new to the concept of meal prep, the prospect of having to dedicate several hours of your weekend cooking your meals for the week may seem daunting. Maybe you are too tired at this stage to spend any amount of time standing in front of the stove. Or you don't know where to start and how to handle the logistic of so much shopping, cutting, chopping, cooking, and storing your meals.
All right, I hear you!
All these objections may prevent you at the moment to get on the meal prep bandwagon.
The Gut Health Guidebook!
The depth of information, practical tips, and the accessible way Dr. Sarah shows me how to apply complex science to improve my health is truly remarkable. -Wendy
The Gut Health Guidebook is the culmination of 6 years of research. This unprecedented deep dive into the gut microbiome delivers:
A new diet for gut health, built from the ground up

Essential gut microbiome superfoods

20 Keys to gut health
Get instant digital access for $27.99
What if I told you that meal prep doesn't have to be this exhausting task you thought it was?
Let me show you how to ease your way up into meal prep and make it work for you.
1. Start small
At the beginning, meal prep may look like simply doubling up the ingredients while you prepare dinner so you can reheat the leftovers for lunch the next day.
Or making a big pot of hearty soup that will serve as breakfast all week. Or a big pot of stew you can portion up and take with you at work for lunch all week.
See how you can start small and work your way up as you get more confident in your ability to meal prep?
2. Start simple
In my experience, I find it best to select simple recipes for your meal prep session, with few ingredients, and requiring a minimal amount of work. Stay away from elaborate dishes involving a lot of steps before you even get to the actual cooking part. It is often the case for AIP-compliant copycat versions of your old favorite foods (think lasagna, pizza, etc).
Instead, build simple meals including 1 protein and 2 vegetables (1 low starch and 1 high starch vegetable).
Examples:
steak with broccoli and sweet potatoes
chicken with cauliflower rice and kale
salmon with asparagus and spaghetti squash
Other good choices are:
one pot/one pan recipes such as stews, soups, skillets, and casseroles
slow cooker and Instant Pot recipes
sheet pan recipes
3. Scale up
*NEW* The Gut Health Cookbook!
The Gut Health Cookbook is fantastic! Thank you for researching and creating The Gut Health Cookbook! Such wonderful recipes! I'm so excited to try them all! -Sue
The Gut Health Cookbook puts the 20 Keys to Gut Health into practice with:
180+ recipes featuring 61 gut health superfoods

Gut health food lists

Why's behind each gut health superfood
Get instant digital access for $27.99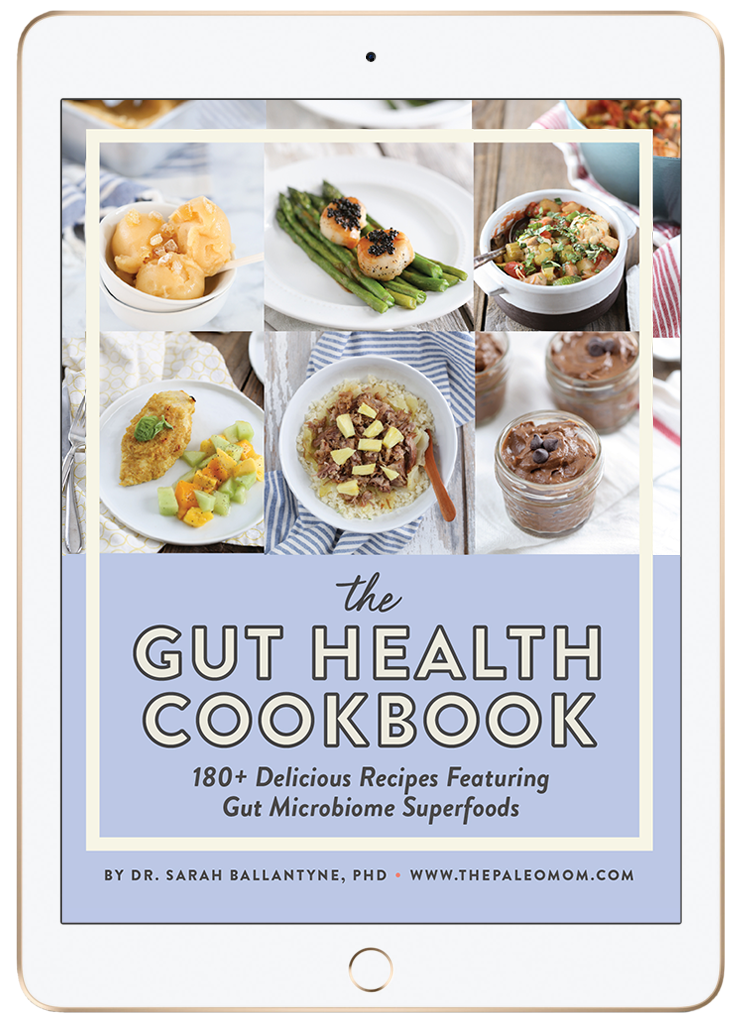 As you become more adept at preparing your meals in advance, you can progressively scale up your meal prep sessions.
Whereas before you cooked once and ate twice (reheating the leftovers the next day), try your hand at cooking your meals for the next 3,4 days, and even an entire week at a time!
Here are a few tips to help you scale up:
Split the shopping, prepping of the ingredients, and the cooking into separate sessions. For example, do your shopping and ingredient prep on Saturday, and cook your meals on Sunday.
Use done-for-you meal plans including shopping lists and meal prep directions.
Whenever possible, use pre-cut and pre-packaged vegetables such as spiralized veggie noodles, cauliflower rice, broccoli and cauliflower florets, diced butternut squash, etc. This will speed up your preparation time.
Invest into good containers to store your meals properly and preserve freshness throughout the week.
4. Liven up your meals
I get it, things can get a little boring when you eat the same meal over and over again. Don't let this stop you from meal prepping though! The benefits are tremendous and will definitely help you be more successful on AIP.
Here are a few tips to avoid food boredom:
Try prepping several dishes so you can rotate them throughout the days, avoiding to eat the same meal two times in a row.
Spice-up your meals with AIP-compliant sauces and condiments!
Complement your meals with a colorful side salad.
Reheat your meals slowly to preserve flavor and moisture.
Are you ready to give meal prep a try?
Check out my new cookbook "The Autoimmune Protocol Meal Prep Cookbook" for a collection of ready-made meal plans with shopping lists and meal prep cooking directions.
The Autoimmune Protocol Meal Prep Cookbook helps you achieve long-term AIP success with 10 weekly AIP-compliant menus, shopping lists for each week, and step-by-step instructions for batch cooking a week's meals in one cooking session.
You'll also find keto/low-carb, low-FODMAP, and coconut-free meal plans for those who are concurrently following those modifications.
And when you pre-order before October 22nd, you are eligible to receive a pre-order bonus including 1 month FREE in my membership AIP Made Simple!