My 8 year blogiversary was last week, eight (!) whole years since that fateful Thursday evening that I turned to my husband and said "what do you think of the idea of me starting a blog"? He was so enthusiastically supportive (he recognized that I needed an outlet for my enthusiasm for the Paleo diet, which had made a remarkable difference in my health in two short months) that I launched my website that very Sunday with a short post introducing the main tenets of the Paleo diet.
I tend to find myself in a reflective mood on anniversaries; I suppose marking milestones by appreciating the journey to get there is part of human nature. The Paleo and AIP templates revolutionized my life in terms of my health; but this year, I find myself reflecting on how blogging itself, beyond keeping me accountable in terms of those diet and lifestyle choices, has also profoundly changed my life.
My First Blogging Steps
When I launched my blog on November 4th, 2011, my daughters were not quite 2 and 5 years old (they're about to turn 10 and 13, yikes!). I had been a stay-at-home mom for a little over 3 years, and while I loved raising my girls, I sorely missed the cognitive stimulation of the academic research lab (learn more). I was also feeling very isolated. I had just gone through a bad break-up with my only friend in Atlanta and was having a hard time fitting in at mommy group playdates (it turns out that there aren't many stay-at-home moms with doctorate degrees in medical biophysics in the suburbs of Atlanta). My life was craft projects, story time at the library, building toys, and reading Curious George (over, and over, and over). I didn't recognize it at the time, but I needed not just an outlet for my enthusiasm about the Paleo diet, but also an authentic connection to like-minded people in the outside world.
Living on a single income meant no seed funds for my new blog. But, that was okay because I really didn't have any aspirations for my blog at all. I paid $4 for my domain registration and started thepaleomom.com on Blogger, a free platform, which at the time (I don't know how different it is now), required me to write the html for my menus and any even remotely sophisticated formatting (ooh, that B.Sc. in honors physics was coming in super handy!).
Save 80% Off the Foundations of Health
Expand your health knowledge on a wide range of topics relevant to you, from how to evaluate scientific studies, to therapeutic diet and lifestyle, to leaky gut and gut microbiome health, to sustainable weight loss, and much more!!!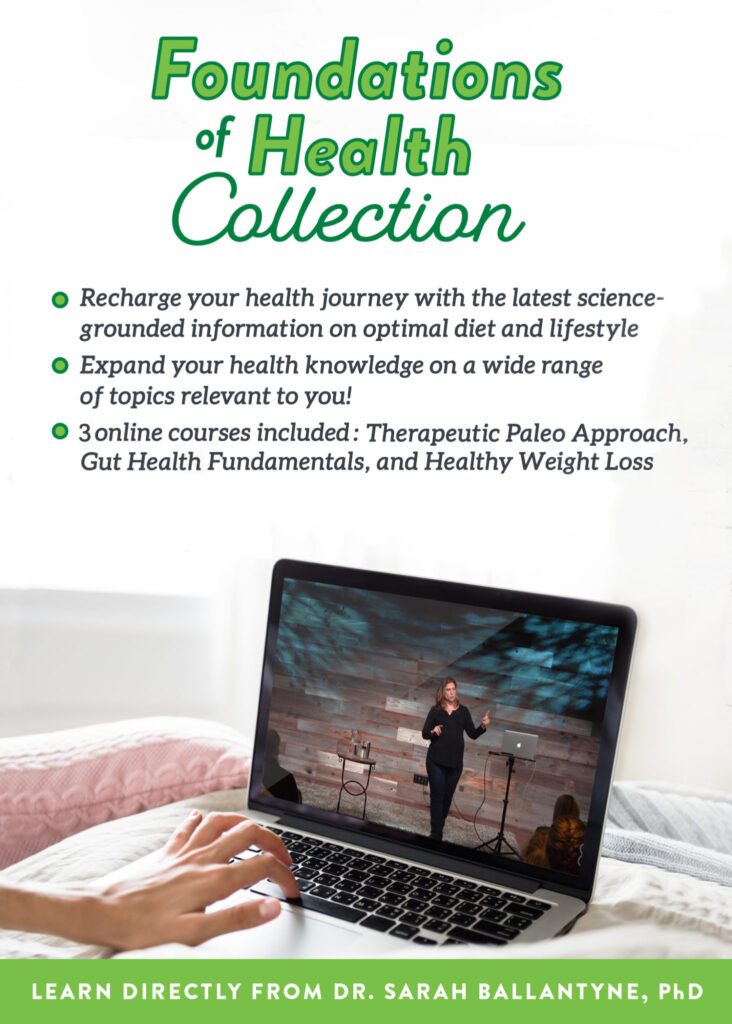 Why ThePaleoMom you ask? Yes, many people new to my work are confused about why a site so thoroughly steeped in science has such a mommy blog sounding name. Well, when I launched my site, I really did think it would be a mommy blog, chronicling my journey with Paleo and my efforts to gradually transition my two young daughters and relatively stubborn husband to this new way of eating. I hadn't realized yet that, beyond my experience in computer programming and my love of drawing, that my scientific research background was going to be relevant at all! I chose ThePaleoMom simply because it seemed to fit what I thought my blog would be and it was available as a domain and handle on Facebook, Twitter, Instagram, and Pinterest.
Here's another fun fact that arose out of my lack of foresight when it came to my voice as a blogger: When I launched my blog, I did so with my married name. Professionally as a medical researcher, I used and published under my maiden name (pretty common for women in science). If I had understood what ThePaleoMom.com was destined to become (a scientifically-grounding voice helping to bring legitimacy to an entire health movement via its evidence-led approach to understanding optimal diet and lifestyle choices), I likely would have chosen to build on my professional reputation as a scientist and use my maiden name. I did not yet know myself well enough to recognize that I can't turn off the nerd (sorry folks! that's just me), and that my scientific background and long-standing passion for scientific literacy wouldn't just become integral to my brand, but would actually form the launching pad from which my blogging style, voice, and overarching mission would be propelled. In all honesty, I also found comfort in the anonymity of my married name. I even used a sketched self-portrait as my bio shot for the first eight months or so of blogging. It was a very vulnerable day to finally replace that sketch with an actual photo of me and I thank my early followers for their positive response to that unveiling.
My blog was discovered by the Paleo community fairly quickly, in part because I was lucky enough to launch a Paleo-focused blog before the community was saturated with them. Although at the time, I felt like a latecomer and thought that I wouldn't be able to carve out a niche for myself with folks like Robb Wolf and Whole30 to compete with for bandwidth. Take-home message: you can't always predict the growth of a community or sector, or how your voice will resonate, so it's more important to establish yourself in the area where your passions lie than where you think you can be loud enough to be heard. Other keys to the rapid growth of my blog out of the gate: my scientific background and perspective were unique in the Paleo community, my writing style resonated with people hungry for more detailed information, I was authentically me from the very beginning (heart on my sleeve and willing to share my experiences and to be vulnerable), and I was active on social media (enjoying nerding out online and connecting with my audience, those like-minded people I so needed in my life!).
My First Major Opportunity: The Paleo View Podcast
I don't actually know how I ended up on a reviewer list for Eat Like a Dinosaur by Stacy Toth and Matthew McCarry of RealEverything (then Paleo Parents). It was probably thanks to my website name making my compatibility obvious, in addition to having achieved a critical mass of social media followers in my first 4-5 months of blogging. It was a Big Deal! I mean, someone actually wanted my opinion on their book! They even sent me a free review copy! Weeeeee!
I took my inaugural book reviewing duties super seriously. I cooked a ton of recipes out of the book (even buying kitchen equipment to make the waffles), I read the children's story within to my kids and got their feedback, and I crafted my review.
Good thing I loved the book. Stacy reached out to me on social media and we had our first phone call. We ended up talking for well over an hour, hitting it off. Stacy had been thinking for a while about creating a podcast and asked if I would co-host it with her, with Matt producing the show. We talked about her vision for the podcast, discussed possible names, and formats… I was in!
And, The Paleo View Podcast was born.
I wish I could say that it was a strategic choice to align myself with established bloggers through our podcasting collaboration. Nah, I just really liked Stacy (and still do!) and thought that podcasting sounded fun. But, jumping aboard this ship ended up being awesome for the continued growth of my blog and brand. I was able to meet other Paleo bloggers through Stacy and Matt, and plug myself into the community in a new way. And, communicating now in two media, written and audio, helped me to find confidence in my knowledge base and to hone my voice, something I was still struggling to solidify.
From Blogger to Author
Meeting Stacy, Matt and their Paleo blogger friends was an important stepping stone in my blogging journey. They demonstrated to me that blogging could be a legit career and generously shared their wisdom with me regarding marketing, blog post schedules, social media, list building, book deals, and food photography. They were willing to hold open the door for me, so I had some thinking to do… what did I actually want from all this? Do I walk through this doorway?
I spent that first summer after I launched my blog thinking about whether or not I wanted to write a book, given that getting a book deal has traditionally been thought of the pinnacle of blogging success and I was now aligned with so many successful bloggers-turned-author.
After much thought and discussion with my husband, I decided that I did not want to write a book. I was happy with my blog being a hobby, something that I could keep up with in hour or two per day while my kids were napping, that might help a few people find answers to their health woes without having to hit the lows that I did before discovering Paleo and the AIP, and that would bring in a bit of money, perhaps enough that I could buy some higher quality groceries. No, I decided, I would not approach a publisher and nor would I start writing a manuscript. Once my kids were both in school, I intended to return to academia and research. This whole blog thing would remain a hobby to keep my brain happy in the meantime.
Or not.
Ten months after I launched my blog, I was approached by two different publishers a week and a half apart from each other. Even though I had just decided that I didn't want to write a book, it felt like the universe was telling me that I had made the wrong choice. Plus, I was flattered. How could I turn down this opportunity? Victory Belt Publishing Inc. was offering me an open-ended deal to write whatever book I wanted. The community obviously needed a book about the Autoimmune Protocol. So, I accepted and got to work on The Paleo Approach.
It was the first of many offers I couldn't refuse, and just being willing to say yes when an amazing opportunity presented itself was a major key in the rapid and organic growth of my blog.
Suddenly, my blog went from a part-time hobby to a full-time job, one that I still tried to fit in while my kids were sleeping or playing with the 10-year old neighbor who came over a couple of hours a week to work as a mommy's helper. I needed to hire an assistant to keep up with e-mails and DMs on social media so that I could write. That meant that I had payroll expenses, so I needed to better monetize my blog. In one stroke of my pen (signing my book deal contract), this $!it got real.
It was as if I dipped my toe into the water, found it to be warm, and then dove in head first.
Finding My Voice
The process of writing and illustrating The Paleo Approach really helped me establish my voice, my mission, and a strong professional moral code.
The Paleo Approach is very unique as a diet book. In it, I go into detail about how the immune system works, how it breaks down in autoimmune disease, the intersection with genetics and the environment, and how diet and lifestyle factors influence (both positively and negatively) immune function to affect healing. It felt like writing a series of scientific review articles, something I dreaded when I was a medical researcher, but found a new appreciation for in the context of popular science writing. I spent my days reading scientific journal articles, falling down the rabbit hole of PubMed, and then pulling the information together to form a cohesive picture with actionable takeaways, backing up every recommendation with a body of scientific evidence (the book cites over 1200 journal articles). My publisher couldn't find a medical illustrator to do the cell biology diagrams I wanted in The Paleo Approach, so I drew them myself. I had drawn my own diagrams for my doctoral thesis and various presentations when I was a medical researcher, and here I was drawing nearly identical illustrations of epithelial cells, tight junctions, apical and basolateral membranes… it was like being back in the Cell Biology department at The University of Arizona!
I leaned in to all of my training as a scientist to write and create The Paleo Approach, which (humble brag) made the New York Times bestseller list (and if that isn't validation, I don't know what is!). And, this experience helped me understand what the unique-to-me, special thing is that I have to contribute to the Paleo and AIP communities (and health-conscious communities in general): my ability to read and understand science in detail, to aggregate information from multiple fields of research, to distill it to its relevant and actionable core, and then to communicate that without "dumbing it down" for the general public.
In my second year of graduate school, I was awarded the named lecture. I had to give a presentation to the entire department on my research and the privilege came with a modest scholarship. I was the youngest and most junior student to ever receive this honor, usually reserved for senior graduate students in their final year of their doctorate degrees. I gave my presentation on my gene therapy research, using many of the strategies that I still employ to create dynamic and entertaining presentations that are still incredibly informative. At the end of my presentation, the olde time professor emeritus of the department (who had actually been hired several decades earlier by my grandfather, who was a cancer researcher, although I'm not sure he had made that connection) came up to me to tell me that it was a fantastic presentation (squee), but that he felt I was in the wrong field (oh-oh). I shouldn't be pursuing a career as a researcher, I should be on television like David Suzuki (a Canadian scientist, climate activist, and 80s and 90s television personality in Canada). I was so offended! I had wanted to be a researcher since I was 7 years old (inspired largely by my grandfather)! How dare he tell me the thing that I was pouring my heart and soul into, that I had wanted to do for most of my life, wasn't the right career for me!?
I think about that all the time, because as much as I didn't want to hear it at the time, he was right. That's pretty much what I'm doing now (he couldn't have conceived of a blog way back in 2000). I now think of myself as a science translator, or science communicator.
My blog began to focus primarily on articles explaining the science behind some aspect of the Paleo diet or the Autoimmune Protocol. (I love cooking so there was still recipes thrown into the mix. But, being a Paleo family had become completely natural, easy even, so there didn't seem to be much point in writing about that part of my journey any more.) I honed the format of my science-focused blog posts. I make sure to thoroughly cite all of my blog posts and never make a statement that isn't backed up by science (and not just a cherry-picked paper or two that confirms what I believe, because that's not science!).
I got into a great groove. Communicating with my audience on social media or via my e-mail list helped me know what topics people wanted to read about (in addition to writing about topics that were of interest to me personally). I'd dive into the scientific literature until I felt that I had a solid grasp of the field or research on that topic, and then write about it, admitting the boundaries of current human knowledge, and generally geeking out over conflicting data, since that most typically implies the importance of context and nuance (interesting to me!). And, I wrote more books (I'm now finishing up my fifth!) all embracing science! Paleo Principles is even being used as a textbook (but don't worry, it's still geared at the general public)!
And then, I started to experience push-back and anti-science sentiment. I was following my training as a scientist, trying to fairly represent scientific research in an actionable way. But, that meant that I was saying some things that weren't super popular because they didn't conform to conspiracy theories or support fads. (For example, my Adverse Reactions to Ketogenic Diets: Caution Advised blog post incited internet trolls to claim that I wasn't a real scientist because I hadn't even published any papers! Duh, my papers were published under my maiden name and these trolls didn't even take the time to check out my About Page where I has already linked to them!) Knowing that any blog post I write or presentation I give might need to be defended as rigorously as my PhD dissertation is why my voice as a blogger includes doubling down on the value of scientific evidence, maintaining high integrity and probity when creating any resource, and fighting against pseudoscience and anti-science fear mongering.
From Blog to Business
As my blog audience started to grow exponentially, the trial-by-fire learning about business and online marketing really began. My first steps included filing to become an LLC, hiring an accountant and a lawyer, moving my website to WordPress, starting to use premium plugins and services, signing up for affiliate marketing programs, hiring first a general assistant and then a graphic designer and social media assistant, all while working to increase my revenue streams to be able to keep up with my newfound payroll responsibilities and rapidly increasing overhead expenses. Most of the time, the revenue I brought in was barely enough to cover expenses, meaning that I was working full time and more without paying myself.
I entered a cycle of business growth: work on revenue streams by creating a digital product or taking on a new brand partner, hire a team member or lease a new professional service or software, feel super stressed about my budget after overcommitting, work on revenue streams to compensate, rinse, repeat. I learned both from my successes and my failures: projects that super resonated with my audience that monetized easily and efficiently, projects that failed to land and lost money, and many more projects somewhere in between. Through it all, I never lost focus of my overarching vision and continue to work diligently each step of the way. Over the years, I built an amazing team of talented women who support every aspect of what I do, helping me continuously progress towards my goals. I've also had the pleasure of having previous team members "graduate" ThePaleoMom and move on to their own exciting projects (so proud!). I learned how to manage my time effectively, how to lead authentically, and how to not count my [financial] chickens until they hatched.
I also had to transition from a purely online presence to live events, adding travel and speaking gigs to the mix. I had to learn to adapt to the ever-changing online environment, changing strategies with every social media algorithm update, and learn SEO and website optimization. My site went through several iterations, eventually getting a full overhaul by an incredibly talented web developer and designed by my incredibly talented graphic designer. I had to learn how to balance my work load with my values as a mom and wife and how to maintain my health with the stress of owning a small business. I had to learn how to delegate, how to say "no", and how to value my own work appropriately and competitively. There were some very hard-won lessons as I forged my path as a blogger and businesswoman, but also as a unique leadership voice in our community.
Finding my Strength
I've learned so much in 8 years of blogging, not just scientific facts and the skills needed to effectively communicate them, but also about myself, who I am and the impact I want to have in the world. And finding my strength as a blogger and leader has quieted that little voice of doubt at the back of my head that followed me through most of my life.
Experience has been the best teacher. I've known since the early days of blogging that the scientific knowledge of nutrition and lifestyle that I have to share is incredibly valuable. Now, I also know that my ability to communicate complex scientific concepts to a general audience while being entertaining is very special. I know that my integrity and honesty in everything I do is central to my success (and feeling good about what I do too!). I know that my willingness to be vulnerable and transparent and to share my experiences is unusual, especially for someone with as large an audience as I have. I know that I'm an excellent writer and a phenomenal public speaker and teacher. And I know that the day that I feel that I can't authentically be me and stand up for what I know to be true online is the day I need to pack it in.
I feel strong in that knowledge.

But, in the last couple of years, I've discovered another strength: I'm a darned good businesswoman and successful entrepreneur too.
I built this amazing brand, blog and business from nothing, no seed funds, no investors. And, my work is changing people's lives.
The last three years, I've had more and more opportunities to talk at business and entrepreneurship events about blogging, brand development, audience building, online marketing, and authentic leadership. It's similar to how building my influence, leadership status, and audience through blogging opened doors to write books, speak at events, keynote at academic and medical conferences, give seminars and workshops, film a television show pilot, and be interviewed in documentaries and in mainstream media (learn more here). Now, in addition to being recognized as a health educator and advocate, the business acumen required to create and sustain a successful online business is opening new doors, where I get to share my hard-earned knowledge behind the scenes of blogging.
Teaching Others About Blogging
Presenting at business and entrepreneurship events spurred me to start methodically reflecting on the skillset that I developed in creating a vibrant online brand and business, mostly by learning "on the job", by trial and error, by strategizing with data-driven decisions, by delegating, by learning from my mistakes, and by being observant, adaptable, ambitious, authentic, and diligent as I pursue my goals. Yes, being a successful blogger requires a bit of luck and a lot of hard work, but there are tangible skills and fundamental knowledge that every blogger can learn and apply, whether you're blogging as a hobby, side hustle, or full-time change-the-world passion.
I see so much amazing and valuable work being done in the community by so many talented bloggers. And, I'd love to help fast-track all aspiring bloggers to help turn your passions into successful and impactful blogs and businesses. Just as hanging out with Stacy and her Paleo blogger friends opened the door for me, I'd like to open the door for you. That's why I spent most of this year pouring everything I've learned into my How to Build a Remarkable Blog online course.
I have shared all of my detailed hard-earned knowledge on branding, content creation, audience building, social media, list building, marketing, monetization, and turning a blog into a business. But, these days, you also need the technical side of a blog to be dialed in in order to rank on search engines and drive traffic. So, I teamed up with my extremely talented web developer, David Schmeltzle, who has contributed his top-notch knowledge on the technology aspects including how to build a fully-optimized website, SEO and keywords, analytics & tracking, funnels, etc!
From basic how-to's to advanced techniques, what makes this course so unique is the combination of both of our perspectives and experience to make an extremely comprehensive course!
The chapters in this blogging course teach you:
the three foundations required to grow the best website
how to build a brand before you ever write your first blog post
the steps required to protect your domain
strategies for content creation
the fundamentals of website design using WordPress as your blogging platform
tracking: engagement, page views, bounce rate, audience demographics, and more
best practices for website development
how to grow your social media audience
how to build an engaged email list
organic audience building and advanced audience expansion techniques
how to make money online with your brand
how to use funnels to drive monetization
how to transition from blog to business
I am honored to be at the point of my blogging journey where I know that I have valuable information to share and skills to teach. Whether it's your first time blogging or you are a pro blogger, How to Build a Remarkable Blog guides you step-by-step through your own blogging journey.
And, to celebrate the launch of How to Build a Remarkable Blog on my blogiversary, you can save $200 (discount automatically applied in cart) AND get instant digital access to the entire course today!