I am crazy excited to finally be able to release the full pilot episode of Paleo Bites, the television show that I've been working on with ECG Productions (the post-production producers of In Search of the Perfect Human Diet) for the last two years!
Please help me get the television networks excited about this show so we can get the first Paleo-focused cooking show on network TV! The best way to support the show is to watch the pilot below and comment to share your enthusiasm!
And, to help spread the word about the Paleo Bites pilot and thank you for your support, I'm giving away an entire Paleo Library, valued at over $2000! Read to the bottom of this post to enter!
Nutrivore Weekly Serving Matrix
An easy-to-use and flexible weekly checklist
to help you maximize nutrient-density.
The Weekly Serving Matrix is very helpful! I've been eating along these lines but this really helps me know where to focus vs. which foods serve a more secondary role. It's super helpful and has taken a lot of worry out of my meal planning. Thanks!

Jan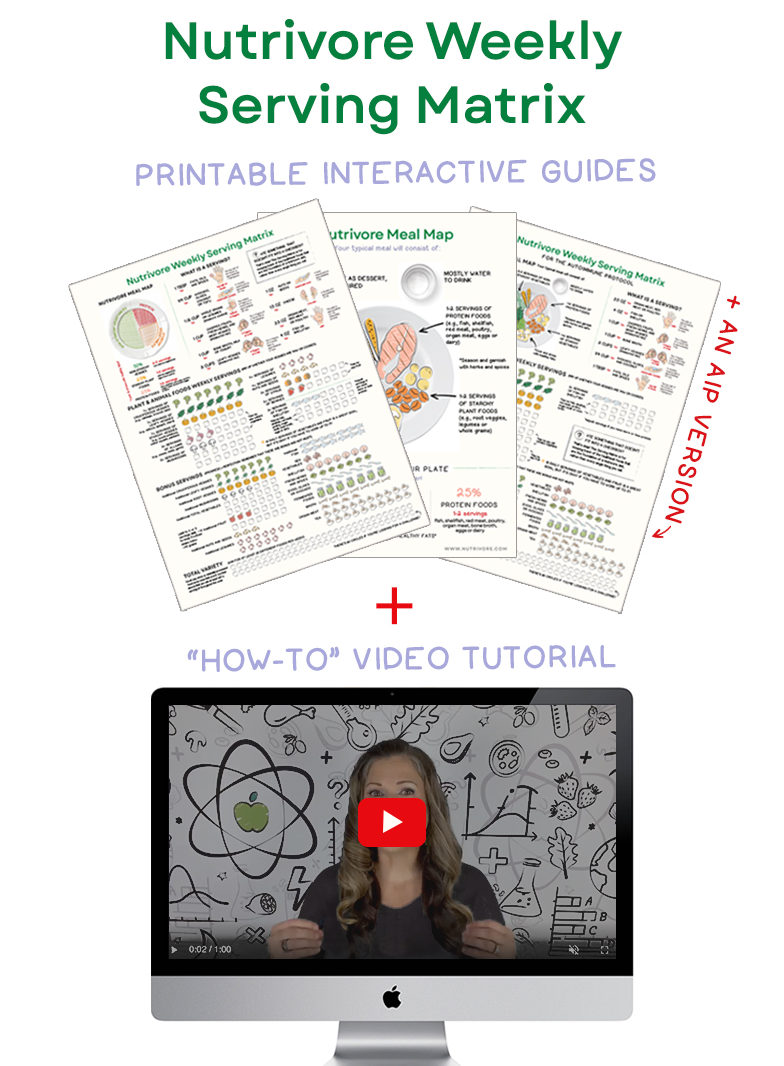 What Is Paleo Bites?
Paleo Bites is much more than just a cooking show. While each episode will center around the preparation of an easy yet delicious meal, Paleo Bites is also filled with my signature scientific approach to both diet and lifestyle.
Paleo Bites is designed to bring the growing popularity of the Paleo diet to everyone's kitchen with delicious recipes for home-cooked meals made with nourishing whole-foods ingredients. Each episode, we'll source high quality ingredients and use them to prepare new amazingly flavorful dishes, complete with tips on making the Paleo diet work in your home.
Paleo Bites goes beyond just recipes and shares the science behind this powerful way to take control of your personal well-being. And, because the Paleo approach doesn't just end with our diet, each week, we'll learn some important tips for staying active, managing stress, and other important aspects of a healthy lifestyle.
It is my hope that Paleo Bites will introduce the Paleo diet and lifestyle to a new audience, making this way of eating and living accessible to millions more people. Paleo Bites isn't like any show you've seen before: it brings health to your home through deliciously simple meals, served with a side of science and a dash of healthy-living how-to's.
You can read more about the origins of this project, the team behind it, and even get a glimpse of behind the scenes here.
Watch The Pilot
Yes, the entire pilot episode is finally available for you to watch! This release has been months in the making, and I'm so excited to be able to share this passion project with the world! Enjoy!

Cute, fun and informative! Yep, I'm really that dorky in real life. And yep, I really do talk that fast! You can probably see pretty easily now why I'm so proud of this project!
You can read tons more about the production, how this project came to be, our vision for the show, and the team behind it, along with behind-the-scenes photos in this post.
Help Us Get Paleo Bites on the Air!
This is a pilot episode, which means that now we need to shop it around to the different television networks to find a home for it! ECG Productions and I have been assembling our package to go to the all of the networks (yes, including streaming services too). While we've worked hard to create a vision and scope for this show, including the tremendous investment into creating a pilot episode to best share that vision, we now need a television network to buy Paleo Bites, to commit to funding, producing and airing it, and to making this dream a reality. And this is why I need your help! Please help us demonstrate the demand for a Paleo cooking show on TV by watching the pilot, giving it a thumbs up and commenting here and/or on YouTube to show your support!
Also, please spread the word in any and every way possible. Comment on this post and share your enthusiasm. Share this post on social media (there's handy dandy sharing buttons at the bottom of the post). Tell your friends and family. Watch the full pilot episode, give it a thumbs up and share your opinion in the comments! Watch the trailer and give it a thumbs up too! Use #Paleobitestv and post your excitement on social media. Go tell your favorite television network that you want to see Paleo Bites on TV directly or via their social media sites!
As my thank you to you for your support, I'd like to give you the recipes from the pilot to cook in your own home!
WANT THE RECIPES FROM THE PILOT?
CLICK HERE TO DOWNLOAD ALL FIVE EXCLUSIVE RECIPES FOR FREE!
Paleo Library Giveaway, valued at over $2000!
To help spread the word about the release of the Paleo Bites pilot, I'm giving away an entire library of Paleo books! Yes, that's over 70 books (some paperback and some hard cover), including cookbooks and resource books, and covering all aspects of the Paleo lifestyle, valued at over $2000!!!! And, I'll ship these boxes of books to anywhere in the world, so everyone can enter!
This project is all about making Paleo approachable and accessible, so it can finally go mainstream and stop being labelled as a fad. So, what better way to celebrate the pilot's release than by giving away this amazing library:
The Paleo Approach by Sarah Ballantyne
The Paleo Approach Cookbook by Sarah Ballantyne
The Healing Kitchen by Sarah Ballantyne and Alaena Haber
One Pot Paleo by Jenny Castaneda
The Autoimmune Paleo Cookbook by Mickey Trescott
He Won't Know It's Paleo by Breanna Emmitt
The Alternative Autoimmune Paleo Cookbook by Angie Alt
Practical Paleo by Diane Sanfilippo
The Calorie Myth by Jonathan Bailor
Hashimoto's Thyroiditis by Isabella Wentz
Perfect Health Diet by Paul Jaminez
Death by Food Pyramid by Denise Minger
The Paleo Answer by Loren Cordain
The Paleo Solution by Robb Wolf
The Paleo Foodie Cookbook by Arsy Vartanian
The Zenbelly Cookbook by Simone Miller
All-American Paleo Table by Caroline Potter
The Paleo Cure by Chris Kresser
The Whole 30 by Melissa Hartwig and Dallas Hartwig
Paleo Takes 5 or Fewer by Cindy Sexton

Against all Grain by Danielle Walker
Against all Grain: Meals Made Simple by Danielle Walker
Well Fed by Melissa Joulwan
Well Fed 2 by Melissa Joulwan
The Performance Paleo Cookbook by Stephanie Gaudreau
Down South Paleo by Jennifer Robins
Grain Brain by David Perlmutter
8 Steps to a Pain Free Back by Esther Gokhale
The Hormone Cure by Sara Gottfried
Fermented Vegetables by Kirsten Shockey
Paleo Grilling by Tony Federico
Eat Drink Paleo by Irena Macri
Super Paleo Snacks by Landria Voigt
Rich Food, Poor Food by Mira and Jayson Calton
The Everything Paleo Pregnancy Book by Tarah Chieffi
Primal Body, Primal Mind by Nora Gedgaudas
Wahl's Protocol by Terry Wahls
The Autoimmune Solution by Amy Myers
Gluten Freedom by Alessio Fesano
An Epidemic of Absence by Moises Velasquez-Manoff
Entering is easy, simply click on an option below! You can come back and watch the pilot and comment daily for extra entries!
a Rafflecopter giveaway