Over the last 10 years—approximately the amount of time I've been wearing makeup—I've been slowly sliding into the I-don't-wear-it-at-all camp.
With the exception of the time in ninth grade when I wore so much eyeshadow to a dance that my stepfather asked if I was going to Mardi Gras, I've never been a huge fan.
When I was an office grunt, I pretty much stuck to some foundation, mascara and a bit of eyeliner. And now that I work from home, I've been known to go whole days with nothing more than an eyelash curl and my favorite serum. Lip gloss is sticky! I never learned how to use bronzer! Foundation just comes off when I nap (which is often)!
Save 80% Off the Foundations of Health
Expand your health knowledge on a wide range of topics relevant to you, from how to evaluate scientific studies, to therapeutic diet and lifestyle, to leaky gut and gut microbiome health, to sustainable weight loss, and much more!!!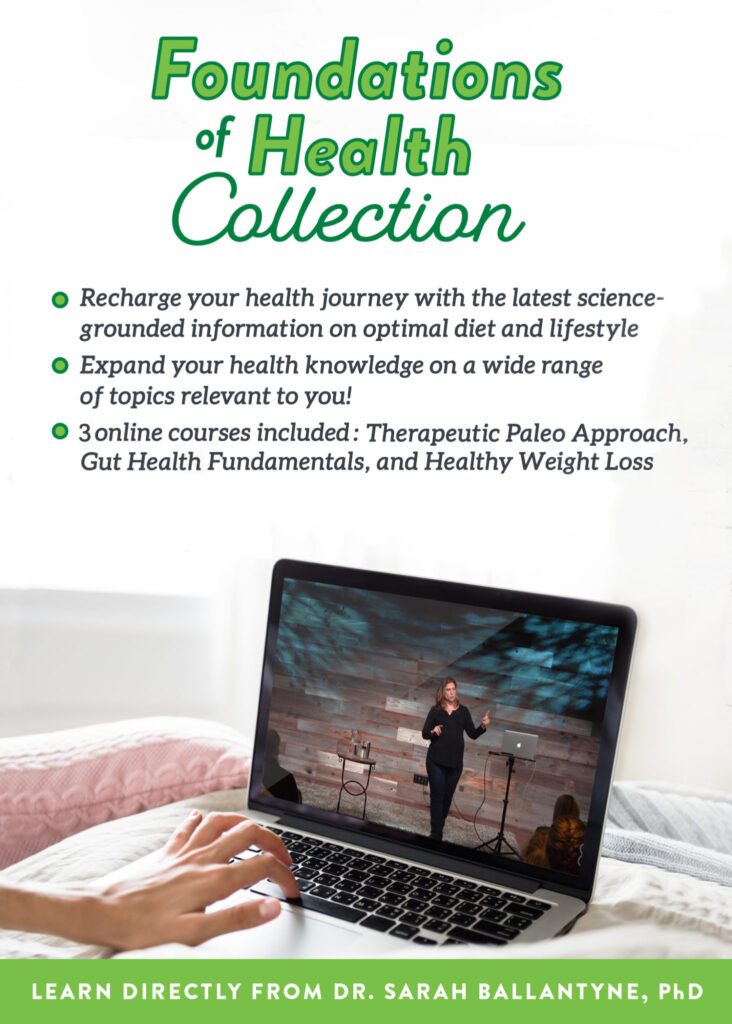 Plus, I've always figured that the less makeup I put on my skin, the happier it'll be.
So it was with some skepticism that I gave the Paleo-certified makeup from Araza Natural Beauty a try. It's the first new makeup I've worn in a while, and I was initially drawn to the promise of ingredients that aren't only non-toxic but are actively nourishing to the skin. We're talking coconut oil, natural minerals, zinc oxide, green tea and plant extracts.
And that's, like, it.
So, Araza offered to send me products I could try for several weeks at home. I started out by ordering samples to make sure my colors were well-matched. Araza even offered to help me narrow it down with a selfie, which I found particularly handy because really, who even knows what cool tones and warm tones and neutral tones are?
I chose a few products and tested them out for several weeks. That meant several weeks of walking outside in the sun, dinner dates, and other events where I wanted to look like a put-together human. And overall I was thrilled with the results. Below are some of my thoughts on individual products from Araza.
Learn more about Araza Natural Beauty

7-In-1 Coconut Cream Foundation
If you only order one thing from Araza, make it the 7-in-1 Coconut Cream Foundation. After trying it out in all sorts of conditions (biking, dancing, napping) for several weeks, I can say it's one of my favorite foundations of all time.
I've always been more into pressed powders than liquid foundations because I've never found anything with a natural look that's not too heavy. Plus, I'm always secretly worried that foundation will make me break out.
Araza's Coconut Cream Foundation is sort of the best of both worlds. It definitely airs on the heavier side thanks to the zinc oxide content, which is nice if you're looking for more coverage, but it doesn't feel heavy. By applying with a flat brush and blending with my hands I get even coverage.
It's important to me that foundation has a little SPF coverage since my skin is very fair. The Coconut Cream Foundation is packed with zinc oxide, which is amazing for skin barrier health AND a natural sun protectant. This foundation definitely made the transition out of my winter cave much easier.
The only thing I didn't like about this foundation was the time it takes to set. I found that combining Araza's foundation with a moisturizer means it's too oily and doesn't set well, even when I applied the Finishing Powder. I just skipped my serum on days I knew I wanted to apply foundation, and since it's so moisturizing, I didn't miss it.
Organic Arrowroot & Natural Clay Finishing Powder
I've tried lots of mineral makeups in the past, but many of them weren't fine enough to really smooth things out. Araza has totally cracked the code with a blend of arrowroot and natural clays that absorbs oils and doesn't contain anything questionable.
I'm really glad I decided to order the Finishing Powder because as I mentioned above, I don't think the foundation quite sets well without it. But I also love how well this evens out any oily spots and lends an almost airbrushed look to my skin.
If you're on the fence about combining the Foundation and Finishing Powder, I think the additional step is well worth it (especially for the potentially makeup-melting temperatures of summer).
Olive Extract Cheeky Cheek Color
This simple blend features zinc oxide as well as Olive, Raspberry and Neem extracts—all excellent topical treatments for the skin. In fact, those ingredients are things I've sought in the serums, balms, lotions, etc. that increasingly line my dresser as I approach, ahem, THIRTY.
What I do not understand is how that blend of super crunchy stuff yields a lovely color (Rendezvous worked well with my skin) that I was not afraid to wear out of the house.
My boyfriend, bless him, is an unfailingly honest human with a real hatred of blush. I usually use him as a barometer for how misleading the lighting in my bathroom is at any given time because while I do what I want, I'm not a fan of the over-blushed look either.
I snuck Araza's Cheeky Cheek Color past him at least half a dozen times, so I feel pretty good giving it an A+.
Raspberry and Citrus Infused Eyecolor
I have very specific eyeshadow needs as the result of an early infatuation with a particular discontinued color I haven't been able to grab from Sephora for like 6 years (RIP, old friend). I like something fairly nude with a little shimmer but NOT THAT MUCH SHIMMER also not too white because this isn't 7th grade and not too nude because then that's just my eyelid color.
So, to keep things short, I will just tell you that I ordered Toasted Coconut and Mirage and they were great. The colors stay true for hours, they go on as smoothly as any high-end makeup I've ever purchased, and they have just the right amount of shimmer.
I was a little worried when the samples I ordered came in loose powder form, because I find that tougher to use than a pressed powder. Happily, the full-sized versions were pressed and super simple to apply.
Coconut Lip Gloss
I vividly remember applying lip gloss for my first ever date with an actual human boy and thinking "how will I unstick my lips long enough to talk to him?"
That was about 12 years ago and I'm not sure I've worn lip gloss since.
Beyond the sticky factor, my dive down the Paleo rabbit hole has made me somewhat skeptical of pretty much everything I eat, and I am certain that we all eat about 90% of whatever lip product we apply on a given day.
But Araza's formulation is mostly coconut and castor oils, plus some pronounceable ingredients like raspberry, green tea and pomegranate fruit extracts and Vitamin E oil. I've been searching for a new red lip go-to for a while (I don't usually do lip gloss but I am pretty into lip sticks), so I decided to give Araza's gloss a shot.
The Candy Apple I selected is way less overwhelming than other reds I've tried (if you're looking for a brighter pop, I sampled Ruby Red and that seemed to tick that box), so I'll be putting it into my regular rotation. It was NOT sticky, provided a light stain that lasted for hours, and was super moisturizing for my lips. I also loved the Sugar Poppy, a more neutral pink that I imagine will provide quite a bit of mileage.
If you're a little skeptical of natural beauty, I can't blame you. I have no idea how a few natural ingredients can yield such impressive results. I just know I'm happy to be able to say that Araza's line of crunchy, food-based, totally-Paleo makeup is so effective I might actually put it on more than twice a week. That, my friends, is a feat.
Learn more about Araza Natural Beauty