Cinnamon Prime is a Mindset Coach with 9 years of experience. She has coached hundreds of people in just about every area of life to help them achieve health, self-love, wealth, relationships, business success along with many professional and laymen Athletes to win competitions. She grew up as a competitive swimmer and gymnast with a fascination for the human body and neuroscience. She holds a degree in Biochemistry, and coaches the whole human with the Paleo Lifestyle as the starting template for nutrition, fitness, with Mindset as the center of her whole approach. She has successfully shifted the Mindsets of hundreds of clients, leading them to have true peace of mind, freedom from their past constraints so that they create futures of their design. She loves God and believes the human spirit is the key to true freedom and that having a healthy body & mind allows us to deliver upon our destiny here on Earth. She considers it a true privilege to coach her amazing brothers and sisters on Earth and wakes up feeling blessed everyday. In her free time, she studies, is writing a book, lifts heavy things, plays her guitar, paints, and hangs out with her amazing 14 year old son. You can find her at her website, on Instagram and Twitter, and on Facebook.
---
Mindset Part 2 – Values and Negative Beliefs
The Autoimmune Protocol E-Book!
One of my FAVORITE books I used to start the transition to AIP!!! It's so helpful! I printed mine out and spiral bound it. Thank you for this! -Rita Davidson
The Autoimmune Protocol e-book is your up-to-date guide to jump-start your healing with the AIP today.
3oo+ pages of quick-access information on the AIP

4 weeks of meal plans with shopping lists

over 80 family-friendly recipes, all 100% AIP!
Get instant digital access for $19.99
Can I just say that I'm SO excited to be doing this and interacting with y'all? By the way, I'm a Native Texan, so "y'all" is a word for me. All right, let's get this Mindset party started!
I assigned you homework, did you do it? I don't waste any time, welcome to being coached by me. If you have not done your homework, you missed my first post or you want to review it please go back and read "Guest Post by Cinnamon Prime: What is Mindset?," and do the work. Why? You won't get anything out of these posts that will make a difference for you if you don't.
Last time I mentioned that negative beliefs will wear us out. This isn't my opinion, this is science. Negative beliefs send out a stress response which send out cortisol and that increases inflammation (Oh hello, autoimmune nightmare) and then you get worn out and sick. Negative beliefs are not the only thing that causes stress, and they also make a huge impact on health. So let's dig in.
Homework #1 – What do you believe is TRUE about you and your health?
TRUE being the key word.
The Gut Health Guidebook!
The depth of information, practical tips, and the accessible way Dr. Sarah shows me how to apply complex science to improve my health is truly remarkable. -Wendy
The Gut Health Guidebook is the culmination of 6 years of research. This unprecedented deep dive into the gut microbiome delivers:
A new diet for gut health, built from the ground up

Essential gut microbiome superfoods

20 Keys to gut health
Get instant digital access for $27.99
Since you're human, you'll have beliefs that are empowering like, "I can do anything I set my mind to" and you'll have beliefs that are disempowering like, "I always have bad luck." Our focus will be on shifting around the disempowering beliefs.
If you think it's TRUE that you'll be sick forever, you'll never lose weight or feel good then know that you're sending messages to your subconscious to get that done.
We can actually direct our subconscious, did you know that? YES! In the book I'm writing and my courses I have people do what I call "The White Car Experiment". How many white cars did you see yesterday? You don't know, I promise. I've had clients count upwards of 340 of them in one day. Yeah, that was their homework given for the same purpose I'm telling you this today. White cars were not important to you yesterday, were they? No. Have you ever noticed when you buy a new car "all of a sudden" you see that model everywhere? Well it's not all of a sudden. You just told your subconscious that that car is now important so you noticed them. Okay you didn't sit in front of the mirror and say, "Hey subconscious, I just wanted to let you know that that kind of car is important. Cool, thanks."
No, it's not like that. What happens is you start talking to yourself about that new car, you get high brain responses about it and it becomes highlighted in your mind. Now go see how many white cars you see today, make it important and you'll be shocked!!!
Well, the same thing happens for a negative belief too. If you think, "I'm just always so sick, I NEVER feel good and this sucks!!!" Your subconscious will notice EVERY SINGLE moment that you don't feel well and it'll reinforce your belief (making you RIGHT) that you are "always so sick". It'll notice times you don't feel well that even a healthy person wouldn't feel well, like after a long day of stress. The healthy person may say to themselves, "Boy what a long day, I'm happy to get to sleep."
A person with a belief that they are "always so sick" may say, "UGH See? I should be able to feel good after a day like this like a "normal" person, I hate that I'm sick.", thus making a very normal experience WORSE in their mind.
You're EXTRA EXTRA hard on yourself and highly diligent at noticing ANY little thing that makes you feel sick.
Let me give you an example of a different negative belief that may not be so close to home, so you can see it from another, less personal angle.
I am going to pause here and be responsible for how you may be interpreting this post so far, because I've been there. Please know, I know you may be dealing with very REAL health issues. I have too. I've been in some sort of physical pain since I was 15 years old and I'm now 39. I've had LOTS and LOTS of REAL pain. I have scoliosis and was also in a serious car wreck over 3 years ago. Now, it's true that I experience pain but I don't suffer with it. I don't suffer because I don't carry a negative belief about it. Pain is real, my nerves send pain signals yes. Suffering is optional and driven by our inner dialogue about the pain. Interestingly, since giving up my negative beliefs about it, I have far less pain than I used to. I also still get chiropractic care, but because I am at peace, my body is less tense and less inflamed. It's a beautiful thing this mindset stuff. I do also have an awesome diet that works for me and I am physically and socially active. I also tend to my spirituality often…. More on those things as we go. The take away for today is, I dropped my negative inner dialogue and beliefs about the pain and I feel less pain now.
Back to the post: Let's say someone has a belief that "I'm always broke.". We ALL know that person don't we? Then we see them at some point blow money at the mall or online, on impulse purchases… then they get their cell phone bill and say, "GAH I can't get a break!! Why do they charge for every little thing? And now I need new tires. This sucks." -Something is off, isn't it? They keep the problem in place with their negative belief AND their ACTIONS.
*NEW* The Gut Health Cookbook!
The Gut Health Cookbook is fantastic! Thank you for researching and creating The Gut Health Cookbook! Such wonderful recipes! I'm so excited to try them all! -Sue
The Gut Health Cookbook puts the 20 Keys to Gut Health into practice with:
180+ recipes featuring 61 gut health superfoods

Gut health food lists

Why's behind each gut health superfood
Get instant digital access for $27.99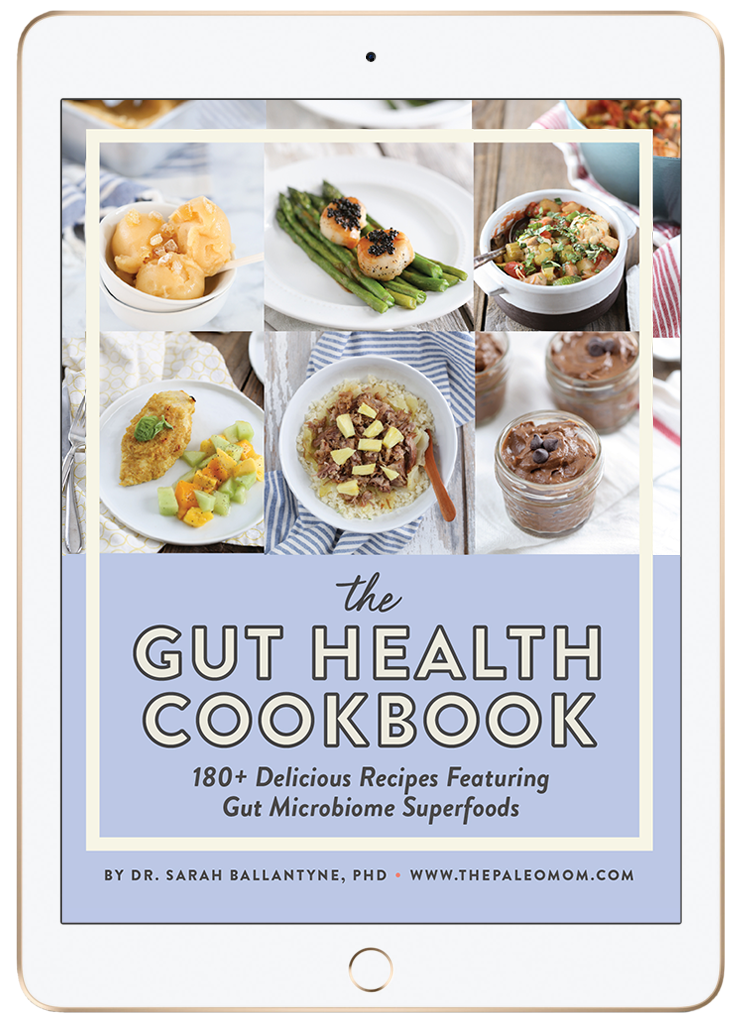 Here's the good stuff. Your ACTIONS will ALWAYS match your beliefs, good or bad. You can't get out of this, it's neuroscience and I eat up neuroscience for breakfast so trust me, it's accurate. I've been doing this for almost a decade and I have yet to meet a human who's actions DON'T reflect their TRUE beliefs, not the ones they WANT you to think they have, but their true ones.
So start to notice this. If your subconscious makes white cars important, your ACTIONS will be what? Your eyes search, you take mental note and say, "Oh there's another one" (talking aloud or in your head is an action).
If your belief is that you'll always be sick, your attention will be on that. You'll NOT do certain things, and when you don't feel sick or bad you may dismiss it as a fluke or you'll just wait for the "other shoe to drop…this won't last long.". Dismissing something that doesn't match your beliefs IS an action.
When I confronted my belief that "I'm always in pain and I'm going to be in pain forever" I realized it wasn't true! I wasn't right! When I got present (here's where mindfulness comes in) to EVERY minute that I was not in pain, I actually felt great far more than not. Well, that shifted something in me. I realized I had been worried about the pain and exaggerating how much I experienced it. I didn't judge myself for this either, I'm human and it is a natural thing we all do and deal with.
Homework #2 & #3 – What is your value and does that align with #1?
This is where things get interesting and you may picture me in front of you with my hands on my hips saying, "let's get this straight here."
I can promise you this much. You are talented, loved and needed in this world. You have gifts and you make a difference around you. You were NOT placed in this world to suffer. Given that you're talented, make a difference and are needed, does believing you're sick or broken align with this?
The Gut Health Collection!
I love Dr. Sarah's passion for educating people and helping everyone on their journey to wellness!! -Mindy
The Gut Health Guidebook delivers a comprehensive deep dive into gut health, building a new diet for optimal health from the ground up, based on the gut microbiome.
The Gut Health Cookbook puts the scientific framework into practice with 180+ delicious recipes that each center on at least one of 61 gut health superfood ingredients.
Save $10 with the Gut Health Collection!
Can you see that me thinking that I was just a broken woman in pain who would probably end up in a wheel chair when I'm 40, doesn't align with who I really am? Yes, I actually thought that. I pictured the Hunchback of Notre Dame with the scoliosis and pain all over my body. Isn't THAT SEXY!! Haha –It's great, I can laugh about it now because it was just a stilly story I told myself.
What if you aren't broken? What if nothing is WRONG with you?
So my spine is crooked. SO WHAT.
So your thyroid is sluggish. SO WHAT. Are you NOT valuable and important because a stinkin' butterfly shaped organ in your throat isn't operating fully??? Are you not loved because you and gluten don't mingle well?? Are you "less than" because some of your activities have to be modified? Well, you can believe that all you want but it's nonsense.
I love you, and it's nonsense. I can tell you that because I was full of nonsense too and sometimes nonsense tries to come back into my head still! Yes, given all of my training, I am still human and get tempted to enter into gloomy thinking. I simply notice it and choose to remember my value and I don't interact with such nonsense. Buh bye.
Do you know that you're not your body?
You happen to HAVE a body. You are not your body. You are also not a disease or condition.
I'm a scientist by training so let's get proof that you aren't your body, disease or condition. If you are your body, then where are you? Are you in your elbow? Left or right one? Oh no not there? Are you next to your spleen? No? Oh you must be your pancreas, that's it!! If you ARE a disease or condition where are you? In the thyroid or adrenals, which one? Small or large intestine, which one? I'm not being a smarty pants, I'm actually entertaining what you're thinking (some of you anyways).
Can you see how ridiculous our own thinking can be? Next time we will get to those lovely things called thoughts. That'll be a fun one!
So 30 seconds after you die, you will weigh the same, you will look the same, you will still be warm. YOU will not be there though. So where did you go if you ARE your body? That's evidence enough that the YOU that makes YOU, isn't your body, condition or disease. Interesting, isn't it?
Homework time.
#1 – Given I am valuable, talented and important do I want to keep my negative beliefs around (remember we ALL have them, myself included)? Is it REALLY TRUE that I am sick or broken? Is it really true that I'll never feel good? Do I want some lab test and organ in my body to dictate my whole quality of life and my peace of mind?
The Paleo Template E-Book!
Thank you, for pushing the best, most relevant research, for making it relatable to anyone who does not speak the language of scientific research. -Meghan
The Paleo Template e-book is your accessible, practical-focused Paleo diet and lifestyle resource.
250+ pages of quick-access information on the Paleo template

4 weeks of meal plans with shopping lists

over 90 family-friendly recipes!
Get instant digital access for $19.99
#2 – If I choose to keep my negative beliefs (by the way, you're free to do that. I'm not here to tell you what to do or "make" you do anything) what can I predict my future will be like? How will I feel? Is this what I really want?
#3 – What IF I'm not broken? Then who am I? If I am not my body, then what IS true about who I am and what's possible for me?
#4 – (hint for the next Mindset post) Are ALL of my thoughts always true?
BONUS: Do the "white car experiment" and post how many you see in the comments!
Thank you for reading. For some of you this is confronting. Welcome to coaching. Coaching pushes us into being uncomfortable and that's where we grow. Know that there's nothing that I haven't heard or dealt with from a client in the 10 years I've been doing this. Given that, I assure you, peace of mind and freedom await you no matter your circumstances. You will never convince me that there's something wrong with you, you're amazing and that's that. You are loved and I'm in this with you.
Until next time, be gentle with yourself, love yourself and know that you're valuable and make a difference in this world. Go be love.
Love,
Coach Prime