Tomatoes, potatoes (but not sweet potato), eggplants, sweet and hot peppers (but not black pepper), and chili-based spices (including paprika) all come from plants which are members of the nightshade family. You may recognize several "superfoods" in this list of nightshades. However, nightshade vegetables are eliminated initially on the Autoimmune Protocol because, in addition to being packed with vitamins, minerals, fiber, and phytonutrients, they also contain several compounds that can drive inflammation and undermine gut health. This comes as a surprise to a lot of people when they first start learning about the AIP, so let's dig into the science!
What Are Nightshades?
Nightshades are a botanical family of plants called Solanaceae. These plants have certain characteristics in common, like the shape of the flower and how the seeds are arranged within the fruit. There are more than 2,000 species in the nightshade family, the vast majority of which are inedible and many of which are highly poisonous (like deadly nightshade and jimsom weed). Tobacco is a nightshade that is known to cause heart, lung, and circulatory problems, as well as cancer and other health issues (although some of this clearly has to do with the other toxins found in tobacco products).
The following are edible members of the nightshade family, a couple of which we might encounter only while on vacation in the tropics or in supplements:
Ashwagandha
Bell peppers (aka sweet peppers)
Bush tomatoes
Cape gooseberries (also known as ground cherries—not to be confused with regular cherries)
Cocona
Eggplant
Garden huckleberries (not to be confused with regular huckleberries)
Gilo (aka Ethiopian eggplant)
Goji berries (aka wolfberries)
Hot peppers (such as chili peppers, jalapenos, habaneros, chili-based spices, red pepper, and cayenne pepper)
Kutjera
Naranjilla (aka lulo)
Paprika
Pepino (aka pepino melon)
Pimentos
Potatoes (but not sweet potatoes)
Tamarillos
Tomatillos
Tomatoes
Turkey berry
Note that many of the nightshades listed include dozens of varieties. There are many, many varieties of hot peppers, tomatoes, and eggplants, for example, and something like 200 varieties of potatoes. And the number of products that contain nightshades is enormous. In fact, if a label lists the vague ingredient "spices," that product almost always includes paprika. Many spice blends, like curry powder and steak seasoning, usually contain nightshades. You might see ingredients such as sambal, shichimi, or Tabasco listed and not immediately realize that those are sauces made with hot peppers. In fact, there are thousands of varieties of hot sauce, all of which contain nightshades.
Of the edible species in the nightshade family, poisoning can actually occur with excessive consumption, and it is possible that the low-level toxic properties of the nightshade vegetables contribute to a variety of health issues as they progress over time. So let's talk about three key compounds in nightshades that make them such a common food sensitivity and potentially harmful for certain people: glycoalkaloids, agglutinins, and capsaicin.
Glycoalkaloids in Nightshades
All plants contain saponins, often concentrated in the seeds. These compounds have detergent-like properties and are designed to protect the plants from consumption by microbes and insects by dissolving the cell membranes of these potential predators. Saponins consist of a fat-soluble core (having either a steroid or triterpenoid structure) with one or more side chains of water-soluble carbohydrates. (This combination of a water-soluble and a fat-soluble component is what makes saponins act like a detergent—something that can make oil and water mix.) Legumes, pseudo-grains, and vegetables from the nightshade family are high in saponins. See also How Do Grains, Legumes and Dairy Cause a Leaky Gut? Part 2: Saponins and Protease Inhibitors
The detergent-like structure of saponins gives them the ability to interact with the cholesterol molecules embedded in the surface membrane of every cell in the body and rearrange those cholesterol molecules to form a stable, porelike complex. Basically, dietary saponins create holes in the surface membrane of the enterocytes, allowing a variety of substances in the gut to enter the cell. Beyond the toxic effects some of the substances that may leak into the cell may exert, cells, in general, do not survive large, irreversible changes in membrane permeability. There are many different types of saponins, and some bind more easily and more tightly to the cholesterol molecules in the cell membrane than others. As such, different saponins can create larger or smaller pores, which may be more or less stable. The larger, more stable or more numerous the pores, the more difficult it is for the enterocyte to recover. However, smaller and less-stable saponin pores, which tend to be transient and close up without harming the cell, may also play a very important normal role in digestion, by facilitating the absorption of some minerals without harming the enterocytes. Some saponins have even been found to prevent cancer. So, while some saponins can be very damaging to the gut barrier, dietary saponins provide a spectrum of functions, some of which are beneficial.
The most toxic and best-understood dietary saponins are a subset called glycoalkaloids, which are found in nightshade vegetables. The flowers, fruit, and foliage of the nightshade family contain glycoalkaloids (the alpha-solanine and alpha-chaconine in potato, the alpha-solanine in eggplant, and the alpha-tomatine in tomato). Toxicity studies in animals have shown very dramatic effects of various glycoalkaloids, typically including weight loss from malabsorption of nutrients, lower fetal survival rate, and higher incidence of birth defects. Fortunately, humans do not seem to be as susceptible to these toxic effects (or we probably wouldn't eat tomatoes at all), but we also tend not to consume quite such high levels. But in humans, glycoalkaloid poisoning can and does occur with excessive consumption of nightshade vegetables, and many researchers have hypothesized that the low-level toxic exposure from more moderate consumption of nightshades can contribute to a variety of health conditions (including autoimmune disease).
Based on reports of poisoning and death from high glycoalkaloid intake from potatoes (yep, there are quite a few of these!), an intake of 3 to 6 milligrams of glycoalkaloids per kilogram of body weight is considered a potentially lethal dose for humans, while 1 to 3 milligrams of glycoalkaloids per kilogram of body weight is considered toxic. And some researchers believe that the frequent consumption of potatoes and other nightshades may be a major contributor to the rise in chronic illness due to lower but more frequent intake of glycoalkaloids. According to researcher Yaroslav I. Korpan, PhD, "This discussion suggests that potato GAs [glycoalkaloids], particularly solanine and chaconine, are extremely toxic to humans and animals, and that this problem should no longer be ignored as it could turn into a serious health threat."
However, certain people are much more sensitive to glycoalkaloids than others. In some individuals, for example, gastrointestinal symptoms have been documented after eating potatoes with a glycoalkaloid content of only 3 to 10 milligrams per 100 grams of potato. And people with autoimmune diseases (and certain other chronic conditions) can react to very low exposures that would be safe for the rest of the population.
Save 70% Off the AIP Lecture Series!
Learn everything you need to know about the Autoimmune Protocol to regain your health!
I am loving this AIP course and all the information I am receiving. The amount of work you have put into this is amazing and greatly, GREATLY, appreciated. Thank you so much. Taking this course gives me the knowledge I need to understand why my body is doing what it is doing and reinforces my determination to continue along this dietary path to heal it. Invaluable!

Carmen Maier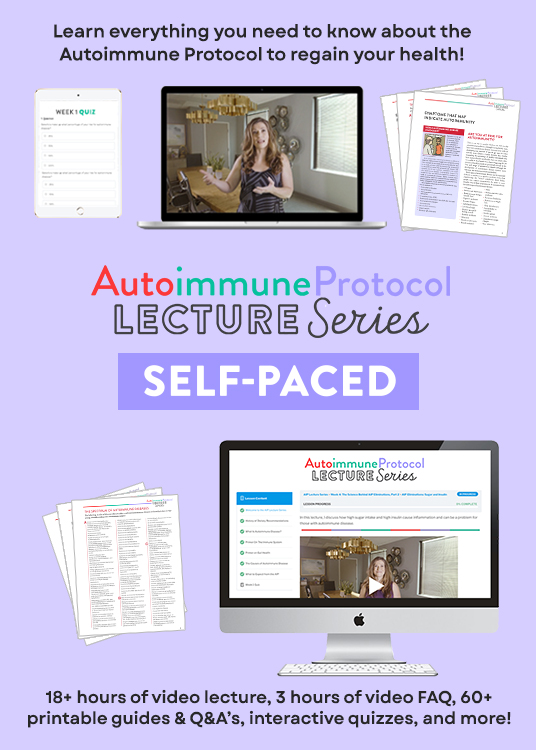 Some very important studies have investigated the effects of glycoalkaloids at relatively low concentrations on human intestinal epithelial cells. The glycoalkaloids alpha-chaconine, alpha-solanine, and alpha-tomatine have all been shown to decrease viability of human intestinal cells (yes, that means killing them) and to increase epithelial permeability (yes, that means they can cause a leaky gut). This increase in permeability is not only attributable to the effects on cell health but also to the difference in cell-to-cell contact. (There doesn't seem to be an effect on tight junctions, but rather on a type of junction called a GAP junction.) Oh, and alpha-tomatine is very good at crossing the gut barrier.
Whether through a direct influence on intestinal permeability or because of the presence of an already leaky gut, saponins are able to enter the bloodstream. When this happens in sufficient concentrations, saponins cause hemolysis (destruction of the cell membrane of red blood cells). Saponins also act as adjuvants; in fact, alpha-tomatine is being investigated for use in vaccines. While some concerns about its use remain, these studies have shown that alpha-tomatine is a potent stimulator of cytotoxic T cells, which is relevant to the discussion of autoimmune disease.
Beyond these actions of saponins, glycoalkaloids inhibit a key enzyme, acetylcholinesterase, which is required to conduct nerve impulses. There is also evidence that diets high in potatoes, in particular, result in increased inflammation (although this could also be because of the carbohydrate load from potatoes and not an effect of the glycoalkaloids themselves, see Potatoes: Friend or Foe of Paleo?).
When forming, saponin pores (even pores that are small and transient and do not explicitly harm the enterocytes) have the intriguing property of depriving the enterocyte of its ability to actively transport some nutrients, especially carbohydrates. While slowing down sugar transport from the gut to the bloodstream seems like a great thing (the reason beans are so often recommended as a carbohydrate source for diabetics), it also creates more food to feed bacterial overgrowth in the gut, thereby contributing to gut dysbiosis. In fact, saponins may contribute to gut dysbiosis in another way, too: They may hinder the growth of some probiotic bacterial strains while stimulating the overgrowth of some Gram-negative bacteria, such as Escherichia coli. In fact, even in the presence of antibiotics, saponins have been shown to enhance the growth of six different strains of E. coli. An overabundance of E. coli is a common feature of small intestinal bacterial overgrowth.
Very importantly for those with autoimmune conditions, some saponins, such as alpha-tomatine, have adjuvant activity. An adjuvant is a chemical that stimulates and exaggerates an immune response. In fact, the glycoalkaloid α-tomatine is such a potent adjuvant that it is used in vaccines to ensure that the recipient develops immunity against the virus against which they are being inoculated. In addition, glycoalkaloids inhibit a key enzyme, acetyl cholinesterase, which is required for nerve impulse conduction. There is also evidence that diets high in potatoes, in particular, result in increased markers of inflammation (for more on potatoes, see Potatoes: Friend or Foe of Paleo?).
Some websites have erroneously "reported" that some nonnightshade fruits and vegetables contain the glycoalkaloid solanine. These fruits and vegetables—including blueberries, huckleberries, okra, apples, cherries, sugar beets, and artichokes—are safe to consume from a glycoalkaloid standpoint.
Saponins, Enterohepatic Circulation, and Fat-Soluble Vitamins
Bile salts (also called conjugated bile acids), which are produced by the liver, stored in the gallbladder, and then secreted into the small intestine after eating, are necessary to digest fats. They are created from cholesterol, which is converted into one of two types of fatty acid (cholic acid and chenodeoxycholic acid) and then conjugated (joined together) with the amino acids glycine or taurine to create a detergentlike structure (very similar to saponins). The majority (up to 90%) of bile salts are reabsorbed by the small intestine and recycled back to the liver for reuse (a process called enterohepatic circulation). Bile salts act as an emulsifier (or detergent), by breaking apart large fat globules so that lipases (digestive enzymes that break down fats into individual fatty acids) can more effectively do their job. Bile acids also facilitate absorption of fats and fat-soluble vitamins by creating structures called micelles—aggregates of fatty acids, lipids, cholesterol, and fat-soluble vitamins—which are water soluble and easily absorbed by the enterocytes.
Because saponins interact strongly with cholesterol, they have been studied as potential cholesterol-lowering drugs. Because of their strong cholesterol-binding properties, saponins stop the incorporation of cholesterol into micelles and therefore stop the absorption or reabsorption of cholesterol. This then has the effect of lowering total blood cholesterol. This sounds like a good thing, right? However, don't forget that not only is blood cholesterol not the cause of cardiovascular disease but that cholesterol serves important physiological functions in the body. Although high blood cholesterol is not desirable, stopping the absorption of cholesterol in the intestines is an artificial way to lower it and does not address the root problems. And micelle formation is necessary for absorption of fat-soluble vitamins. (After fatty acids, cholesterol and fat-soluble vitamins are absorbed, the enterocytes repackage these components into structures called chylomicrons. Chylomicrons are delivered to the other side of the cell and then circulate through the body via the lymphatic system.) While there is evidence that dietary saponins bind to fat-soluble vitamins, they ultimately affect absorption by inhibiting micelle formation. Given that patients with autoimmune disease have deficiencies in fat-soluble vitamins, this is clearly a problem.
Agglutinins in Nightshades
Agglutinins are a type of lectin characterized by their ability to induce the clumping (or agglutination) of red blood cells, see also Are all lectins bad? (and what are lectins, anyway?). Some agglutinins, such as ricin, which comes from castor bean casings, are so toxic that as little as one milligram, if inhaled or injected (presumably accidentally) intravenously or intramuscularly, is deadly. How much is one milligram of ricin? Roughly the size of a grain of sand. In fact, the Bulgarian dissident Georgi Markov was assassinated in London in 1978 with a pellet containing 0.2 milligrams of ricin that was shot or injected into his thigh, allegedly with the tip of an umbrella.
Agglutinins are part of the seed's natural defense mechanisms, and while all the roles these lectins play in protecting the seed have yet to be discovered, what we do know is that they protect the seed from fungal infection and perhaps from insect predation as well. In fact, genetically modified grains typically contain higher levels of agglutinins to help protect industrial crops from pests. For example, wheat germ agglutinin (WGA) is so powerful at resisting insects that the gene for WGA has even been added to genetically modified corn.
Agglutinins are difficult to digest because we lack proteolytic enzymes (digestive enzymes that lyse, or break apart, proteins) capable of breaking it apart into individual amino acids. They are also very stable at high temperatures and low pH, so neither cooking nor our stomach acid are much help in breaking it down, either.
WGA is the best-studied agglutinin, and probably also the most detrimental (although soybean agglutinin is a close second). WGA is not directly toxic to gut enterocytes in concentrations equivalent to those normally found in food, but because our bodies can't digest it, WGA travels through the small intestine largely intact. WGA is very good at interacting with the brush border of the intestine, and in doing so, increases intestinal permeability. (Hello, leaky gut.) It is also a well-known stimulator of the immune system. In fact, its activities in the gut qualify it as a biologically active protein, which is not normal (or healthful!) for proteins in our food. Dive deep into WGA and agglutinins in general in Worse than Gluten: The Agglutinin Class of Lectins.
The best understood nightshade agglutinin is tomato lectin, more technically called lycopersicon esculentum agglutinin. Analogous to WGA, tomato lectin binds to the surface of enterocytes and is known to cross the gut barrier. In fact, tomato lectin is known to enter the bloodstream relatively quickly in humans, which suggests that it can contribute to the development of a leaky gut. Tomato lectin has been investigated as an adjuvant (immune-stimulating chemical) for use in intranasal vaccines because it activates antibody production. An agglutinin from datura (a genus of plants belonging to the nightshade family, several of which are used as herbal medicines) also increases intestinal permeability.
Nightshades and Steroids
The flowers, fruit, and foliage of the nightshade family contain steroidal drugs (the stimulating capsaicin in peppers, the tranquilizing nicotine in tobacco). Of particular concern is capsaicin, which is found in chili peppers and is one of the substances in them that gives them heat. While a variety of health benefits have been attributed to capsaicin, it is also a potent irritant to a variety of tissues, including skin, eyes, and mucous membranes (including the gut). Very importantly, there is evidence that capsaicin can increase intestinal permeability.
Nightshades in the AIP Reintroduction Phase
The AIP is a nutrivorous diet in which the goal is to fully meet the body's physiologic needs for both essential and nonessential nutrients from the foods we eat. This includes the full cadre of essential nutrients as well as fiber, phytonutrients, nonessential and conditionally-essential amino acids (like glutamine and arginine), nonessential health-promoting fatty acids (like DHA, EPA and CLA), and nonessential vitaminlike compounds (like CoQ10) into the nutrition calculus. Because there's no such thing as a nutritionally complete food or food group, there's no single food that provides all of the nutrients we need to thrive. We can most easily achieve nutrient sufficiency by eating a wide variety of plant foods (especially vegetables, mushrooms, fruit and fresh herbs) and animal foods (especially fish, shellfish and organ meat). By doing so, we are ensuring both nutrient synergy as well as prioritizing the full complement of nutrients required for gut health, hormone health and immune health.
The AIP is simultaneously a sophisticated elimination and challenge diet that embraces self-discovery via its Reintroduction Phase and respects bioindividuality via its Maintenance Phase (see also The 3 Phases of the Autoimmune Protocol). In this regard, the AIP is more like a step-by-step plan to help you identify your autoimmune disease triggers, truly understand the diet and lifestyle requirements of your own body, and hone in on a personalized plan that works for you as an individual and is sustainable for your entire life. You can think of the Autoimmune Protocol as encompassing three phases: Elimination, Reintroduction and Maintenance. The Reintroduction Phase of the AIP is your opportunity to truly understand your body's needs, identify your trigger foods, and hone in on your personalized optimal diet for lifelong health.
If tolerated, nightshades are nutrient-dense culinary vegetables that can meaningfully contribute to a nutrient-dense diet, so it's worth challenging them to see if you can reintroduce them successfully. Nightshades fall under Stage 3 and Stage 4 of the suggested order of reintroductions, see The Reintroduction Phase of the AIP.
Tomatoes, for instance, are high in phytochemicals and are one of the best food sources of lycopene. They also contain carotenoids (zeaxanthin, lutein, and beta-carotene), flavonones (naringenin and chalconaringenin), flavonols (rutin, kaempferol, and quercetin), hydroxycinnamic acids (caffeic acid, ferulic acid, and coumaric acid), and glycosides (esculeoside A). This impressive list on top of being an excellent source of vitamin C, biotin, molybdenum, and vitamin K, as well as containing moderate amounts of vitamins B3, B5, B6, and B9, choline, vitamin E, chromium, copper, iron, potassium, manganese, phosphorus, and zinc. Tomato phytonutrients have been shown to be protective against respiratory disorders, blindness, cardiovascular disease, DNA mutation, certain cancers (including leukemia, breast cancer, prostate cancer, liver cancer, colon cancer, endometrial cancer, lung cancer, and oral cancer cells). Tomato intake in general is inversely associated with the incidence of cardiovascular disease, cancer, and age-related health problems.
It's helpful to emphasize that many foods initially eliminated on the AIP are nutrient-dense and good for the gut microbiome, so there's a lot of value to adding them back in if they work for you. But, it's important to tackle reintroductions methodically because it allows both for diet expansion and for identification of our individual tolerance to suboptimal or potentially problematic foods. It's helpful to recognize that sometimes foods work for you when everything is dialed in, but not the rest of the time (like when we're not getting enough sleep, stress is high, nutrient density is slipping, we're overactive or sedentary, or we're recovering from an infection) — I think of these as "wiggle room foods" or "sometimes foods".
Tips for Going Nightshade Free
Nightshades, especially tomatoes, potatoes and peppers, often play a foundational role in recipes. How can you have pasta without tomato sauce or shepherd's pie without the mashed potato layer and where does heat come when hot peppers are off the table? Don't worry! There are plenty of options to replicate these favorites! As you begin to tackle modifications of your old go-to recipes, it helps to have a starting point for substitutions. First, think about exactly what that nightshade ingredient is doing in a recipe (is it thickening? enhancing flavor? adding texture?), and that will help you figure out the best replacement.
Umami (a enhancing flavor that tomatoes gives to cooking):
anchovies
anchovy paste
capers
fish sauce
mushrooms
nutritional yeast
olives
shrimp paste
truffles or truffle salt
Heat (Spice):
ginger
high quality extra virgin olive oil
horseradish
radishes
arugula
mustard greens
turnips
wasabi
Tomatoes (cooked):
Crushed or Paste: beet, carrot, or pumpkin puree (or a mix) with a little vinegar
Paste: tamarind paste or umeboshi paste (or 50/50)
Diced: chopped root vegetables (beets, carrots, squash) and umami ingredients
Potatoes:
Mashed: plantain, sweet potato, boniato, cauliflower, celeriac
Baked: plantain, sweet potato
Roasted: sweet potato, taro, plantain
Fries: cassava, sweet potato, plantain (tostones)
Chips: cassava, sweet potato, plantain
Salad Ingredients:
Tomatoes: persimmons, bosc pears, pickled beets, strawberries
Bell peppers: jicama, celery, cucumber, kohlrabi, Asian pear
And, there are some great options for nightshade-free versions of your favorite pre-made ingredients.
Here are my Go-To's
And here's some recipe adaptations that are nightshade-free to get you started:
Citations
Aziz A, Randhawa MA, Butt MS, Asghar A, Yasin M, Shibamoto T. Glycoalkaloids (α-chaconine and α-solanine) contents of selected Pakistani potato cultivars and their dietary intake assessment. J Food Sci. 2012 Mar;77(3):T58-61. doi: 10.1111/j.1750-3841.2011.02582.x.
Cantwell M. "A Review of Important Facts about Potato Glycoalkaloids." Perishables Handling Newsletter. 1996 Aug;87:26-7.
Carreno-Gómez B, Woodley JF, Florence AT. Studies on the uptake of tomato lectin nanoparticles in everted gut sacs. Int J Pharm. 1999 Jun 10;183(1):7-11. doi: 10.1016/s0378-5173(99)00050-2.
Childers NF, Margoles MS. An Apparent Relation of Nightshades (Solanaceae) to Arthritis. Journal of Neurological and Orthopedic Medical Surgery. 1993;12:227-231.
Francis G, Kerem Z, Makkar HP, Becker K. The biological action of saponins in animal systems: a review. Br J Nutr. 2002 Dec;88(6):587-605. doi: 10.1079/BJN2002725. PMID: 12493081.
Friedman M, Dao L. Distribution of glycoalkaloids in potato plants and commercial potato products. J Agr Food Chem. 1992; 40(3):419–423.
Gee JM, Wortley GM, Johnson IT, Price KR, Rutten AA, Houben GF, Penninks AH. Effects of saponins and glycoalkaloids on the permeability and viability of mammalian intestinal cells and on the integrity of tissue preparations in vitro. Toxicol In Vitro. 1996 Apr;10(2):117-28. doi: 10.1016/0887-2333(95)00113-1.
Jensen-Jarolim E, Gajdzik L, Haberl I, Kraft D, Scheiner O, Graf J. Hot spices influence permeability of human intestinal epithelial monolayers. J Nutr. 1998 Mar;128(3):577-81. doi: 10.1093/jn/128.3.577.
Kilpatrick DC, Graham C, Urbaniak SJ. Inhibition of human lymphocyte transformation by tomato lectin. Scand J Immunol. 1986 Jul;24(1):11-9. doi: 10.1111/j.1365-3083.1986.tb02064.x.
Kilpatrick DC, Pusztai A, Grant G, Graham C, Ewen SW. Tomato lectin resists digestion in the mammalian alimentary canal and binds to intestinal villi without deleterious effects. FEBS Lett. 1985 Jun 17;185(2):299-305. doi: 10.1016/0014-5793(85)80927-3.
Korpan YI, Nazarenko EA, Skryshevskaya IV, Martelet C, Jaffrezic-Renault N, El'skaya AV. Potato glycoalkaloids: true safety or false sense of security? Trends Biotechnol. 2004 Mar;22(3):147-51. doi: 10.1016/j.tibtech.2004.01.009.
Lachman J, Hamouz K, Musilová J, Hejtmánková K, Kotíková Z, Pazderů K, Domkářová J, Pivec V, Cimr J. Effect of peeling and three cooking methods on the content of selected phytochemicals in potato tubers with various colour of flesh. Food Chem. 2013 Jun 1;138(2-3):1189-97. doi: 10.1016/j.foodchem.2012.11.114.
Smith DB, Roddick JG, Jones JL. Potato glycoalkaloids: Some unanswered questions. Trends in Food Science & Technology. 1996 Apr;7(4):126-131. doi: 10.1016/0924-2244(96)10013-3.
Takagi K, Toyoda M, Fujiyama Y, Saito Y. Effect of cooking on contents of α-chaconine and α-solanine in potatoes. Journal of the Food Hygienic Society of Japan. 1990;31(1):67-73. doi: 10.3358/shokueishi.31.67.