I am SO excited to share this special sneak peek preview recipe from my new book, The Paleo Approach Cookbook! I know that many of you already know what this book is about and are looking forward to its release as much as I am. For those of you who aren't familiar, here is the official blurb:
The Paleo Approach Cookbook is the highly anticipated companion to the groundbreaking guidebook The Paleo Approach. Read it to discover which foods you should eat to calm your immune system, reduce inflammation, and help your body heal itself.
*NEW* The Gut Health Cookbook!
The Gut Health Cookbook is fantastic! Thank you for researching and creating The Gut Health Cookbook! Such wonderful recipes! I'm so excited to try them all! -Sue
The Gut Health Cookbook puts the 20 Keys to Gut Health into practice with:
180+ recipes featuring 61 gut health superfoods

Gut health food lists

Why's behind each gut health superfood
Get instant digital access for $27.99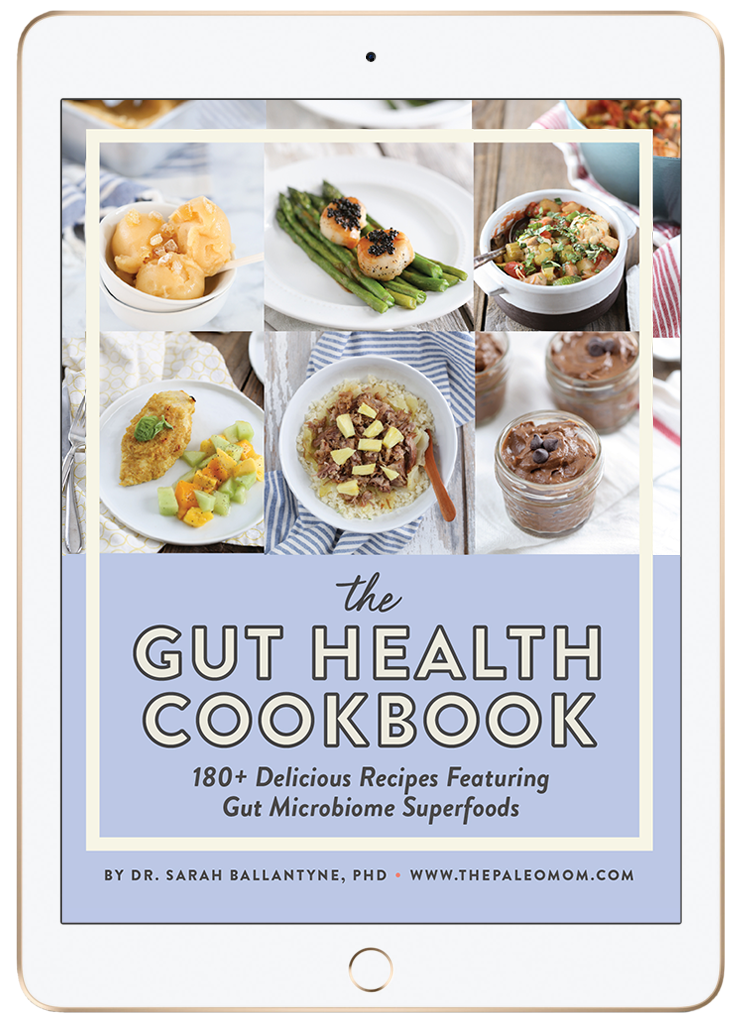 There's no need to worry that "going Paleo" will break the bank or require too much time in the kitchen preparing special foods. In The Paleo Approach Cookbook, Dr. Ballantyne provides expert tips on how to make the switch easily and economically. She explains how to stay within your food budget, how to make the best use of your time in the kitchen, and where to shop for what you need. Complete food lists, shopping guides, and six 1-week meal plans take the guesswork out of eating to maximize healing.
Don't know how to cook? Dr. Ballantyne walks you through kitchen basics, from essential cooking tools and techniques to helpful cooking guides. The book offers more than 200 delicious recipes, from breakfast staples to decadent desserts, along with hundreds of variations to spark your creativity.
Whether you are just embarking on your journey to better health or are a Paleo diet veteran looking for inspiration in the kitchen, The Paleo Approach Cookbook is the ultimate guide to help you reverse your disease and love every bite!
---
Barbecue sauce without gluten or nightshades? Yes! This barbecue sauce is incredibly flavorful and versatile. Use it to season hamburgers, steak, chicken . . . any meat that you want to grill. It can be stored in the fridge for up to a week or in the freezer for up to two months. Go ahead and make a double or triple batch to have on hand!
Prep Time: 20 minutes
Cook Time: 25 to 30 minutes
Yield: 2 cups
The Ultimate Support for Your AIP Journey!
Dr. Sarah Ballantyne has delivered an exceptional course and I highly recommend this to anyone looking to improve their health. There is something for everyone. It was extremely helpful and worth the investment. -Marie Schlichtig
The AIP Lecture Series is the ultimate Autoimmune Protocol educational experience! Learn directly from Dr. Sarah!
6-week online course
42 on-demand video lectures
dozens of printable guides
self-discovery exercises and action steps
online forum and guided discussions
support and guidance from Dr. Sarah Ballantyne!
The next session begins January 18th, 2021.
(Use code AIPLS85 to save $85 and get bonus access to the Gut Health Fundamentals online course!)
Ingredients:
Heat the palm oil in a saucepan over medium-high heat. Add the onion and sauté for 10 to 15 minutes, until caramelized.
Add the remaining ingredients. Bring to a boil, then reduce the heat to maintain a simmer. Simmer uncovered for 15 minutes.
Remove from the heat and purée with an immersion blender.
Tips:
This barbecue sauce tastes best on meat cooked on a charcoal grill or in a smoker. If you plan to use an indoor grill or bake your meat in the oven, consider adding a drop or two of liquid smoke to the sauce.
I always recommend sourcing ethical and sustainable palm products. I only use Tropical Traditions red palm oil. If you can't find unrefined palm oil near you, you can substitute any other fat, although it will change the flavor of the barbecue sauce slightly.
Variations:
Replace half to all of the molasses with tamarind paste or pomegranate molasses.
FODMAP Alert:
This recipe cannot be made low-FODMAP.
The Gut Health Guidebook!
The depth of information, practical tips, and the accessible way Dr. Sarah shows me how to apply complex science to improve my health is truly remarkable. -Wendy
The Gut Health Guidebook is the culmination of 6 years of research. This unprecedented deep dive into the gut microbiome delivers:
A new diet for gut health, built from the ground up

Essential gut microbiome superfoods

20 Keys to gut health
Get instant digital access for $27.99
---
Want more? The Paleo Approach Cookbook releases August 26th and is currently available for pre-order from several popular retailers: Amazon (USA), Amazon (CA), Barnes&Noble, Independent Bookstores, and Book Depository for international locations. Stores decide whether or not to carry the book and how many copies to stock based on pre-order numbers. Because of this, pre-ordering is the best thing that you can do to support me. The book will also be available on all major e-book platforms, however the e-book versions are not available for pre-order.