Over the past year and a half of my autoimmune protocol journey, I have frequently lamented over the fact that spaghetti and meatballs are not something I can enjoy anymore. Not that I ever really missed noodles (I was always happy with Paleo substitutes), but the flavors of traditional spaghetti sauce I definitely missed (yes, tomatoes). As I became more and more creative experimenting with recipes for The Paleo Approach, I discovered that what I really missed in pasta sauce was the umami flavor that tomatoes bring. It isn't about the look of spaghetti sauce for me so much as the flavor. So, I started experimenting with ingredients to replace that umami flavor. Well, when you start approaching spaghetti this way, something wonderful happens. And in this dish, the simple addition of black olives does the trick. Okay, the bacon helps too.
One of the secrets to this meal (yes, beyond bacon and black olives) is the use of fresh spices. And lots of it! It might seem like a whole lot of oregano and basil going into this dish, but trust me. Measure after chopping.
*NEW* The Gut Health Cookbook!
The Gut Health Cookbook is fantastic! Thank you for researching and creating The Gut Health Cookbook! Such wonderful recipes! I'm so excited to try them all! -Sue
The Gut Health Cookbook puts the 20 Keys to Gut Health into practice with:
180+ recipes featuring 61 gut health superfoods

Gut health food lists

Why's behind each gut health superfood
Get instant digital access for $27.99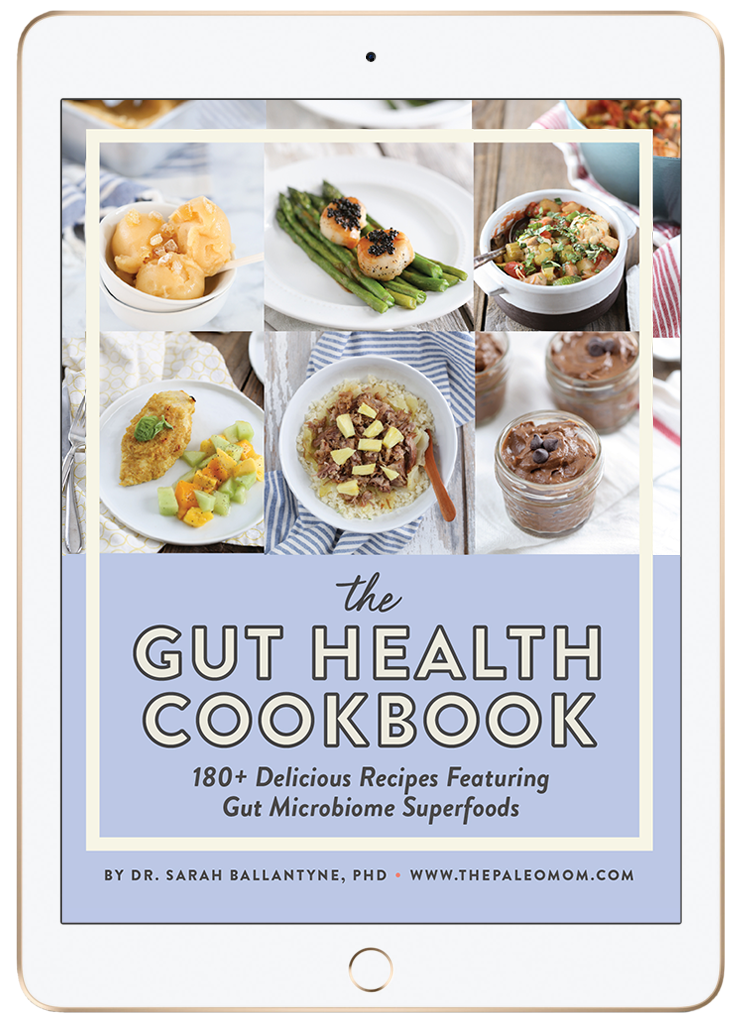 When making this spaghetti, you'll want to salt your spiral-cut squash noodles first before you start assembling the rest of your ingredient (you could use a vegetable spiraler or you could julienne on a mandoline slicer, both kitchen tools that I absolutely love!). Thiss is also really tasty with spaghetti squash as a base if you'd prefer). The meatballs and the sauce/noodles take about the same amount of time to cook.
Serves 4-5.
Prep Time: 15 minutes
The Ultimate Support for Your AIP Journey!
Dr. Sarah Ballantyne has delivered an exceptional course and I highly recommend this to anyone looking to improve their health. There is something for everyone. It was extremely helpful and worth the investment. -Marie Schlichtig
The AIP Lecture Series is the ultimate Autoimmune Protocol educational experience! Learn directly from Dr. Sarah!
6-week online course
42 on-demand video lectures
dozens of printable guides
self-discovery exercises and action steps
online forum and guided discussions
support and guidance from Dr. Sarah Ballantyne!
The next session begins January 18th, 2021.
(Use code AIPLS85 to save $85 and get bonus access to the Gut Health Fundamentals online course!)
Cook Time: 20 minutes
Serves: 4-5
Ingredients (Meatballs):
Preheat oven to 400F. Line a baking sheet with tin foil, parchment paper or a silicone liner.
Combine ground beef, salt and oregano and mix to thoroughly combine (I find this easiest to do with my hands). Form meatballs (I made mine about 1 1/2″ in diameter, which gave me 24 meatballs).
Bake meatballs for 12-15 minutes, depending on size.
Ingredients (Spaghetti):
3 lbs summer squash (such as zucchini)
1 Tbsp salt (to salt the squash)
12-16 cloves fresh garlic, minced
8-10 oz sliced mushrooms
1 1/2 cups whole black olives (or about 1 cup sliced), about 1 6oz can
5-6 slices thick cut bacon
3/4 cup fresh basil, chopped
meatballs
Use a vegetable spiraler to cut your summer squash into long noodles (I used the thicker blade settings on my Paderno vegetable spiraler). Place in a colander or strainer and sprinkle liberally with salt. Place in a sink or in a larger bowl so that it doesn't make a mess as the squash emits water. Let the squash salt for about 1 hour. Rinse thoroughly (you might want to taste it to make sure you got the salt off). Let the noodles drain then dump out onto some paper towel or kitchen towels to absorb the water (you can place another towel over top and gently press down to squeeze out the excess water).
Cut bacon into small pieces. Add to a large frying pan or stock pot and turn on the heat to medium high. Cook the bacon, stirring occasionally until browned, about 7-8 minutes. Add the garlic and mushrooms. Continue cooking for 6-8 minutes, until mushrooms are sauteed and starting to brown (if the mushrooms release a lot of water into your pan, turn up the heat slightly to simmer it off).
Add the olives and the squash noodles. Toss together and cook, stirring frequently, 4-5 minutes until squash is cooked al dente. Add the basil and cook 1 more minutes. Toss with meatballs (or just place the meatballs on top of each plate) and enjoy!