There are many different styles of potato leek soup, from the almost bisque like consistency of vichyssoise, to the more creamy thick pureed version most of us are familiar with (I have already posted this recipe for Potatoless Potato-Leek Soup which is more this style), to the rustic chunky soup that this version replicates.
Why no potatoes? Potatoes have found a place within the Paleo diet, however they are a nightshade. Nightshade sensitivity is very common and I, myself, am extremely sensitive. This soup gets its creaminess from a green plantain and from coconut cream (or full fat coconut milk) and it's potato-like chunks from turnips (you could also use rutabaga). The green plantain is the magic here. You definitely want the starchy neutral flavor of green plantains. I grated mine on a box grater. Right around 20 minutes of simmering, the grated plantain just melts away and thickens the broth amazingly.
*NEW* The Gut Health Cookbook!
The Gut Health Cookbook is fantastic! Thank you for researching and creating The Gut Health Cookbook! Such wonderful recipes! I'm so excited to try them all! -Sue
The Gut Health Cookbook puts the 20 Keys to Gut Health into practice with:
180+ recipes featuring 61 gut health superfoods

Gut health food lists

Why's behind each gut health superfood
Get instant digital access for $27.99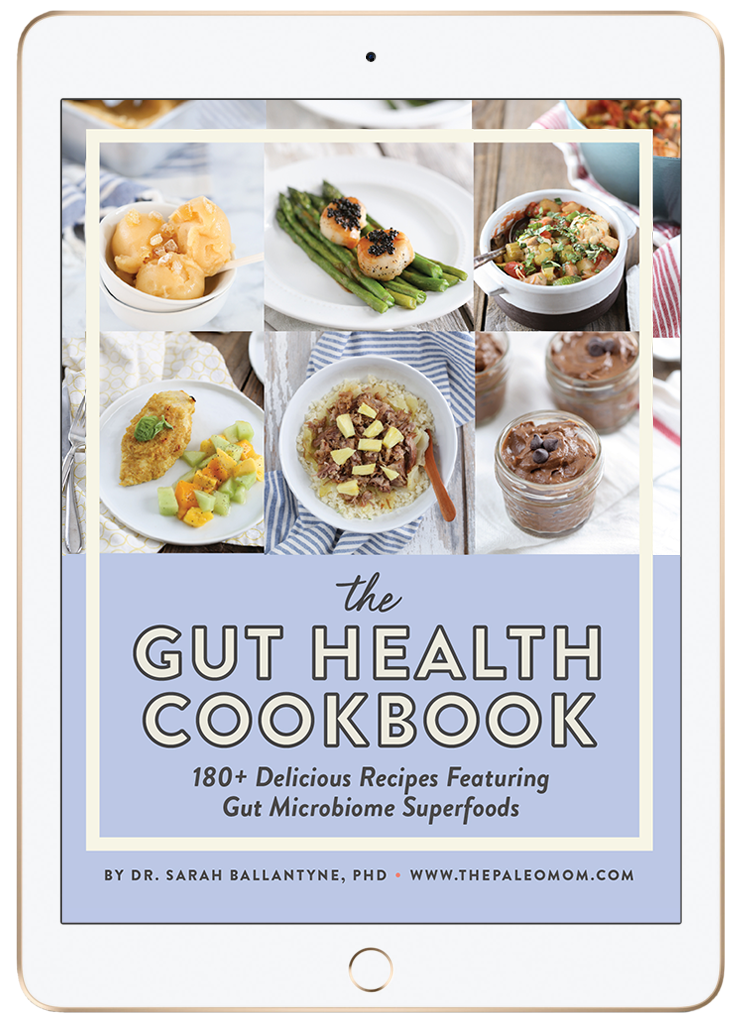 This soup is amazing on its own, or add some chopped chicken,cubed ham, crab meat, or fish to make it a meal on its own.
Serves 5-6
Ingredients:
Add chopped bacon to a large saucepot or small stockpot and heat over medium-high heat. Cook, stirring occasionally, until bacon has browned, about 10 minutes.
Add turnips, grated plantain, leeks and broth (yep, just throw everything in there). Bring to a boil then reduce heat to maintain a rapid simmer.
Simmer for 20-25 minutes.
Stir in coconut cream and parsley. Cook 2-3 minutes. Taste and add salt if needed.
Watch this video from my YouTube Channel to learn more about green plantains:

The Gut Health Guidebook!
The depth of information, practical tips, and the accessible way Dr. Sarah shows me how to apply complex science to improve my health is truly remarkable. -Wendy
The Gut Health Guidebook is the culmination of 6 years of research. This unprecedented deep dive into the gut microbiome delivers:
A new diet for gut health, built from the ground up

Essential gut microbiome superfoods

20 Keys to gut health
Get instant digital access for $27.99