This review was written by my assistant, Christina.
---
The Zenbelly Cookbook features Paleo cuisine at its finest, with chef Simone Miller's exceptional talents–with food, words, and photos–illustrating just how accessible and appealing whole foods can be. The Zenbelly Cookbook is gorgeous, the kind of book you find yourself flipping through ogling at before going back to actually read it.
The first chapter includes important information such as "What is Paleo?", gray area foods, how to source quality ingredients and stock your kitchen, a breakdown of important kitchen tools and how to use them (including cheeky (or should I say handy?) advice like "how to keep all of your fingers"). Step-by-step photos show you how to julienne carrots, mince bell peppers, peel and section oranges, and more. Simone also explains how to navigate the book's recipes, measurements, and photographs. There is a collection of menus in the back including a romantic dinner for two, a takeout-inspired feast, and a Paleo Thanksgiving. Simone explains some of the cooking terms she uses in a glossary and provides resources for further reading, a complete index, and a photographic recipe index. What more could you want?
Oh, right. The recipes! From gourmet dishes like Steak Tartare and Oysters Rockefeller to comfort foods like Breadsticks and Strawberry Shortcake, The Zenbelly Cookbook has you covered.
Save 80% Off the Foundations of Health
Expand your health knowledge on a wide range of topics relevant to you, from how to evaluate scientific studies, to therapeutic diet and lifestyle, to leaky gut and gut microbiome health, to sustainable weight loss, and much more!!!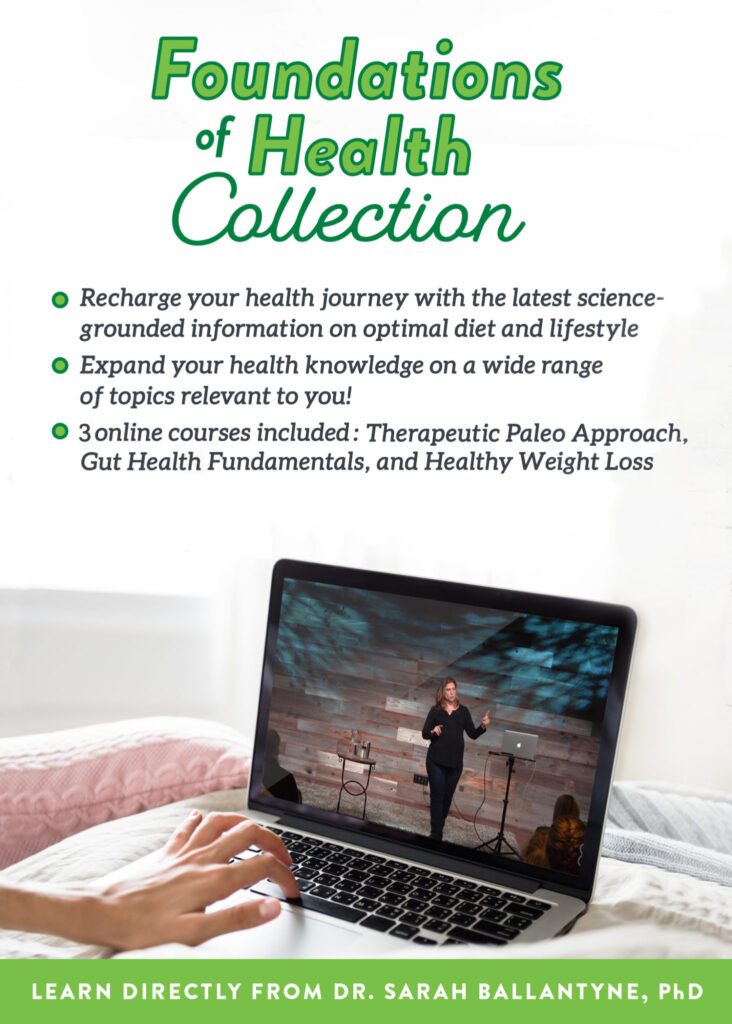 Simone's Chili contains the intriguing combination of coffee, cocoa, and a variety of red peppers (or red pepper spices). Simone writes that she was never a big fan of chili with beans, and this recipe proves that a good chili is defined by its seasonings and depth of flavor. The combination of rich coffee and bitter cocoa adds incredible depth to the bright, bold heat of chili powder, paprika, and cinnamon. If you aren't a big fan of hot 'n spicy foods, you can easily adjust the seasonings to suit your tastes without compromising the chili's flavor. I used half the prescribed amount of chili powder and paprika and we were all satisfied that it was perfect… probably the best chili we've ever had. It was worth every minute standing over the hot stove to prepare it, even in this summer heat.
Although Simone advises to move on to the next recipe if the large amount of Parmesan included in her Spaghetti Squash Carbonara would be a problem, I simply left it out and mixed ghee to taste into the spaghetti squash for rich, buttery noodles instead. I mean, a large part of eating Paleo or AIP is adapting good-looking recipes into ones we can actually eat, right? Simone's are extremely forgiving and my adapted version of the Spaghetti Squash Carbonara, with the salty bacon, spicy chives, creamy egg yolks, and rich noodles was the perfect combination of comfort and decadence. If you aren't a big fan of spaghetti squash or have never had it before, this recipe is an excellent place to start. It also takes only a few minutes to throw together, with the largest part of the prep time spent simply waiting for the squash and bacon to cook. It was also an excellent breakfast the next morning!
The Brazilian Fish Stew is a simple, creamy shrimp-and-whitefish dish perfect for weeknights, sick days, or any other occasion when time and energy are running short. It takes about ten minutes of actual work (with about thirty minutes of simply letting it cook) and presents a gorgeous pink color. Lemon, lime, cilantro, and tomatoes bring tart and earthy flavors to a mild coconut broth.
This is an excellent cookbook for anyone looking to improve their cooking skills, impress family or friends, or just looking for a variety of Paleo recipes that look and taste as good as (or better than) any non-Paleo versions. It's also a gorgeous coffee table book to leave lying around to spark conversation!

The Zenbelly Cookbook is currently available for pre-order and will be released tomorrow, August 12th.