When I started eating Paleo 4 years ago, Nom Nom Paleo's recipes were some of the first I worked up the courage to try.
The Autoimmune Protocol E-Book!
One of my FAVORITE books I used to start the transition to AIP!!! It's so helpful! I printed mine out and spiral bound it. Thank you for this! -Rita Davidson
The Autoimmune Protocol e-book is your up-to-date guide to jump-start your healing with the AIP today.
3oo+ pages of quick-access information on the AIP

4 weeks of meal plans with shopping lists

over 80 family-friendly recipes, all 100% AIP!
Get instant digital access for $19.99
I vividly remember seeking out a pastured pork shoulder to make Kalua Pig (which I still keep in my freezer almost all the time) and buying a Dutch oven so I could try Oven-Braised Mexican Beef. Mostly I remember that because my oven broke, but the beef was really good.
I've been low-key stalking Nom Nom Paleo for years because Michelle Tam and her husband, Henry Fong, develop and photograph the sort of mouthwatering dishes that make you feel like giving up pizza isn't synonymous with death. Their step-by-step photographs make sophisticated flavors seem achievable for first-time cooks, like 22-year-old Claire (bless her heart!).
Ready or Not! 150 Make-Ahead, Make-Over and Make-Now Recipes by Nom Nom Paleo is the second cookbook from this impressive family, and lucky for you and me, it's designed to help us put healthy food on the table on even our busiest nights.
From the front matter: "Whether you're a fastidious planner or a last-minute improviser, you'll find plenty of deliciously nourishing options, from make-ahead feasts and treats to lightning-fast leftover makeovers and make-now meals."
Doesn't that sound nice?
The Gut Health Guidebook!
The depth of information, practical tips, and the accessible way Dr. Sarah shows me how to apply complex science to improve my health is truly remarkable. -Wendy
The Gut Health Guidebook is the culmination of 6 years of research. This unprecedented deep dive into the gut microbiome delivers:
A new diet for gut health, built from the ground up

Essential gut microbiome superfoods

20 Keys to gut health
Get instant digital access for $27.99
Yes, Claire, give us the deets!
Ok, I will give you the deets.
The book is divided into Ready!, Kinda Ready!, and Not Ready! sections that provide recipes appropriate to your level of pre-meal panic. In my house, we like to plan, fail to plan, plan to fail and generally keep a lot of eggs around for emergencies. We also really like Asian flavors, so Ready or Not! offered us lots of options.
Many of the recipes in Ready! are dressings, sauces, salsas and other staples like broth, cauli-rice, and Paleo tortillas. You'll find those recipes repurposed later in the week, and the idea is to stock your fridge with these ahead of time to make weeknight meals simpler. This section also includes recipes with more required prep time like Easy Chicken Tinga, Chinese Chicken in a Pressure Cooker and Bacon-Wrapped Chicken + Lemon-Date Sauce.
My favorite feature of this section was the amazing sauces and dressings—we loved the Green Beast dressing on the Grilled Romaine + Broccolini Salad, but the real hit in our house was Ginger Sesame Sauce. We used it to dress up our usual roasted veggies per Michelle's recommendation. After seeing how closely it resembles the All-Purpose Stir-Fry Sauce, we added a little extra orange juice and repurposed it for stir fry. Maybe not what Michelle intended, but a real lifesaver after a late intermural softball game, so I feel like the spirit of innovation would be appreciated.
Plus, the culinary student living with us for the summer said it "made her heart happy." So.
Kinda Ready! recipes are more suited to leisurely weeknight cooking. There are plenty of flavorful salads and slaws, as well as baked recipes like Macadamia-Crusted Sriracha Ranch Salmon and Roasted Catalan Shrimp. Using Ready! recipes, you can make quick combinations like Jibaritos (Fried Plantain Sandwiches), Pork Chicharron Nachos and Duxelles Chicken, a baked bone-in, skin-on chicken thigh with duxelles, a mushroom mixture, inserted under the skin.
*NEW* The Gut Health Cookbook!
The Gut Health Cookbook is fantastic! Thank you for researching and creating The Gut Health Cookbook! Such wonderful recipes! I'm so excited to try them all! -Sue
The Gut Health Cookbook puts the 20 Keys to Gut Health into practice with:
180+ recipes featuring 61 gut health superfoods

Gut health food lists

Why's behind each gut health superfood
Get instant digital access for $27.99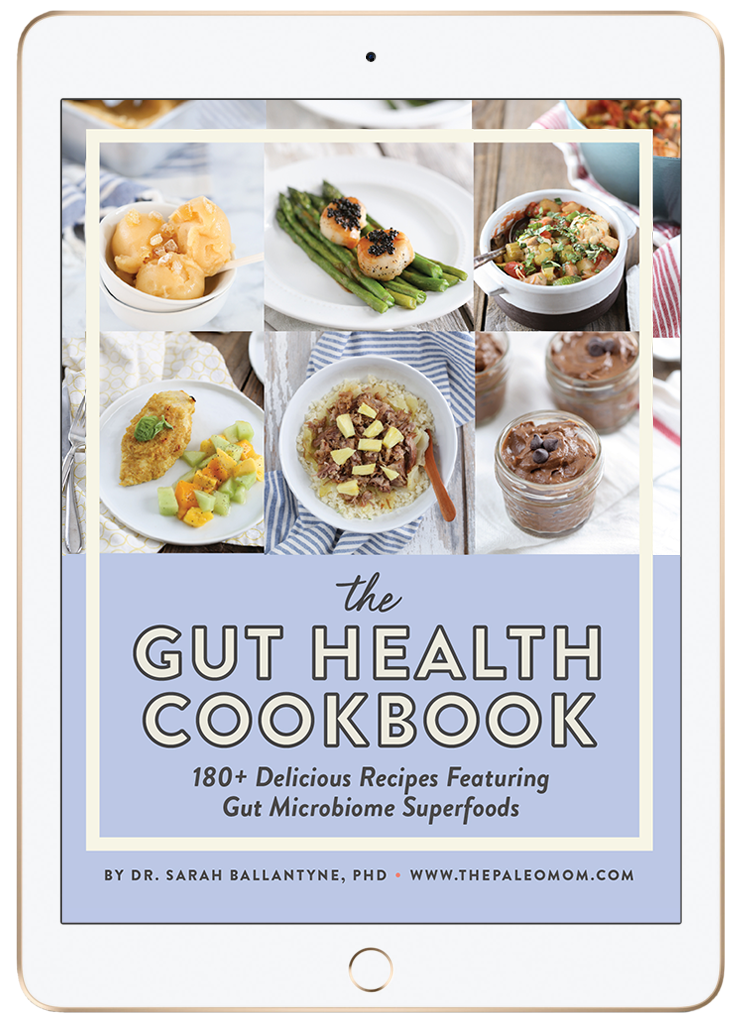 We've been hitting the grill hard this summer, which made the Grilled Romaine + Broccolini Salad an easy choice. I've never grilled salad and was thrilled to learn that it takes the flavor of pretty much every veggie up several notches. This is a salad I'd serve to summer guests without hesitation. Same goes for the Mexican Watermelon + Cucumber Salad. Fancy, easy, and requires you to make Smoky Lime Pepitas, which we've put into regular desk-snacking rotation.
And of course, Not Ready! is as life-saving as it sounds. Throw together Thai Mushroom Stir-Fry, Asian Citrus Brussels Sprouts Slaw or a Sheet Pan Sausage Supper when you don't have a shred of anything together and need some food ASAP. As I'm always searching for new ways to jazz up our weekly salmon dinner, the Honey Harissa Salmon from Ready or Not! was a nice detour. This salmon preparation is cooked in parchment paper and steams veggies in the same packet, so it's a simple all-in-one solution when you've got just a few minutes between getting home and going out again. I substituted harissa for sriracha, which was easier to find, but the flavors remained spicy and sweet and very satisfying.
And did I mention that the whole book is laid out in comic style? The same animation and humor you'll find on Nom Nom Paleo is rampant in Ready or Not!, and made it a joy to flip through. I own a lot of Paleo cookbooks, and this is one that's both fun to cook from and delightful to peruse. I know I'm going to be loaning it out (the highest compliment for a book in my collection) and cooking from it even when my commitment to this thorough review is done.
From quick, multi-purpose sauces to impressive meals for guests, this cookbook is one you'll definitely want to add to your collection. Pick it up!
The Gut Health Collection!
I love Dr. Sarah's passion for educating people and helping everyone on their journey to wellness!! -Mindy
The Gut Health Guidebook delivers a comprehensive deep dive into gut health, building a new diet for optimal health from the ground up, based on the gut microbiome.
The Gut Health Cookbook puts the scientific framework into practice with 180+ delicious recipes that each center on at least one of 61 gut health superfood ingredients.
Save $10 with the Gut Health Collection!