This review was written by my assistant Christina.
Authored by the talented, entertaining, dynamic duo that is Simone Miller and Jennifer Robins, The New Yiddish Kitchen offers grain-free, healthier versions of traditional Jewish meals. With over 100 recipes and a holiday guide to answer the call for Paleo recipes beyond the needs of Christmas and Easter, every day and holiday can be Paleo as well as kosher!
Jennifer and Simone waste no time getting to the goods. There's a two-page intro to the book and the ingredients you'll need, and then it's on to the recipes. With appetizers and soups like Dill Pickle Deviled Eggs and Roasted Squash Hummus, breads and crackers like Matzo, Bagels, and Pita Bread, deli fare like Pastrami, The Reuben, and Knishes, meats like Shakshuka, Stuffed Cabbage, Crispy Chicken Thighs with Pomegranate Sauce, and Roasted Leg of Lamb with Mint-Macadamia Pesto, salads and veggies like Tabbouleh, Kugel, and Latkes, and treats like Chocolate Crunch Gelt, Halvah, and Honey Cake, as well as holiday menus and advice, this cookbook has all the grain-free goods you could hope for. Whether these are classic dishes you grew up with or you're experiencing them for the first time, your taste buds will be singing as you explore The New Yiddish Kitchen with the beautiful full-page photos and the authors' Bubbes, sharing a tip on each recipe, as your guides.
Save 80% Off the Foundations of Health
Expand your health knowledge on a wide range of topics relevant to you, from how to evaluate scientific studies, to therapeutic diet and lifestyle, to leaky gut and gut microbiome health, to sustainable weight loss, and much more!!!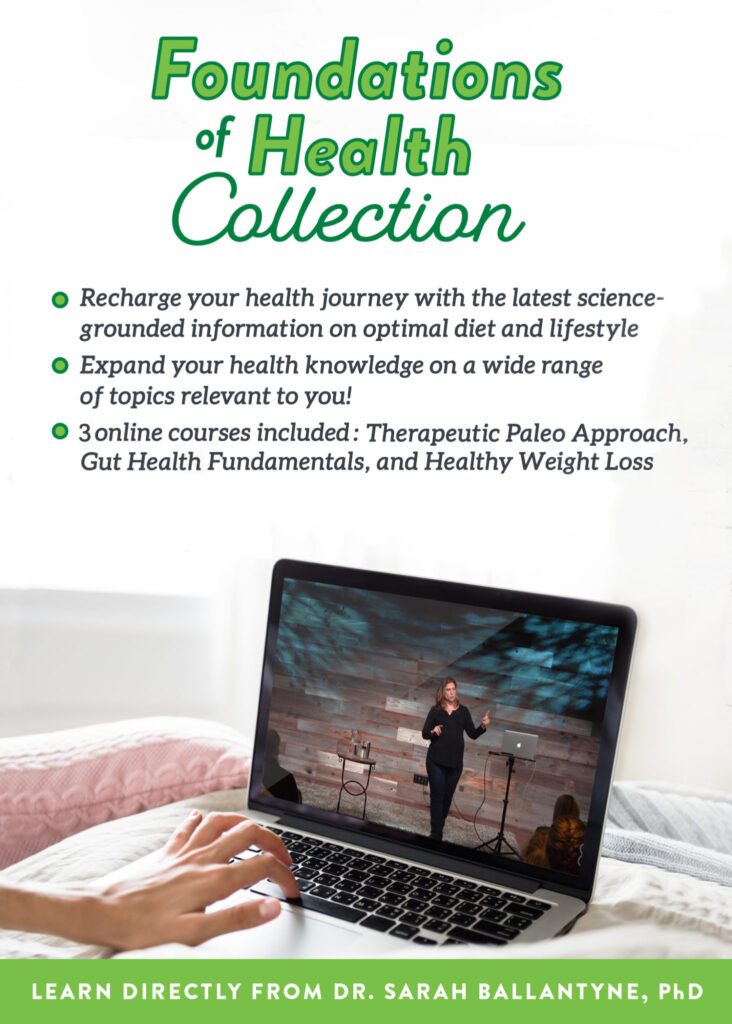 I dove right in for some seafood. The Mustard and Chive Fish Cakes are exactly what they sound like–patties of whitefish, chives, mustard, and a few seasonings (like garlic and dill), held together with an egg and some arrowroot flour. Combine the ingredients, form into patties, bake until set, then fry briefly for a nice golden-brown finish. It might sound more involved than just cooking up some fish on the grill, but this is one of those recipes with a really fast prep that just takes a while to cook. At first, we thought they were a little bland. The flavor of the fish is definitely the strongest flavor, while the mustard, garlic, and chives are just barely there in the background. I wound up serving them with a topping of lemon juice, mayo, and mustard to bring out those flavors–only to find as I was writing this that that's exactly what Jennifer and Simone suggest in the recipe's notes! I completely missed the serving suggestion and might have been disappointed in this recipe if I hadn't thought of the same thing. All's well that ends well, though: The dressing of lemon, mayo, and mustard was the perfect marriage of flavors to complement the cod. If you're looking for a new way to serve whitefish, these crispy cakes ought to do the trick.
The Matzo Balls (Potato Kniedlach) are also quite simple to make and very forgiving as well. You boil potatoes, mash them into a dough with eggs, potato starch, dill, and other seasonings, and then drop them in balls into some boiling water to cook. My batter was a little runnier than I suspect it was supposed to be and instead of forming balls, mine just kind of drizzled in. This may have yielded misshapen lumps, but they tasted amazing! These are supposed to be served in some simple chicken soup and I can't imagine them any other way. The dill and garlic, along with the comforting flavor or potatoes, are the perfect companion to chicken soup–you won't even notice there aren't any noodles. All of ours were gone in one sitting and we immediately wanted to make more!
Of course, I had to try the Jelly Donuts! For those intimidated by Paleo baking (me), this is the perfect recipe. First of all, they're more like donut holes than donuts, so you don't even need a special pan. It has nine ingredients, only two of which are specialty ingredients you might not already have on hand–coconut flour and arrowroot powder (the rest are things like salt, baking powder, eggs, and, of course, the jelly). You mix the dry and wet ingredients together, then drop the dough into a deep fryer or a saucepan with an inch or two of oil. (You're supposed to use an ice cream scoop with a lever to form the dough into balls, but I don't have one and just used a tablespoon, which is why mine look a little lumpy.) Cook until golden-brown on all sides, drain and let cool, then shove 1/8 teaspoon of jam into the center of each of them. The whole ordeal took me about twenty minutes, which is way less time than I expected. With a dusting of powdered sugar to help offset the tartness of the jam, these are the perfect little bite-size treats. The dense, spongy dough itself has a very neutral flavor (despite the coconut flour). There's a chocolate donut recipe on the very next page, and I can't wait to try those, too!
You don't have to be Jewish to appreciate a great Reuben, bagel, or donut, and I can't tell you enough how excited we are in my household to be able to eat these foods again without worrying about exposure to grains or dairy! We would often receive gelt or halvah from Jewish friends around the holidays and it warmed my heart to see recipes for those, too. One of my favorite things about being a Paleo chef is to explore dishes from all the world over, not only because there's a lot of amazing stuff out there, but because you just don't see Paleo versions of ethnic foods that often, and it's a darn shame. Jennifer and Simone obviously agreed and have delivered the definitive guide to Paleo for all of your favorite Jewish foods with The New Yiddish Kitchen!