This review was written by my assistant Christina.
---
Jennifer Robins of Predominantly Paleo and Vivian Cheng of The Real Food Guide have teamed up to bring you one heck of an e-book full of delectable treats free of the top eight allergens and completely autoimmune protocol-friendly. We Can All Scream For Ice Cream is right — those of us on the AIP will no longer feel left out on those hot summer days or special occasions when a cold treat is just plain called for!
Nutrivore Weekly Serving Matrix
An easy-to-use and flexible weekly checklist
to help you maximize nutrient-density.
The Weekly Serving Matrix is very helpful! I've been eating along these lines but this really helps me know where to focus vs. which foods serve a more secondary role. It's super helpful and has taken a lot of worry out of my meal planning. Thanks!

Jan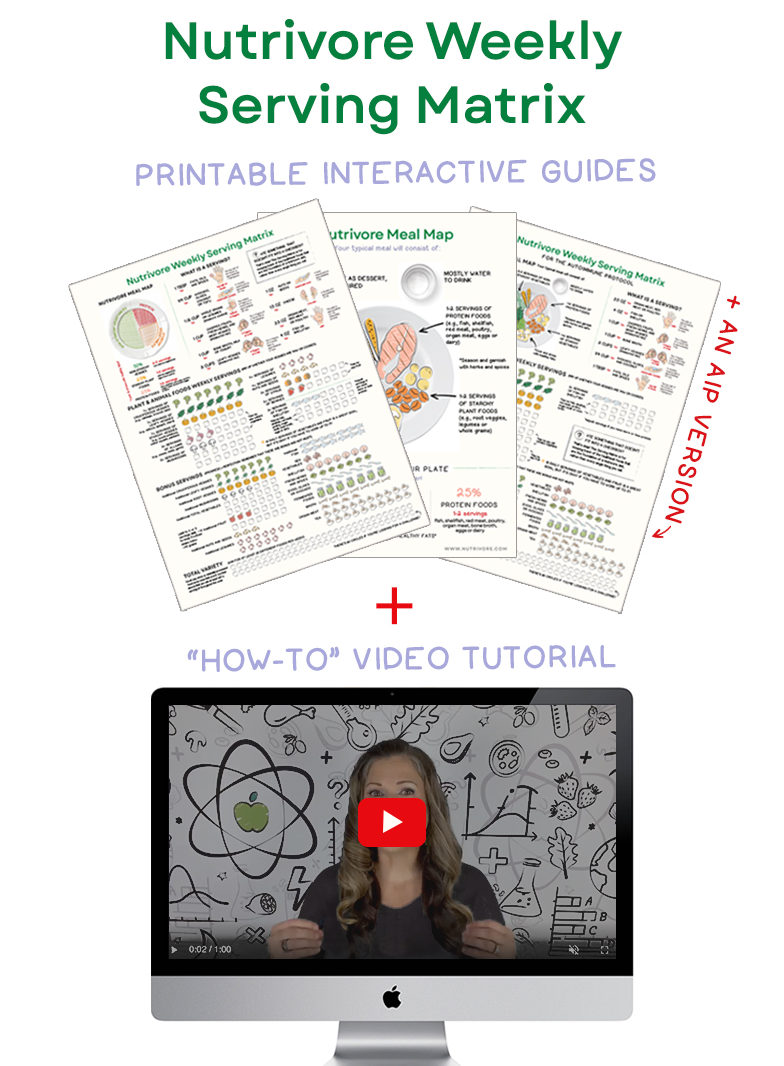 We Can All Scream For Ice Cream features AIP-friendly versions of some of your favorite ice cream flavors like vanilla, chocolate, and strawberry, as well as a few somewhat more exotic ones like lemon basil and jasmine-tulsi. You'll also find a small collection of popsicle recipes and a truly unbelievable selection of other treats like ice cream sandwiches, caramel bonbons, and ice cream cones! I mean, just look at that sundae on the cover. YUM. The book also contains information on leaky gut, the autoimmune protocol, and stocking your pantry with quality ingredients–as well as a very important reminder that treats are for special occasions, not daily consumption (no matter how good they are).
The e-book is beautifully designed and features gorgeous photography for every recipe. The following Mint Chip Ice Cream is easy to make, takes about five minutes of actual work, and has a delightfully minty flavor (even if you throw in the optional spinach leaves). I found that mine had a more crumbly crystalline than creamy texture. I've also found that carob powder doesn't mix terribly well with coconut oil, so some of my chips were more carob-y than others. All the same, this was absolutely without a doubt the best mint ice cream I've ever had. It just doesn't get any better than homemade!
Ingredients
Pre-freeze your ice cream maker's insulated container. Or if you do not have an ice cream maker, place a baking dish in the freezer. Make your 'chips' by combining the coconut oil and carob powder in a shallow dish, and place it in the freezer for about 20 minutes, or until completely frozen.
In a blender or food processor, combine your coconut milk, peppermint extract, mint leaves, and maple syrup. If you want a greener looking ice cream, add in the fresh baby spinach. Blend until the leaves are well combined and your mixture is smooth.
Remove your frozen carob mixture from the freezer, and break up the thin, frozen layer into chips with your hands or a fork. Add chips to ice cream mixture.
If using an ice cream maker: pour mixture into ice cream maker and follow the directions for your machine. Serve when ready.
If not using an ice cream maker:
Pour mixture into a baking dish, and place it in the freezer. Freeze for 45 minutes.
Remove the mixture from the freezer and stir it well with a rubber spatula, making sure to break up any hard, frozen sections. You can also use an immersion blender, in your baking dish to do this. Place the mixture back in the freezer.
Every 30–45 minutes, check the ice cream mixture and mix or churn it, until the ice cream is of the desired consistency. This should take about 2 to 3 hours.
Freeze longer for a harder ice cream, or allow to thaw slightly before serving for a softer texture.

Become a Member for FREE!
The Paleo Mom Members' Area is resource central!  
You'll get FREE, unlimited access to dozens of quality resources, including introductory series, downloadable e-books, exclusive recipes, printables, videos and guides!
You may enjoy these related posts:
There's something so satisfying about a frozen treat when the weather heats up. …