While many people in various "real food" communities agree that artificial sweeteners are a bad idea (see Is It Paleo? Splenda, Erythritol, Stevia and other low-calorie sweeteners), stevia is often recommended as a natural sugar substitute because it comes from the leaf of a plant, Stevia rebaudiana Bertoni. It tastes sweet on the tongue, requires very small quantities to sweeten baked goods, and contains no sugar. While some experts advise caution against purified and manufactured forms of stevia, green leaf stevia is typically endorsed. On the surface, it sounds like a perfect solution.
The chemicals responsible for stevia's sweet taste are called steviol glycosides, and there are at least ten different steviol glycosides present in the stevia plant. These include stevioside, rebaudioside (A to F), steviolbioside, dihydroisosteviol, rubusoside, and dulcoside A. Purified/manufactured forms of stevia often isolate one or two of these steviol glycosides (most commonly rebaudioside A, but also stevioside), whereas green leaf stevia (which is simply the dried and powdered leaves of the stevia plant) contains all ten. While purified and isolated forms of steviol glycosides are FDA-approved as food additives, whole stevia, stevia leaf and crude stevia are still not
GRAS
(generaly recognized as safe) and are only approved as supplements.
The genus Stevia includes 230 species of annual and perennial herbs and shrubs that grow in a variety of environments and climates. Stevia rebaudiana Bertoni is native to Paraguay but is cultivated all over the world. It's name honors the botanist who first described it (Bertoni) and the chemist who first extracted steviol glycosides (Rebaudi). It is the only species of Stevia that tastes sweet.
*NEW* The Gut Health Cookbook!
The Gut Health Cookbook is fantastic! Thank you for researching and creating The Gut Health Cookbook! Such wonderful recipes! I'm so excited to try them all! -Sue
The Gut Health Cookbook puts the 20 Keys to Gut Health into practice with:
180+ recipes featuring 61 gut health superfoods

Gut health food lists

Why's behind each gut health superfood
Get instant digital access for $27.99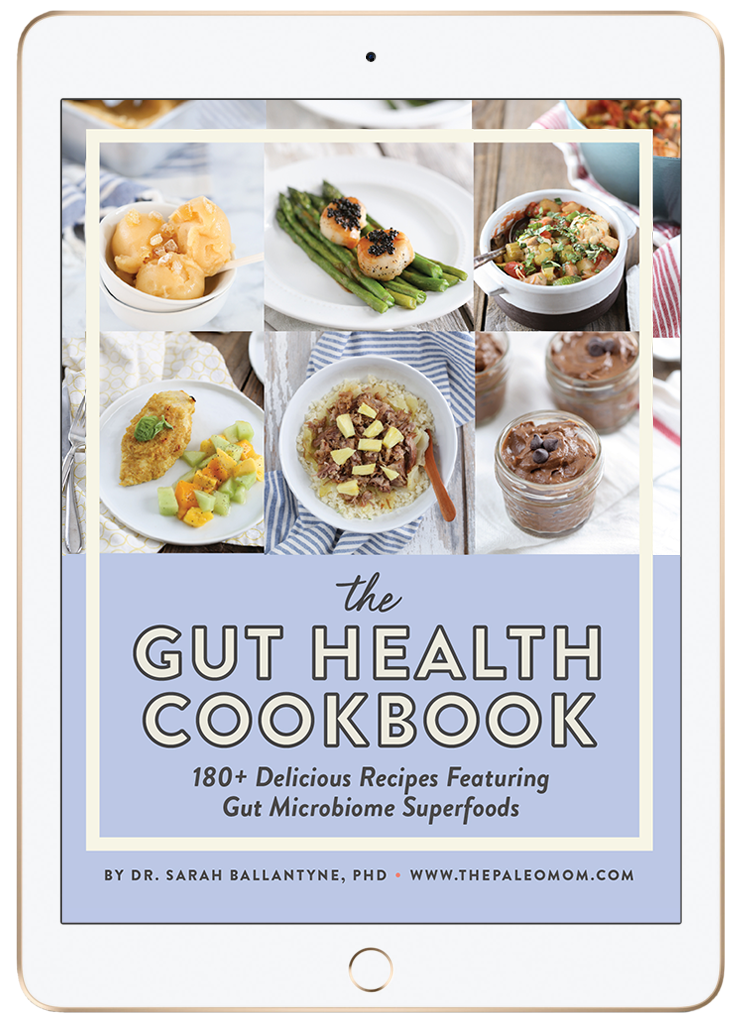 Studies have shown that steviol glycosides are not teratogenic or carcinogenic and cause no acute and subacute toxicity, although there is evidence that stevia is mutagenic at high doses (this is the reason for the ADI, read below for more information). Still, stevia requires major caution because there is evidence that it is pharmachologically active after consumption with endrocrine disrupting properties (see BPA: Should We Be Worried?).
Stevia Has Pharmacological Activity
Steviol glycosides are synthesized in the same pathway and end up being structurally very similar to the plant hormones gibberellin and kaurene. This means that steviol glycosides have a hormone structure. The majority of toxicological studies establish that stevia is safe, but some studies show that it can act as a mutagen and may increase the risk of cancer. (These studies are in the minority and tend to use quite high concentrations, so they are readily discarded in discussions of the overall safety of consuming stevia.) Whether or not stevia causes genetic mutations is not the only cause for concern, however, even if safety studies focus on this particular property.
Unlike other nonnutritive sweeteners, studies show that stevia is biologically active. And, a growing collection of studies are pointing to pharmacological effects of steviol glycosides. For the most part, these seem to have some potential benefits to human health, including potentially antidiabetic, anticariogenic, antioxidant, hypotensive, antihypertensive, antimicrobial, anti-inflammatory and antitumor activities. (More studies are needed to confirm and quantify all of these effects.)
In fact, the antidiabetic actions of steviol glycosides aren't simply because stevia is a nonnutritive sugar substitute. One recent cell culture study showed that steviol and stevioside have functional similarity to insulin, and that they can actually mimic insulin activity, controlling glucose transport into cells. That's pretty cool, but also implies that stevia is likely something that's better prescribed and dosed rather than used as a food additive.
The Ultimate Support for Your AIP Journey!
Dr. Sarah Ballantyne has delivered an exceptional course and I highly recommend this to anyone looking to improve their health. There is something for everyone. It was extremely helpful and worth the investment. -Marie Schlichtig
The AIP Lecture Series is the ultimate Autoimmune Protocol educational experience! Learn directly from Dr. Sarah!
6-week online course
42 on-demand video lectures
dozens of printable guides
self-discovery exercises and action steps
online forum and guided discussions
support and guidance from Dr. Sarah Ballantyne!
The next session begins January 18th, 2021.
Register now to get bonus instant access to the Gut Health Fundamentals online course!
The antimicrobial properties of stevia are also interesting yet potentially concerning. Stevia is bactericidal (antibiotic) for several food-borne pathogenic bacteria, including enterohemorrhagic Escherichia coli , Salmonella typhimurium, Bacillus subtilis, and Staphylococcus aureus. However, a recent study also showed that stevioside and rebaudioside A dramtically inhibited growth and activity of six Lactobacillus reuteri strains, an extremely important probiotic for human health, and a keystone resident of a healthy and diverse gut microbiome.
Stevia as an Endocrine Disruptor
There is strong evidence that steviol glycosides act as endocrine disruptors, strongly impacting progesterone levels and receptor binding.
The original research pointing to this possibility came from animal studies showing contraceptive effects of stevia in both males and females. In particular, stevioside has been shown to have potent contraceptive properties in female rats, implying that stevia may have an impact on estrogen, progesterone, or both. In another study, male rats fed stevia extracts showed decreased fertility, reduced testosterone levels, and testicular atrophy, potentially attributable to the binding of steviol glycosides with an androgen receptor. Because not all studies using various isolated steviol glycosides replicated these results, they were a matter for debate until a landmark study published in 2017.
A 2017 study confirmed the the endocrine disrupting potential of stevioside, rebaudioside A and steviol on progesterone at the level of nuclear receptor transcriptional activity (activating gene transcription to produce proteins) and steriodogenesis (creation of steroid hormones). In particular, stevia increases production of progesterone, while antagonizing (blocking) its receptor (the study specifically looked at the progesterone receptor CatSper in sperm). Progesterone is essential for female reproductive health, including maintaining pregnancy, regulating the menstrual cycle, and fertility. In fact, progesterone receptor antagonists are used clinically as contraceptives and to terminate pregnancy. This information seems to confirm an impact of stevia on fertility, perhaps explaining the efficacy of the traditional use of the stevia plan to control fertility in women of the Guarani Indians in southern Brazil.
Acceptable Daily Intake of Stevia
Because there is evidence that, at high doses, stevia is mutagenic, the World Health Organization has established 4 milligrams per kilogram (2.2 pounds) of body weight of steviol, in the form of steviol glycosides, as the safe upper limit for daily human consumption, called the Acceptable Daily Intake (ADI). The level is 100 times higher than the no-observed-adverse-effect-level (NOAEL) from a carcinogenicity study of rats fed a diet containing 2.5% stevioside (equivalent to 388 mg steviols /kg BW/day). For a 150-pound person, that equals approximately 40 packets of a stevia sweetener, which on the surface, sounds like we have nothing to worry about.
However, some estimates of steviol glycoside exposure (both in children and adults) suggest that we might exceed the ADI with much lower levels of consumption, meaning that many of us could be consuming enough stevia to cause health problems beyond the endocrine disrupting effects. How does that work? The ADI is also based on studies that show that we don't absorb steviol glycosides very well after consuming them, but newer research demonstrates that our gut bacteria can hydrolyse (cut apart) steviol glycosides into steviol, which is much more easily absorbed into the body where the liver then rapidly converts it into its conjugate, steviol glucoronide. Steviol and its conjugate (steviol glucuronide) can be measured in the blood after ingestion of feasible doses of either stevioside or rebaudioside. With this information, in addition to the now known endocrine disrupting effects of stevia, the ADI clearly needs to be re-evaluated.
The Gut Health Guidebook!
The depth of information, practical tips, and the accessible way Dr. Sarah shows me how to apply complex science to improve my health is truly remarkable. -Wendy
The Gut Health Guidebook is the culmination of 6 years of research. This unprecedented deep dive into the gut microbiome delivers:
A new diet for gut health, built from the ground up

Essential gut microbiome superfoods

20 Keys to gut health
Get instant digital access for $27.99
Take-Home Message
Occasional consumption of small amounts of stevia likely has little to no impact on general health. Unfortunately, there really is a shortage of human studies evaluating the full spectrum of possible negative effects of stevia and no human studies exploring the potential effects on fertility! In the case of stevia, caution is the better part of valor, especially for anyone struggling with fertility issues, hormone imbalances, or chronic disease.
Citations
Bhasker S et al. Molecular evidence of insulinomimetic property exhibited by steviol and stevioside in diabetes induced L6 and 3T3L1 cells. Phytomedicine. 2015 Oct 15;22(11):1037-44.
Brusick DJ. A critical review of the genetic toxicity of steviol and steviol glycosides. Food Chem Toxicol. 2008 Jul;46 Suppl 7:S83-91.
Mazzei Planas G and Kuć J. Contraceptive properties of Stevia rebaudiana. Science. 1968 Nov 29;162(3857):1007.
Melis MS Effects of chronic administration of Stevia rebaudiana on fertility in rats Journal of Ethnopharmacology 1999 Nov 67(2):157–161
Melis MS. Chronic administration of aqueous extract of Stevia rebaudiana in rats: renal effects. Journal of Ethnopharmacology 1995. July 47(3):129–134
The Autoimmune Protocol E-Book!
One of my FAVORITE books I used to start the transition to AIP!!! It's so helpful! I printed mine out and spiral bound it. Thank you for this! -Rita Davidson
The Autoimmune Protocol e-book is your up-to-date guide to jump-start your healing with the AIP today.
3oo+ pages of quick-access information on the AIP

4 weeks of meal plans with shopping lists

over 80 family-friendly recipes, all 100% AIP!
Get instant digital access for $19.99
Momtazi-Borojeni AA et al. A Review on the Pharmacology and Toxicology of Steviol Glycosides Extracted from Steviarebaudiana. Curr Pharm Des. 2017;23(11):1616-1622.
Oliveira-Filho RM et al. Chronic administration of aqueous extract of Stevia rebaudiana (Bert.) Bertoni in rats: Endocrine effects. General Pharmacology: The Vascular System. 1989. 20(2):187–191
Pawar R et al. Sweeteners from plants–with emphasis on Stevia rebaudiana (Bertoni) and Siraitia grosvenorii (Swingle). Anal Bioanal Chem. 2013 May;405(13):4397-407.
Ruiz-Ruiz JC et al. Biological activity of Stevia rebaudiana Bertoni and their relationship to health. Crit Rev Food Sci Nutr. 2017 Aug 13;57(12):2680-2690.
Shannon M et al. In vitro bioassay investigations of the endocrine disrupting potential of steviol glycosides and their metabolite steviol, components of the natural sweetener Stevia. Mol Cell Endocrinol. 2016 May 15;427:65-72.
Wheeler A et al. Pharmacokinetics of rebaudioside A and stevioside after single oral doses in healthy men. Food Chem Toxicol. 2008 Jul;46 Suppl 7:S54-60.
Xili L,et al. Chronic oral toxicity and carcinogenicity study of stevioside in rats. Food Chem Toxicol. 1992 Nov;30(11):957-65.
Deniņa I et al. The influence of stevia glycosides on the growth of Lactobacillus reuteri strains. Lett Appl Microbiol. 2014 Mar;58(3):278-84.