This week on The Whole View, Stacy and I discuss the claims put forward in a new documentary-style film that is making waves (hyuck), called Seaspiracy. We dive into (double hyuck) sustainable fishing, aquaculture, fisheries management, and labeling as well as the link between science, regulations and enforcement. We also share how we're missing the boat (triple hyuck) on important nutrients and health benefits when we don't eat seafood, bust some seafood toxin myths, discuss plastics pollution and what we can do as individuals, and finally, share what to look for in sustainable seafood.
If you enjoy the show, please review it on iTunes!
LAST CHANCE to get the AIP Lecture Series!
RETIREMENT SALE! SAVE 70% OFF!
This online course is being retired on January 31st!
I am loving this AIP course and all the information I am receiving. The amount of work you have put into this is amazing and greatly, GREATLY, appreciated. Thank you so much. Taking this course gives me the knowledge I need to understand why my body is doing what it is doing and reinforces my determination to continue along this dietary path to heal it. Invaluable!

Carmen Maier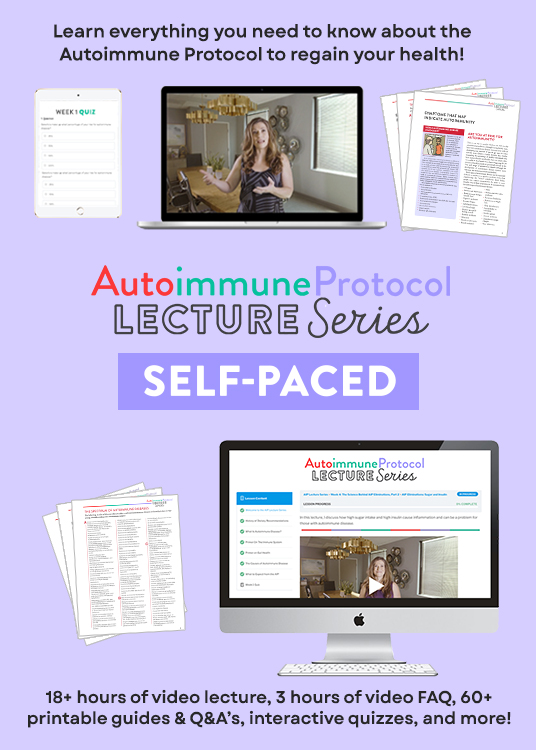 Recommended Reading and Listening
Citations
How many fisheries are overfished, and what does that mean?
Back on the menu: How smarter fishing practices, improved management and MSC certification have transformed toothfish's fortunes | MSC
*NEW* Nutrivore Weekly Serving Matrix
An easy-to-use and flexible weekly checklist
to help you maximize nutrient-density.
The Weekly Serving Matrix is very helpful! I've been eating along these lines but this really helps me know where to focus vs. which foods serve a more secondary role. It's super helpful and has taken a lot of worry out of my meal planning. Thanks!

Jan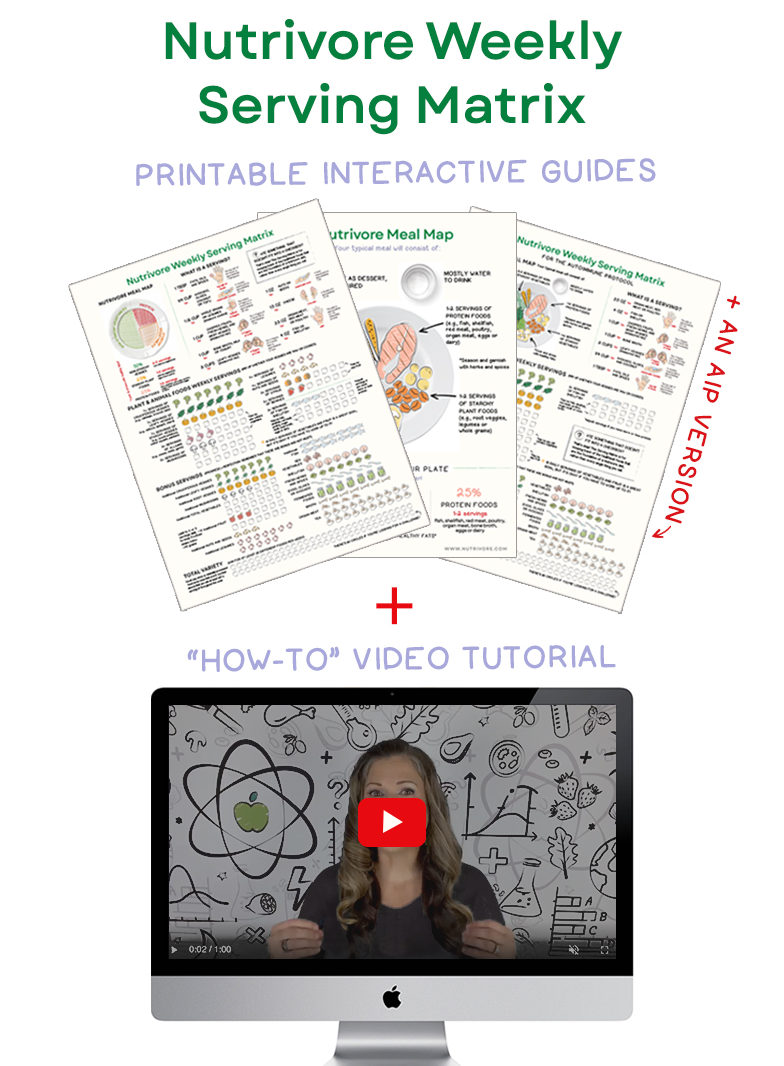 A sustainable and bright future for Namibian hake | MSC
Check out their rebuttal to Seaspiracy here!
Keeping Fish in Our Future | Best Aquaculture Practices
Wan Y, Zheng J, Wang F, Li D. Fish, long chain omega-3 polyunsaturated fatty acids consumption, and risk of all-cause mortality: a systematic review and dose-response meta-analysis from 23 independent prospective cohort studies. Asia Pac J Clin Nutr. 2017;26(5):939-956. doi: 10.6133/apjcn.072017.01. PMID: 28802305.
Hilborn R, Amoroso RO, Anderson CM, Baum JK, Branch TA, Costello C, de Moor CL, Faraj A, Hively D, Jensen OP, Kurota H, Little LR, Mace P, McClanahan T, Melnychuk MC, Minto C, Osio GC, Parma AM, Pons M, Segurado S, Szuwalski CS, Wilson JR, Ye Y. Effective fisheries management instrumental in improving fish stock status. Proc Natl Acad Sci U S A. 2020 Jan 28;117(4):2218-2224. doi: 10.1073/pnas.1909726116. Epub 2020 Jan 13. PMID: 31932439; PMCID: PMC6995010.
14 Million Tons of Microplastic are on the Ocean Floor
https://sustainablefisheries-uw.org/start-here/
https://www.fisheries.noaa.gov/feature-story/5-things-you-should-know-about-sustainable-seafood
https://www.msc.org/media-centre/news-opinion/news/2021/03/26/response-to-netflix-seaspiracy-film
https://oceanservice.noaa.gov/facts/microplastics.html