This is what you need to know about this week's episode of The Whole View podcast: my activity tracking ring showed high activity during recording, more intense than my morning walk with the dog! That's how much exuberant hand talking I was doing because I was so riled up.
This week, we dove into the research showing that weight discrimination and the stigma associated with overweight and obesity are far more damaging than the extra weight itself (and actually being overweight may be protective!). The studies trying to separate out these effects are so innovative and fascinating. Truly, prepping this podcast was life-changing for me, and my mind is blown!
If you enjoy the show, please review it on iTunes!
Recommended Reading and Listening
Citations
The Racist Roots of Fighting Obesity
Fat Is Not the Problem — Fat Stigma is
Wei M, Kampert JB, Barlow CE, Nichaman MZ, Gibbons LW, Paffenbarger RS Jr, Blair SN. Relationship between low cardiorespiratory fitness and mortality in normal-weight, overweight, and obese men. JAMA. 1999 Oct 27;282(16):1547-53. doi: 10.1001/jama.282.16.1547. PMID: 10546694.
Wildman RP, Muntner P, Reynolds K, McGinn AP, Rajpathak S, Wylie-Rosett J, Sowers MR. The obese without cardiometabolic risk factor clustering and the normal weight with cardiometabolic risk factor clustering: prevalence and correlates of 2 phenotypes among the US population (NHANES 1999-2004). Arch Intern Med. 2008 Aug 11;168(15):1617-24. doi: 10.1001/archinte.168.15.1617. PMID: 18695075.
Panza GA, Puhl RM, Taylor BA, Zaleski AL, Livingston J, Pescatello LS. Links between discrimination and cardiovascular health among socially stigmatized groups: A systematic review. PLoS One. 2019 Jun 10;14(6):e0217623. doi: 10.1371/journal.pone.0217623. PMID: 31181102; PMCID: PMC6557496.
Save 70% Off the AIP Lecture Series!
Learn everything you need to know about the Autoimmune Protocol to regain your health!
I am loving this AIP course and all the information I am receiving. The amount of work you have put into this is amazing and greatly, GREATLY, appreciated. Thank you so much. Taking this course gives me the knowledge I need to understand why my body is doing what it is doing and reinforces my determination to continue along this dietary path to heal it. Invaluable!

Carmen Maier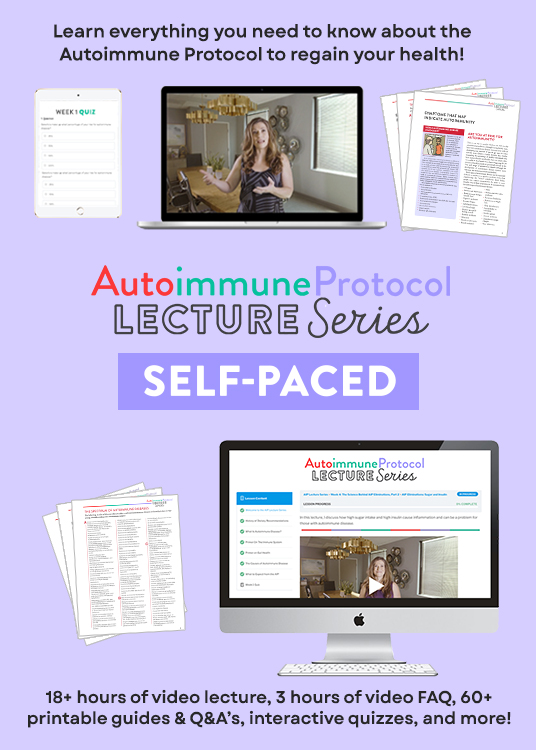 Tsenkova VK, Carr D, Schoeller DA, Ryff CD. Perceived weight discrimination amplifies the link between central adiposity and nondiabetic glycemic control (HbA1c). Ann Behav Med. 2011 Apr;41(2):243-51. doi: 10.1007/s12160-010-9238-9. PMID: 21136227; PMCID: PMC3082470.
Flegal KM, Kit BK, Orpana H, Graubard BI. Association of all-cause mortality with overweight and obesity using standard body mass index categories: a systematic review and meta-analysis. JAMA. 2013 Jan 2;309(1):71-82. doi: 10.1001/jama.2012.113905. PMID: 23280227; PMCID: PMC4855514.
Sutin AR, Stephan Y, Terracciano A. Weight Discrimination and Risk of Mortality. Psychol Sci. 2015 Nov;26(11):1803-11. doi: 10.1177/0956797615601103. Epub 2015 Sep 29. PMID: 26420442; PMCID: PMC4636946.
NCHHSTP Social Determinants of Health
Bacon L, Stern JS, Van Loan MD, Keim NL. Size acceptance and intuitive eating improve health for obese, female chronic dieters. J Am Diet Assoc. 2005 Jun;105(6):929-36. doi: 10.1016/j.jada.2005.03.011. PMID: 15942543.
Tylka TL, Annunziato RA, Burgard D, Daníelsdóttir S, Shuman E, Davis C, Calogero RM. The weight-inclusive versus weight-normative approach to health: evaluating the evidence for prioritizing well-being over weight loss. J Obes. 2014;2014:983495. doi: 10.1155/2014/983495. Epub 2014 Jul 23. PMID: 25147734; PMCID: PMC4132299.
,