In episode 497 of The Whole View podcast, Stacy and Dr. Sarah discuss the benefits of living an active lifestyle, the difference between moderate and vigorous intensity activity, the importance of movement breaks during the day, how much exercise to aim for each week, and new science showing even a few seconds of exercise has benefits.
If you enjoy the show, please review it on iTunes
Join Our Patreon!
Come join our Patreon family! You can support The Whole View podcast and hear what Dr. Sarah and Stacy really think about this topic in this week's exclusive and uncensored behind-the-scenes bonus audio. We love connecting with our Patrons! It's a direct line to submit your questions for upcoming shows, plus you also get access to some cool features like weekly bonus episodes and quarterly live video Q&As where you can ask Dr. Sarah and Stacy anything!
Recommended Reading and Listening
*NEW* Nutrivore Weekly Serving Matrix
An easy-to-use and flexible weekly checklist
to help you maximize nutrient-density.
The Weekly Serving Matrix is very helpful! I've been eating along these lines but this really helps me know where to focus vs. which foods serve a more secondary role. It's super helpful and has taken a lot of worry out of my meal planning. Thanks!

Jan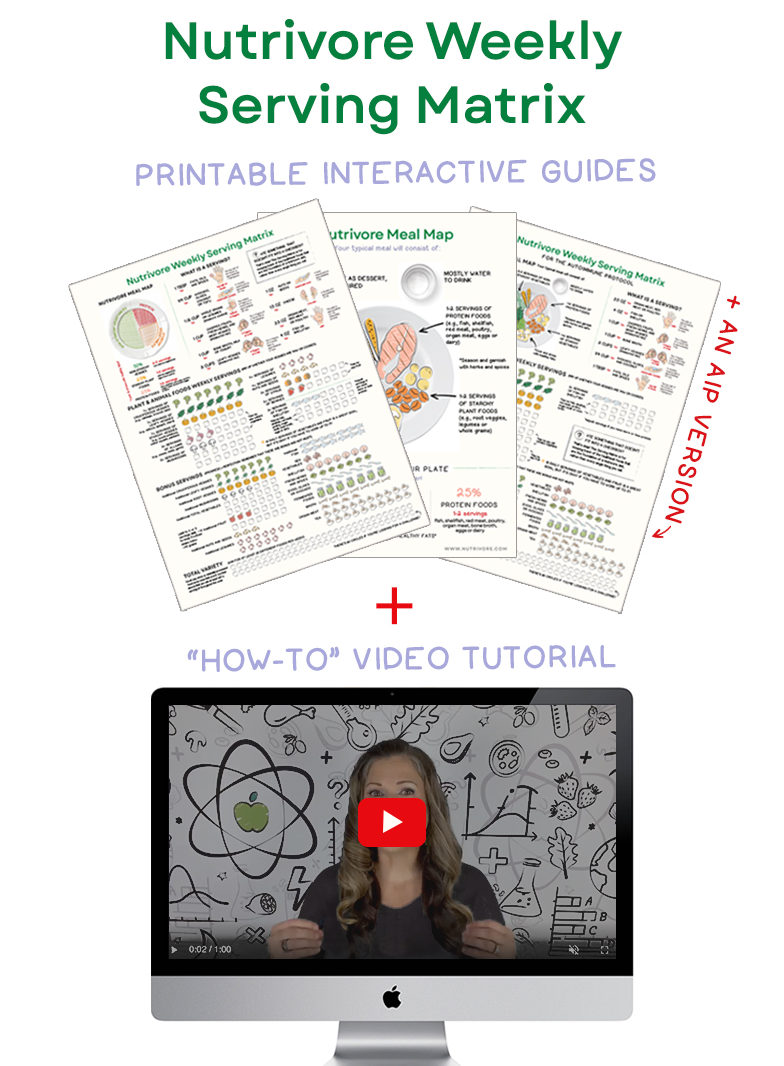 Citations
Sedentary Time and Its Association With Risk for Disease Incidence, Mortality, and Hospitalization in Adults: A Systematic Review and Meta-analysis: Annals of Internal Medicine: Vol 162, No 2
An Overview of Current Physical Activity Recommendations in Primary Care
Association of Sedentary Time with Mortality Independent of Moderate to Vigorous Physical Activity
The effect of physical activity on mortality and cardiovascular disease in 130 000 people from 17 high-income, middle-income, and low-income countries: the PURE study – The Lancet
Sprint exercise snacks: a novel approach to increase aerobic fitness | SpringerLink
Do stair climbing exercise "snacks" improve cardiorespiratory fitness?
Metabolic Effect of Breaking Up Prolonged Sitting with Stair… : Medicine & Science in Sports & Exercise
Breaking Up Prolonged Sitting Reduces Postprandial Glucose and Insulin Responses | Diabetes Care | American Diabetes Association
Effect of daily 3-s maximum voluntary isometric, concentric, or eccentric contraction on elbow flexor strength
How fast is fast enough? Walking cadence (steps/min) as a practical estimate of intensity in adults: a narrative review | British Journal of Sports Medicine
Walking vs running for hypertension, cholesterol, & diabetes risk reduction
Walking Versus Running for Hypertension, Cholesterol, and Diabetes Mellitus Risk Reduction | Arteriosclerosis, Thrombosis, and Vascular Biology
Take a walk, reduce your risk of suffering a stroke – Harvard Health
A 12‐Week Physical and Cognitive Exercise Program Can Improve Cognitive Function and Neural Efficiency in Community‐Dwelling Older Adults: A Randomized Controlled Trial – Nishiguchi – 2015 – Journal of the American Geriatrics Society – Wiley Online Library
Physical activity predicts gray matter volume in late adulthood | Neurology
A Systematic Review of the Relationship Between Physical Activity and Happiness | SpringerLink
Give Your Ideas Some Legs: The Positive Effect of Walking on Creative Thinking
Systematic review and meta-analysis of reduction in all-cause mortality from walking and cycling and shape of dose response relationship | International Journal of Behavioral Nutrition and Physical Activity | Full Text
Is Neck Posture Subgroup in Late Adolescence a Risk Factor for Persistent Neck Pain in Young Adults? A Prospective Study
Neck Posture Clusters and Their Association With Biopsychosocial Factors and Neck Pain in Australian Adolescents
Sitting spinal posture in adolescents differs between genders, but is not clearly related to neck/shoulder pain: an observational study
Is insufficient quantity and quality of sleep a risk factor for neck, shoulder and low back pain? A longitudinal study among adolescents
Neck and shoulder pains in relation to physical activity and sedentary activities in adolescence