One of the hallmarks of the Christmas season for me growing up was my mom's baking. Butter tarts, shortbreads, chocolate truffles, molasses toffee, and orange-cranberry bread were made nearly every year, and only at Christmastime. Sometimes the plate was enhanced with gourmet chocolates. In fact, I associate that plate of treats with Christmas just as strongly as I do fires in the fireplace, the smell of fir trees, and the sounds of carols. So, as an adult with my own kids now, I continue this holiday tradition, albeit now with Paleo-friendly and much lower sugar content treats.
If you share the Christmas baking nostalgia, I've rounded up some delicious recipes for you. Do some baking and make a plate of treats for your friends, family, and neighbors. I bet they won't even know these recipes are Paleo (and many of them AIP)!
From my kitchen
Maple Walnut Dark Chocolate Chunk Cookies
The Gut Health Guidebook!
The depth of information, practical tips, and the accessible way Dr. Sarah shows me how to apply complex science to improve my health is truly remarkable. -Wendy
The Gut Health Guidebook is the culmination of 6 years of research. This unprecedented deep dive into the gut microbiome delivers:
A new diet for gut health, built from the ground up

Essential gut microbiome superfoods

20 Keys to gut health
Get instant digital access for $27.99
Salted Hazelnut Dark Chocolate Bark
From the AIP Community
Christmas Cut Out Sugar Cookies
from Unbound Wellness
Christmas Mince Pies from Joanna Frankham
Maple Cranberry Orange Cookies from Gutsy by Nature
N'Oatmeal Raisin Cookies from Gutsy by Nature
Gingerbread Cookies and Frosting from Wendi's AIP Kitchen
Chewy Plantain Apple Cookies from Lichen Paleo, Loving AIP
Double Chocolate Cookies from Lichen Paleo, Loving AIP
Tigernut Flake Cookies from Lichen Paleo, Loving AIP
*NEW* The Gut Health Cookbook!
The Gut Health Cookbook is fantastic! Thank you for researching and creating The Gut Health Cookbook! Such wonderful recipes! I'm so excited to try them all! -Sue
The Gut Health Cookbook puts the 20 Keys to Gut Health into practice with:
180+ recipes featuring 61 gut health superfoods

Gut health food lists

Why's behind each gut health superfood
Get instant digital access for $27.99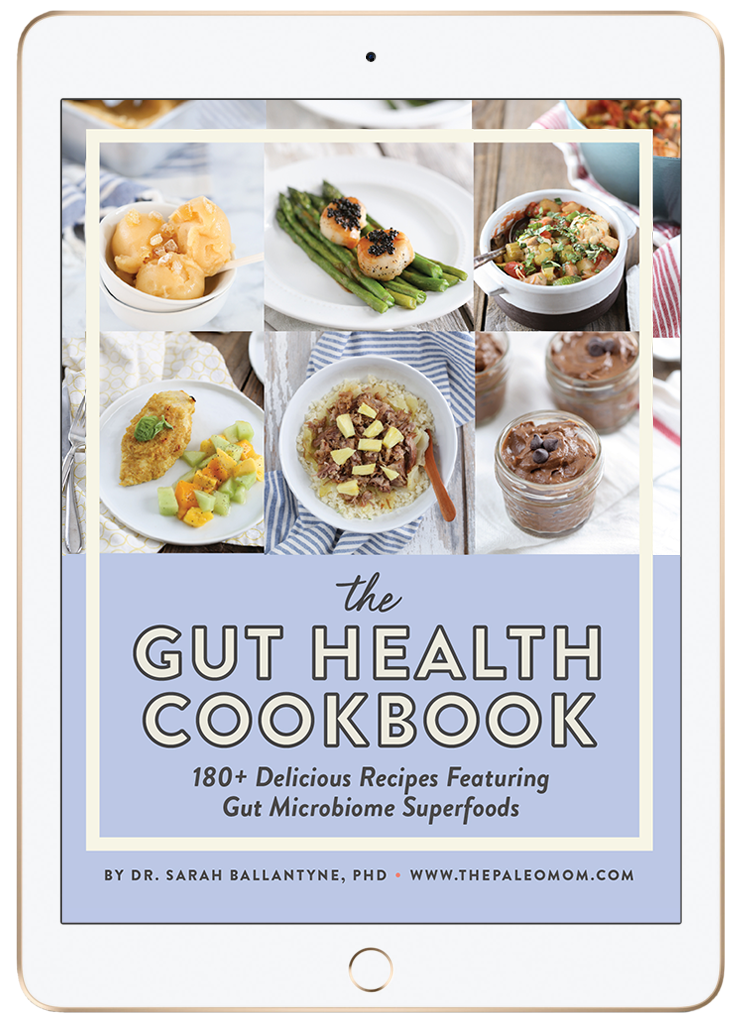 Black Forest Cake Cookies from It's All About AIP
Chocolate Tiger Nut Cookies from It's All About AIP
Gingerbread Cookies from It's All About AIP
Cranberry Orange Cookies from Grass Fed Salsa
Gingerbread Cookies from Grass Fed Salsa
Grapefruit Sandwich Cookies with Blueberry Preserves from Grass Fed Salsa