I've been wanting to create a treat with a maple and walnut flavor for a while (inspired by childhood memories of maple-walnut ice cream) and it's actually been a surprisingly long time since I've posted a cookie recipe. I think my thought process leading up to the development of this cookie recipes went something like this:
"Maple and walnut taste good together." "Cookies are yummy." "Chocolate is yummy too."
*NEW* The Gut Health Cookbook!
The Gut Health Cookbook is fantastic! Thank you for researching and creating The Gut Health Cookbook! Such wonderful recipes! I'm so excited to try them all! -Sue
The Gut Health Cookbook puts the 20 Keys to Gut Health into practice with:
180+ recipes featuring 61 gut health superfoods

Gut health food lists

Why's behind each gut health superfood
Get instant digital access for $27.99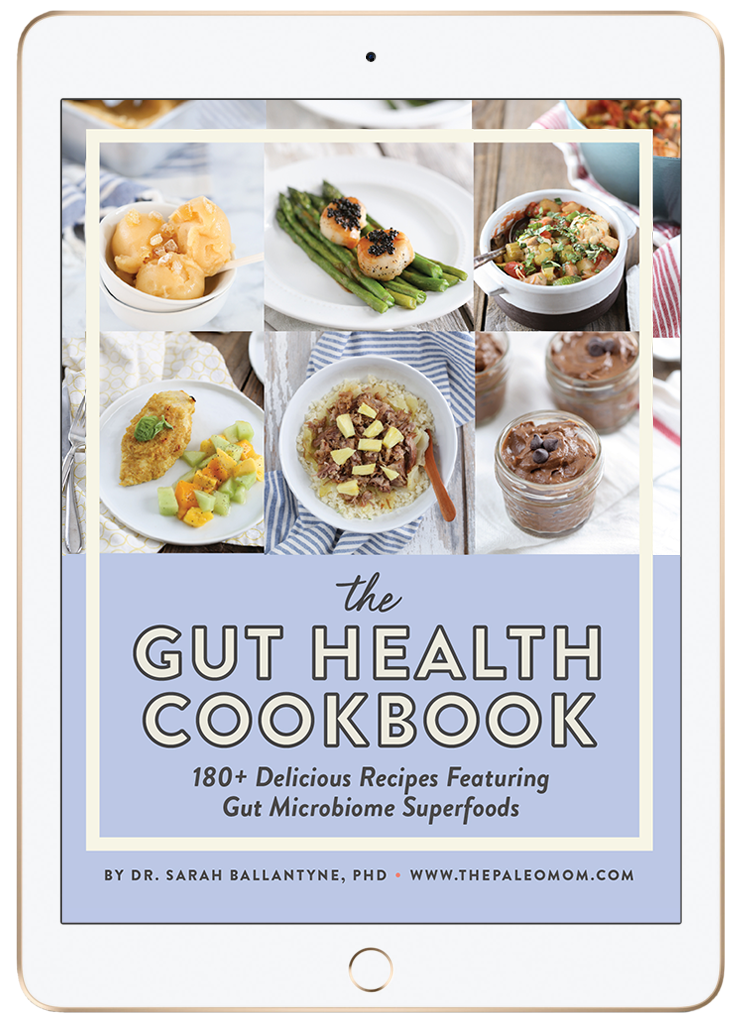 So, after a few iterations, playing with balancing flavors, I finally have an AMAZING cookie recipe to share with you! These cookies aren't too sweet, so if you wanted to make them for non-Paleo friends and family, you might prefer to use semisweet or bittersweet chocolate chunks instead. The chemistry is also fairly forgiving if you wanted to add an extra couple tablespoons of maple sugar (or if you want to dial down the sweetness and use a couple tablespoons less). If you want to try a nut-free version of these, I made one variation with sunflower seed flour (you'd also have to omit the walnuts, maybe sub with coconut flakes or shelled pumpkin seeds). The cookies turned the stereotypical dark green, but tasted really great. Sunflower seed flour can be purchased online but it's also super easy to make at home (see this recipe by Paleo Parents). Store in an airtight container, fine for a few days at room temperature or in the fridge if you're going to have them around longer than that. These cookies freeze also really well. Yield: 18-20 cookies
Ingredients:
Preheat oven to 350F.
Vigorously stir palm shortening, walnut oil and maple sugar in a bowl until well combined (or beat in a standing mixer). Add egg and again, stir enthusiastically to fully combine. Add vanilla.
Add dry ingredients (almond flour, salt, baking soda, and cinnamon). Stir to incorporate. Fold in chopped walnuts and chopped chocolate.
You can either drop rounded tablespoonfuls of dough onto the cookie sheet or you can form 1 1/2″ balls of dough (for a more uniform shaped cookie).
Bake 10 minutes. Let cool on cookie sheet. Enjoy!