This review was written by my assistant Christina.
---
In Paleo Grilling, Tony Federico and James Phelan take things totally primal by cooking food over an open flame! It features over 100 recipes for grilling and smoking meats—including beef, pork, poultry, wild game, offal, and seafood—as well as condiments, spice rubs, drinks, appetizers, sides, soups, salads, and desserts to accompany them. If you think grilling is all about burgers and hotdogs for a casual potluck meal, Tony and James will quickly cure you of that! With recipes like "Grilled Leg of Lamb with Pomegranate Tarragon Sauce" and "Grilled Ostrich Flank with Blackberry-Blood Orange Sauce", mouth-watering photos, and expert tips on grilling, they show that cooking over an open flame can provide a gourmet feast as well as a fun communal pastime. Not that there aren't plenty of casual burgers-and-hotdogs kinds of recipes, too!
As someone who lives in a small apartment on the third floor, I don't own a grill. In fact, before opening Paleo Grilling, I'd never grilled before (unless you count roasting marshmallows over a hot grill when I was a kid). At first I worried that I probably wasn't the best person to review this cookbook. But after reading the introductory material, I realized that this book is perfect for beginners! To get started, Tony and James go into some depth on the history of meat-eating and its role in mankind's evolution from caves to cubicles. They also discuss why and how to source quality meat and provide tips on shopping for a grill, how to set it up and select the best-quality fuel, an overview of tools you'll need (like a meat thermometer), and a primer on the various cuts of meat. They make it look easy, and provide resources to help you every step of the way.
The design is very simple, featuring color-coded chapters and gorgeous full-page photos for most (but not all) of the recipes. While not all of the recipes are listed up front in the table of contents, there is a complete recipe and ingredient index in the back. I decided to put together their Crisp Country Slaw as a classic barbecue side dish and trucked off to the crude communal grills at the park–a perfect setting for going primal!—to make the Grilled Lamb Liver Meatballs. I followed the meal up with the Chunky Chocolate Banana Pops.
Save 80% Off the Foundations of Health
Expand your health knowledge on a wide range of topics relevant to you, from how to evaluate scientific studies, to therapeutic diet and lifestyle, to leaky gut and gut microbiome health, to sustainable weight loss, and much more!!!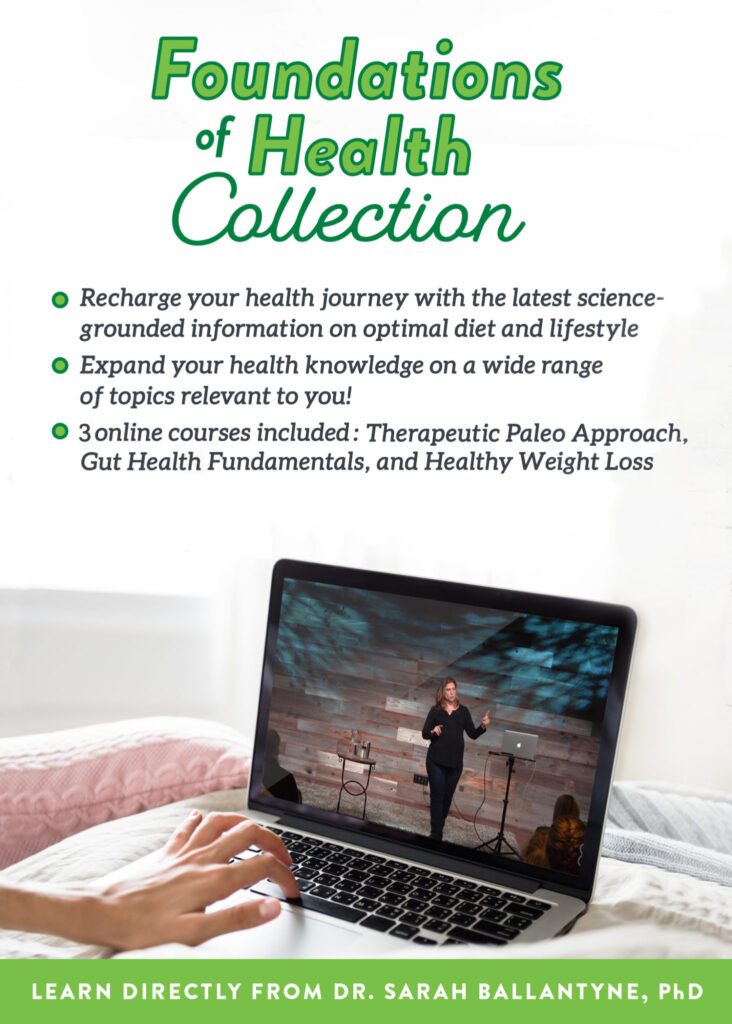 I think we all know that liver tends to be one of those "love it or hate it" kinds of things, but recipes like Sarah's 50/50/50 Burgers mixing meat with liver make it far more palatable and are my favorite way to enjoy offal of any kind. The Grilled Lamb Liver Meatballs in Paleo Grilling are in the same vein, with a rich seasoning of cumin, paprika, salt, and pepper to give your taste buds plenty to think about. The mild-flavored Crisp Country Slaw was the perfect accompaniment to the nutty, spicy meatballs (and was even better the next day). And when it comes to easy, perfect-for-summer desserts, it doesn't get much better than frozen bananas coated in dark chocolate and crumbled bacon! Considering how simple they were to make, the combination of bittersweet chocolate, salty bacon, and soft banana felt decadent. They melt fast in the heat, but what's a picnic without a few sticky fingers?
Paleo Grilling might as well just be called "Grilling". It's the perfect book for anyone new to grilling or whose grilling is stuck in a rut, whether Paleo or not. It's got a huge variety of recipes for classic, casual, international, and gourmet dishes. There are sides and desserts for every occasion. And with a little tweaking to omit nightshades or seed-based spices, many of the recipes can be adapted for the autoimmune protocol. Best of all, grilling turns cooking into a big communal event, encouraging a little more fun, socialization, and relaxation! What's not to love about good food with friends and family?