This review was written by my assistant Christina.
---
Juli Bauer's Paleo Cookbook poses the question "Why eat crap food? Better yet, why eat healthy food that doesn't taste good?" and then answers it with over 100 exciting, feel-good Paleo recipes. Juli embraces the Paleo diet in the context of our modern world, using whole foods and healthier ingredients for both nutrient-dense family-friendly meals and decadent, special-occasion treats that will make you forget all about all that non-Paleo food you might feel like you're missing out on.
Juli is delightful. Her blog and books are always full of good cheer, sass, and accessible real talk. Cooking with Juli is like hanging out with your girlfriends, guaranteed to get at least one good laugh out of you. Where I tend to skip a lot of the introductory material and blurbs in most cookbooks (I mean, we are here to cook, aren't we?), I found myself craving more of Juli's cute little quips. Juli shares her history with disordered eating and body image issues and how finding Paleo wasn't an overnight thing… but was a thing that completely changed her life for the better. She's been at this for five years now, and her experience, expertise, and optimism show in every one of her creative, flavorful recipes. Plus, she'll give you a low-down on all the kitchen and pantry staples you'll need to get started. Even if you've already started Paleo, you might pick up some helpful tips, like batch cooking ahead of time, snacking smart, and keeping your chin up on days you might have eaten something you shouldn't and would be tempted to feel like you failed. Juli gets it. She doesn't hold herself or anyone else to an impossible standard. So we shouldn't, either.
And Juli's recipes should not only make it easier to make healthier choices, but a lot more fun. Juli Bauer's Paleo Cookbook features over 100 mouth-watering, gorgeously-photographed recipes, including Coconut Lavender Pistachio Mini Donuts, Dirty Chai Chocolate Muffins, Loaded Ranch Chicken Salad Wraps, Moo Shu Pork, Pulled Pork Salad with Tomatillo Ranch Dressing, Slow Cooker Short Rib Tostadas, Layered Flourless Chocolate Cake, Samoa Cupcakes, and Frozen Mango Margaritas. And those are just the ones that had me thinking "OMG I gotta have this right now". There are so, so many more that would liven up any kitchen, Paleo or not. And did I mention the gorgeous photography? (I know I did.) Juli's friends Bill and Hayley of Primal Palate stepped in to provide their crisp, clean styling for this beautiful, coffee table-worthy book. The design is light and cheerful, full of pastel colors and pretty script. Just flipping through the pages will have you feeling happier (and hungrier). Juli's fun commentary is the icing on the cake.
Save 80% Off the Foundations of Health
Expand your health knowledge on a wide range of topics relevant to you, from how to evaluate scientific studies, to therapeutic diet and lifestyle, to leaky gut and gut microbiome health, to sustainable weight loss, and much more!!!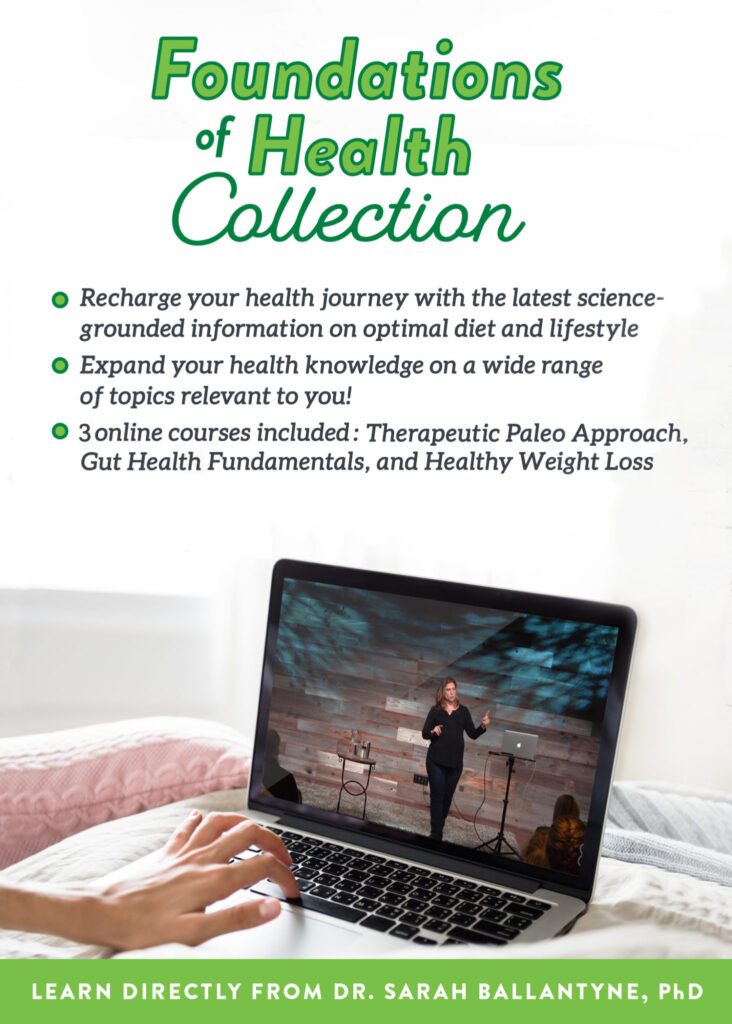 Juli's baked goods are always so creative. I could have easily just made recipes from the breakfast chapter and still had a really well-rounded review because there's so much variety to choose from. But for creativity, there was a clear standout among them. The Mini Cinnamon Pancake Bake combines two classic breakfast foods… pancakes and French toast. Now, I usually don't make recipes that involve having to make another recipe first (in this case, the pancakes). But both recipes are so simple you won't even feel like you're making two. Once the pancakes are done, all you have to do is whip up the French toast batter, pour it over the pancakes, and pop everything into the oven. This may look like a decadent treat, but all the sweetness comes from any maple syrup you might serve it with. The Mini Cinnamon Pancakes have a mild coconut flavor with a hint of cinnamon and a very bread-like texture, making them the perfect vessel for fruit, preserves, or the classic butter and syrup toppings. The French toast-inspired bake is a little on the eggy side, since it doesn't contain any added sugar either. But top it with the sauce of butter and maple sugar, plus maple syrup to taste, and magic happens.
Juli's Buffalo Chicken Casserole is a mix of spaghetti squash, ground chicken cooked with a variety of vegetables and spices, and a sauce of mayonnaise and hot sauce. Now, my fiancee hates spaghetti squash. He groans every time he sees I've bought one. He just doesn't like the stringy texture or mild flavor. He'll eat it, but he won't be happy about it. So when I saw this recipe in Juli's book–Juli loves to use squash!–I knew I had to run an experiment. Would the power of spicy buffalo sauce and a ton of flavor from the chicken, veggies, and seasonings make a spaghetti squash dish my fiancee would be happy to eat? I had high hopes, because he loves spicy foods. And the answer was a resounding yes. "Now that's how you cook spaghetti squash," he kept telling me, as if I've been doing it wrong all these years. And while the casserole was a little too spicy for me (I think I've mentioned in previous reviews that my tastebuds are complete wimps), I will happily be making this again and again just to have him happily eating squash. And the recipe is simple enough that I could easily make a second casserole with about half the hot sauce… just for me!
The "Peanut Butter" and Jelly Cups are pure genius. I mean, why didn't anyone think of this sooner? Creamy, salty sunflower butter combines with Juli's sweet-and-tart Raspberry-Strawberry Jam in a dark chocolate cup. Like everyone's favorite peanut butter-and-chocolate Halloween candy had a baby with everyone's favorite peanut butter-and-jelly lunchbox staple. Juli provides the option of adding honey to the sunflower butter for a bit of sweetness, but I advise against it. The preserves have a bit of sweetness of their own and with the two combined together, I found ours to be a little too rich. The recipe takes about fifteen minutes and makes nine cups that keep very well in the freezer or fridge. I'd double the recipe so you can have a stash on hand any time you crave something chocolatey, salty, and berry-y!
Juli writes in the intro that there are two kinds of people in the world: Those who collect cookbooks and those who cook from them incessantly. Like Juli, I'm a collector. I usually make a handful of dishes and then proudly display my books on a shelf, rarely to be opened again. Usually. But as good as Juli Bauer's Paleo Cookbook would look on my shelf, it has earned its place in my kitchen. I hope that in ten years it will be lovingly grease-stained and flour-dusted, some pages water-crinkled or earmarked like the decades-old cookbooks my grandma still cooks out of. Gorgeous design and photography, creative, delicious recipes, and uplifting, laugh-worthy commentary from Juli combine to make Juli Bauer's Paleo Cookbook one of my favorite cookbooks of the year. And that's saying a lot, because this has been a really fantastic year for Paleo cookbooks!