I had cilantro in my fridge. I'm one of those lucky people who loves cilantro (aka coriander leaf) and every food traditionally seasoned with it. I was reading more about the genetic predisposition to love or hate cilantro (does anyone merely like or dislike it?), and found myself geeking out over the link (great article here). Apparently, even if you think cilantro tastes like soap, you can grow to like it. A collection of genes each contribute to how cilantro is perceived. One gene controls whether we recognize a specific aroma in cilantro that we associate with soap. Two other genes control how we taste bitter foods. And a last gene controls how we detect pungency in foods, like in wasabe. But, each of these is a a small effect. And, people can train themselves to appreciate the subjective magnificence that is cilantro by regularly consuming it. But, I digress.
Where was I? Oh yes, I had cilantro in my fridge. And company was coming. And I was in a creative mood. I started thinking about all my favorite cilantro-laden foods: guacamole, fruit salsa, pico de gallo, Thai flavors, and ceviche. And then I had one of those typically horrible ideas: what if I combine all of the above?
*NEW* The Gut Health Cookbook!
The Gut Health Cookbook is fantastic! Thank you for researching and creating The Gut Health Cookbook! Such wonderful recipes! I'm so excited to try them all! -Sue
The Gut Health Cookbook puts the 20 Keys to Gut Health into practice with:
180+ recipes featuring 61 gut health superfoods

Gut health food lists

Why's behind each gut health superfood
Get instant digital access for $27.99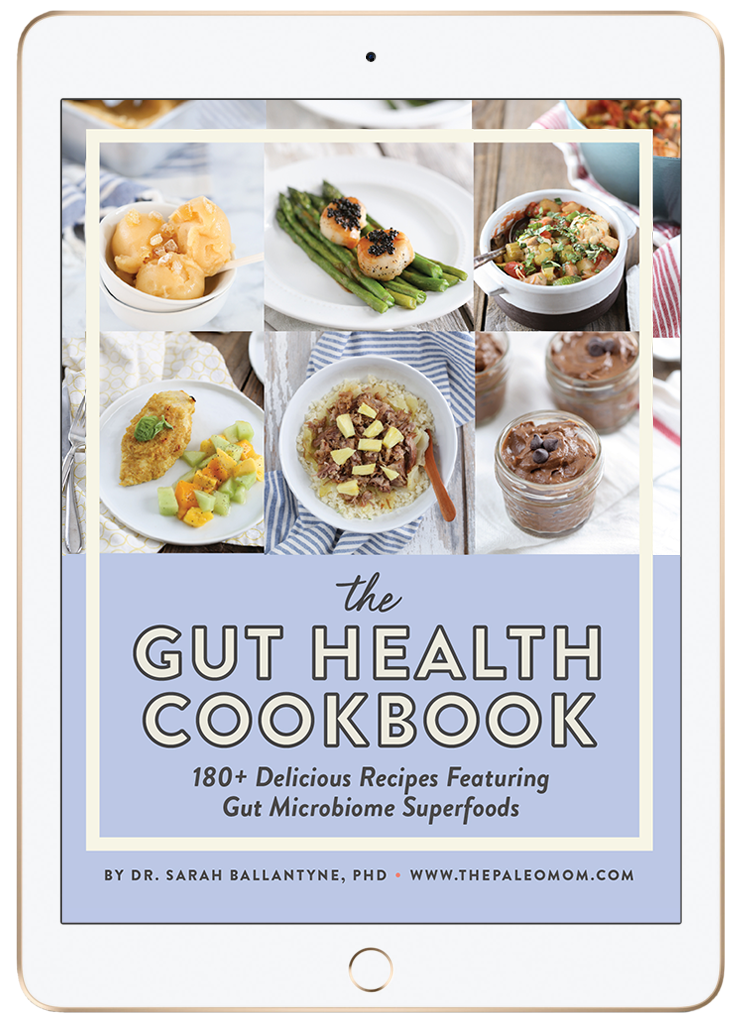 Normally, combining too many different flavors into one dish is doomed to failure. But, since I've experimented with various pairings of the above inspirational dishes, I felt like going all in was likely going to work. And boy, did it work! The first time I made this, I found myself trying to get a little bit of shrimp, a little bit of avocado, and a little bit of mango onto each forkful, just so I could get all three flavors all at once (drenched in the limey-umami-filled cilantro dressing, of course). But something was missing. And I completely randomly announced to my company "this needs fennel".
I was right. Adding shaved fennel bulb lent this salad a much needed crunchy texture, but it also contributed a perfect flavor to bring all the other competing flavors together. I don't know how I knew that fennel was the missing ingredient, but I'm glad I did. This is quite possibly the best dinner salad I've ever eaten (leftovers were pretty amazing for lunch too!).
Bonus: this recipe just happens to be entirely autoimmune protocol friendly!
Serves: 2-3
Prep time: 20-30 minutes
Cook time: none (as long as you're using pre-cooked shrimp)
The Ultimate Support for Your AIP Journey!
Dr. Sarah Ballantyne has delivered an exceptional course and I highly recommend this to anyone looking to improve their health. There is something for everyone. It was extremely helpful and worth the investment. -Marie Schlichtig
The AIP Lecture Series is the ultimate Autoimmune Protocol educational experience! Learn directly from Dr. Sarah!
6-week online course
42 on-demand video lectures
dozens of printable guides
self-discovery exercises and action steps
online forum and guided discussions
support and guidance from Dr. Sarah Ballantyne!
The next session begins January 18th, 2021.
(Use code AIPLS85 to save $85 and get bonus access to the Gut Health Fundamentals online course!)
Ingredients:
Combine cilantro, lime juice, olive oil, and fish sauce in a bowl or measuring cup. Set aside.
Toss shrimp, fennel, mango and onion in a bowl.
Drizzle dressing over the salad and toss to completely coat.
Add diced avocado and gently toss to incorporate. If you're making this salad ahead of time, keep the avocado separate and add just before eating.
Enjoy!