This salmon is my family's current favorite. The day a few weeks ago that I, on a whim, decided to throw a little truffle salt over our salmon fillets before broiling was inspired. The flavor is amazing. Before this, I had only used truffle salt with red meat (which is more classic). If you wanted to use a little Himalayan sea salt and pepper in lieu of the truffle salt you could, but know that once you try truffle salt, you'll start adding it to everything! And this salmon is so good, that we've had it twice a week for the past three weeks!
This sauce is inspired by the standard sauce that my mom made every time we had salmon growing up (because I grew up on the West Coast of Canada, salmon was cheaper than most other meats so we ate it a lot). My mom's sauce, which we called caper sauce growing up, was simply made by mixing capers with mayonnaise (and sometimes some fresh herbs were added too). This of course requires making some Paleo-friendly mayonnaise, but the good news is that since I posted my original recipe for it, I have discovered a much easier, faster, and fool-proof way to make it (thanks to a couple of commentors on the original post!). I've included both sets of directions here.
*NEW* The Gut Health Cookbook!
The Gut Health Cookbook is fantastic! Thank you for researching and creating The Gut Health Cookbook! Such wonderful recipes! I'm so excited to try them all! -Sue
The Gut Health Cookbook puts the 20 Keys to Gut Health into practice with:
180+ recipes featuring 61 gut health superfoods

Gut health food lists

Why's behind each gut health superfood
Get instant digital access for $27.99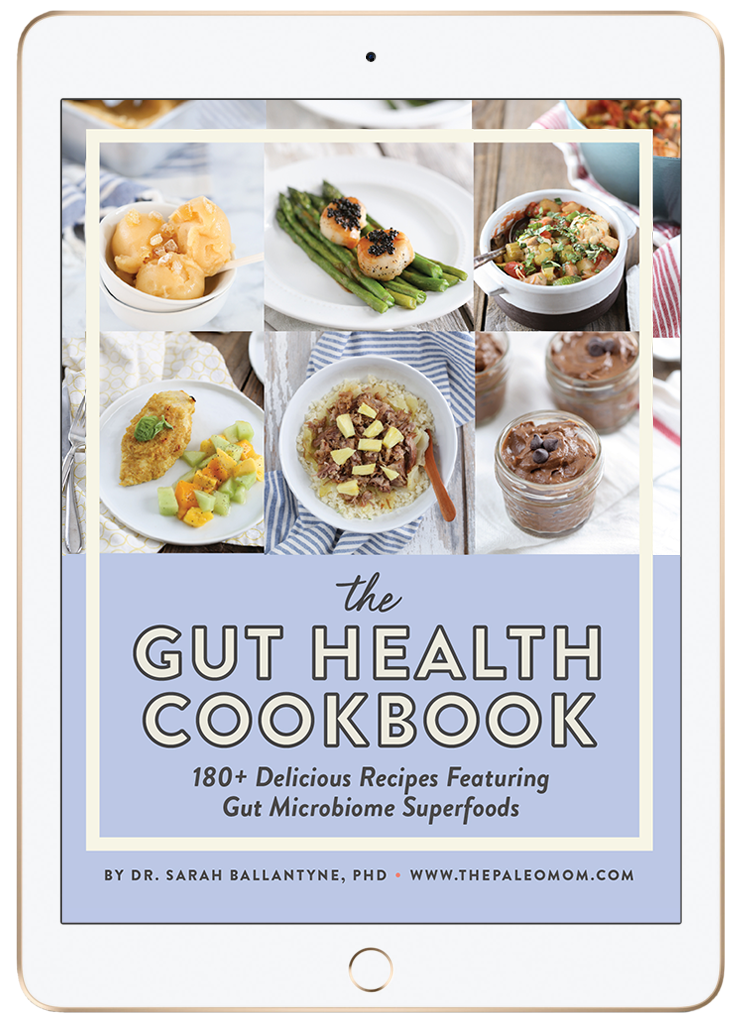 This recipe is AIP-friendly if you have successfully reintroduced egg yolks and mustard. If not, the salmon is actually extremely delicious on its own, so you can skip the sauce (or mix dill and capers with some mashed avocado and lemon juice for something similar).
Serves 4.
Ingredients (Paleo Mayo):
The fast way:
The Ultimate Support for Your AIP Journey!
Dr. Sarah Ballantyne has delivered an exceptional course and I highly recommend this to anyone looking to improve their health. There is something for everyone. It was extremely helpful and worth the investment. -Marie Schlichtig
The AIP Lecture Series is the ultimate Autoimmune Protocol educational experience! Learn directly from Dr. Sarah!
6-week online course
42 on-demand video lectures
dozens of printable guides
self-discovery exercises and action steps
online forum and guided discussions
support and guidance from Dr. Sarah Ballantyne!
The next session begins January 18th, 2021.
Register now to get bonus instant access to the Gut Health Fundamentals online course!
You'll need an immersion blender and the blender cup (sometimes called a milk shake cup) that it comes with. Make sure your ingredients are at room temperature.
Place lemon juice, vinegar, egg yolks, and mustard at the bottom of the immersion blender cup. Place the immersion blender in the cup (don't turn it on). Pour avocado and olive oil into the cup (around the immersion blender).
Turn on high and slowly lift the immersion blender up out of the cup (take 10-15 seconds or so). You now have mayonnaise!
The original way:
Combine olive oil and avocado oil in a measuring cup (or other good vessel for controlled pouring).
Place lemon juice, vinegar, mustard and egg yolks in food processor or blender. Process until creamy (maybe 15 seconds?). You can also do this by hand with a whisk.
With blender or food processor still running, VERY slowly dribble in the oil (think of it taking at least 3 minutes to add in all of the oil). It should stay thick and gradually get lighter and lighter (and look more and more like mayonnaise) as you add the oil. (If you do this by hand with a whisk, it will probably take closer to 5 minutes to incorporate all of the oil)
I typically like to pour out my mayonnaise into a bowl and whip it by hand with a whisk at the end just to make sure all the oil is well incorporated (if you have a really good food processor, you probably won't need to do this). You now have Paleo mayo!!!
Ingredients (Dill Caper Sauce):
1/2 cup mayonnaise (about half your batch unless you want to double the recipe)
2-3 Tbsp capers (if they are large, you'll want to give them a bit of a chop), to taste
3 Tbsp chopped fresh dill
Combine all ingredients and store in the fridge until you are ready to serve!
Ingredients (Truffle Salt and Thyme Broiled Salmon):
Place a rack high up in the oven so that the surface of the salmon will be 6-8″ away from the top element. Turn broiler on high (let it preheat about 10 minutes before putting the salmon in the oven).
To make clean-up easier, place a sheet of tin foil in a rimmed baking sheet. Coat with avocado oil (or other high smoke point oil). Place salmon fillets skin side down on the avocado oil-coated tin foil.
Sprinkle with truffle salt (a little goes a long way) and fresh thyme.
Broil for 8-9 minutes until fully cooked (when segments flake apart easily and salmon is opaque throughout). Serve with dill caper sauce!