In this episode, Monica shares the best Paleo View moments of the last year, as voted on by the listeners.
As we celebrate this podcast-iversary, we want to take a moment to thank all of you who left reviews on iTunes, submitted questions, and tuned in weekly to be a part of this show. We greatly appreciate your support and are looking forward to to sharing all that is in store in the upcoming year!
The AIP Lecture Series
RETIREMENT SALE! SAVE 70% OFF!
I am loving this AIP course and all the information I am receiving. The amount of work you have put into this is amazing and greatly, GREATLY, appreciated. Thank you so much. Taking this course gives me the knowledge I need to understand why my body is doing what it is doing and reinforces my determination to continue along this dietary path to heal it. Invaluable!

Carmen Maier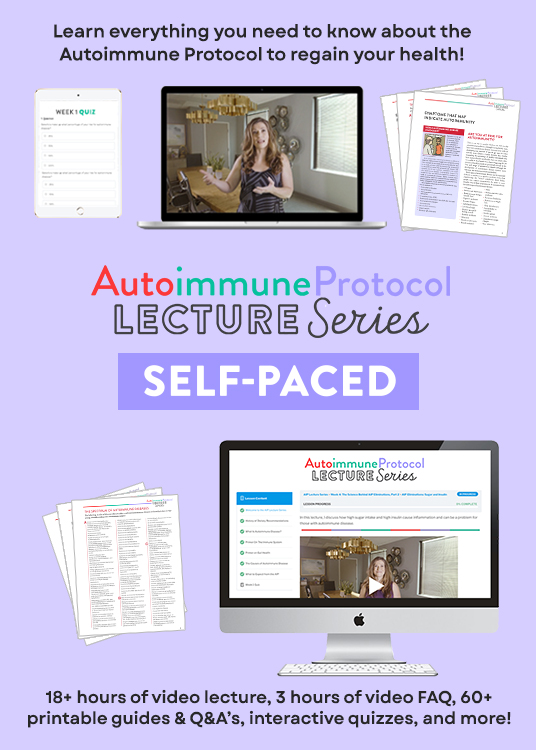 To access all 51 episodes audio downloads and show notes, please visit the archives section of our site.
Listen in iTunes
or download and listen by clicking the PodBean player below
We're now on Stitcher!
If you enjoy the show, please review it in iTunes!
*NEW* Nutrivore Weekly Serving Matrix
An easy-to-use and flexible weekly checklist
to help you maximize nutrient-density.
The Weekly Serving Matrix is very helpful! I've been eating along these lines but this really helps me know where to focus vs. which foods serve a more secondary role. It's super helpful and has taken a lot of worry out of my meal planning. Thanks!

Jan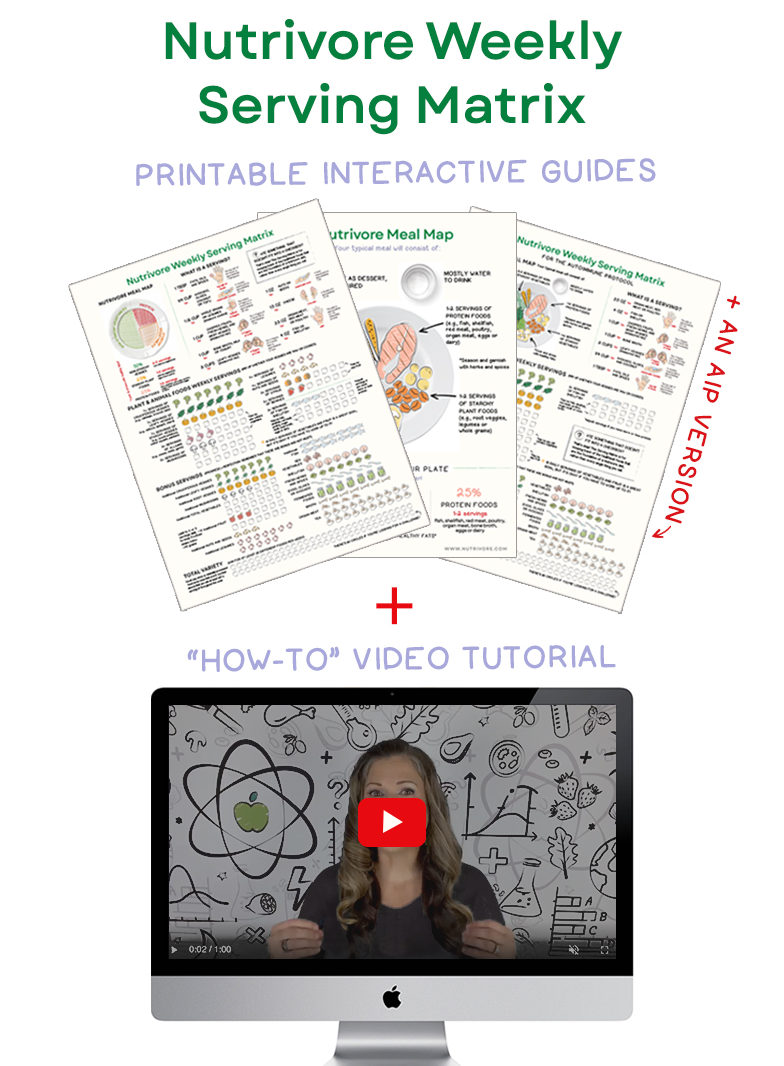 The Paleo View (TPV), Ep 52: The One Year Anniversary, Best Of Show
0:00 – Introduction
1:19 – News & Views

Hello from Monica, this week's host!

3:35 – Science with Sarah

Episode 2, Autoimmune protocol – overview
(33:07) Episode 17, Paleo 101 – the 'why'

40:56 – Q&A

(41:09) Episode 17, Paleo 101 – Paleo perfectionism
(47:29) Episode 3, Transitioning kids to Paleo – developing kid friendly menus
(56:40) Episode 1, Paleo kids in school – how to pack a Paleo lunch and feel confident about their unique meals
(01:10:34) Episode 11, What's up with dairy – what to serve at meals instead of milk
(01:27:38) Episode 43, Eating disorders – how to identify an eating disorder
(01:45:45) Episode 47, Exercise – Prancercise & self love
(02:00:58) Episode 4, Breastfeeding – why breastmilk is the perfect first food to grow your baby

02:35:38 – Outro