On this episode of The Paleo View, Stacy and Sarah chat about an intriguing article on the Metabolic Effects of the Biggest Loser and how the results found relates to others as they work to lose weight.
*NEW* Nutrivore Weekly Serving Matrix
An easy-to-use and flexible weekly checklist
to help you maximize nutrient-density.
The Weekly Serving Matrix is very helpful! I've been eating along these lines but this really helps me know where to focus vs. which foods serve a more secondary role. It's super helpful and has taken a lot of worry out of my meal planning. Thanks!

Jan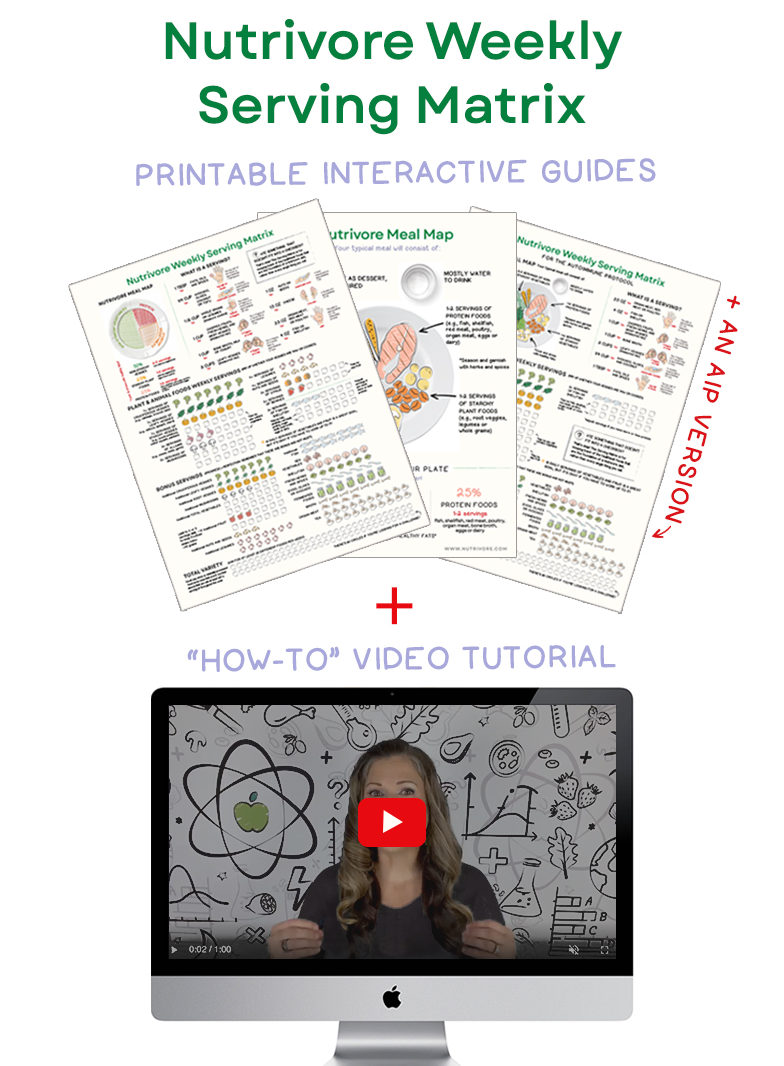 Listen in iTunes
If you enjoy the show, please review it in iTunes!
The Paleo View (TPV), Episode 110: Leptin
Intro (0:00)
News and Views (0:56)

Real Life Paleo is at the printer – so Stacy is doing awesome!
Stacy is in a wonderful mood and had a wonderful weekend, that included apple picking, a family BBQ, and Russ's going away party
Whole Life Challenge, and how perfect apple sauce is for a treat
Matt and Stacy's home gym is coming along
The hot-tub addition to Matt and Stacy's house
Sarah's latest book signings in Texas, and time with her photographer friend
Sarah has been so impressed with how receptive and engaged fans have been at the signings and the number of books they are purchasing

Leptin (24:35)

The article Stacy shared with Sarah: Metabolic Effects of the Biggest Loser
How the study can be applied to intermittent fasting/low-carb approach
Sarah shard on the two papers about the Biggest Loser
The point of weight-loss, and what happens when we lose weight in a way that lowers metabolic rate and leptin – how this all connects to sex hormones
Insulin and leptin talk on previous episode
Sarah talked about leptin sensitivity and resistance
The happy balance you want to find
The harm that dramatic weight-loss strategies cause
Stacy's hope to lose fat and what these studies tell her about the work she is doing

Weight-Loss Resistance (53:28)

Sarah always looks at sleep quality and quantity when folks have stalled weight-loss – stress is the second variable that she looks at
With the help of testing, Sarah also looks at adrenal function, thyroid function, sex hormone levels, overall inflammation, and nutrient deficiencies
Healing with diet and lifestyle
Working with a functional medicine specialist or a integrative medicine doctor

The 1.7 million downloads that The Paleo View has received, and a special celebration at 2 million download
Leave a comment on what would be special and fun to celebrate the 2 million downloads mark
Stacy needs help naming the home gym – send in your suggestions! If someone comes up with the home gym name, we will send you one of our new lifting themed shirts
Sarah met one of the Strongwoman Radio fans while in Texas
Sarah's love for hugging
Outro (1:07:32)