My first iteration of these burgers was to spruce up ground bison. The bison I had was quite gamey, and I was looking for a seasoning to complement the meat and the tone down the gamey flavor. My kids and husband love curry, so it seemed like a good choice.
At a loss for what to serve with curry-spiced burgers, I cooked up a pound of bacon (bacon goes with everything, right?), made some sweet potato French Fries (a recipe in The Paleo Approach Cookbook which my kids both adore), and served them with a side salad and some steamed broccoli. We all quickly discovered just how delightful the flavor combination was. So on round two of these burgers, in addition to a few spice tweaks, I decided to formalize the relationship between curry-spiced ground meat, bacon and sweet potato. The result is these magical burgers of joy.
*NEW* The Gut Health Cookbook!
The Gut Health Cookbook is fantastic! Thank you for researching and creating The Gut Health Cookbook! Such wonderful recipes! I'm so excited to try them all! -Sue
The Gut Health Cookbook puts the 20 Keys to Gut Health into practice with:
180+ recipes featuring 61 gut health superfoods

Gut health food lists

Why's behind each gut health superfood
Get instant digital access for $27.99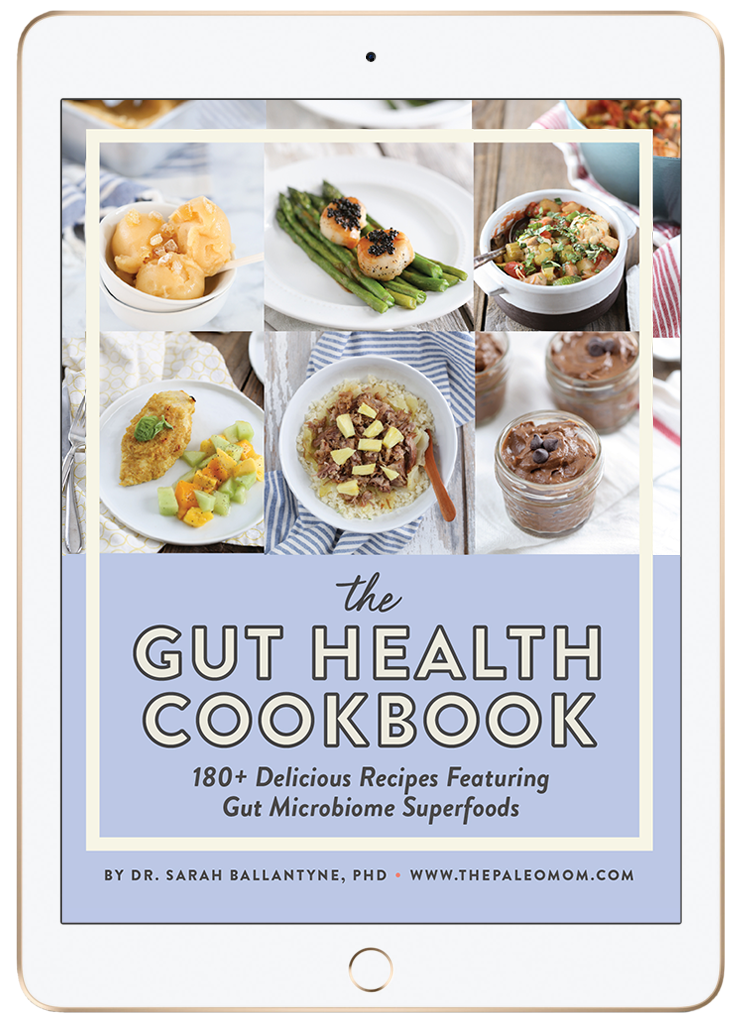 These Curry Burgers are also nightshade-free. If you have reintroduced seed-based spices after following the autoimmune protocol, this recipe is a great choice! If you don't have any issues with nightshades (I'm jealous!!!), feel free to substitute all the seasonings except salt and pepper with your favorite curry powder. Also feel free to add a little cayenne for some added heat.
I thought these burgers were especially nice beside some peppery greens. Try them with arugula, mustard greens, or cress.
As an alternative to these sweet potato "buns", you could also make my Nut-Free Sesame Hamburger Buns.
Yield: 8 servings
Prep time: 15 minutes
Cook time: 25-30 minutes
The Ultimate Support for Your AIP Journey!
Dr. Sarah Ballantyne has delivered an exceptional course and I highly recommend this to anyone looking to improve their health. There is something for everyone. It was extremely helpful and worth the investment. -Marie Schlichtig
The AIP Lecture Series is the ultimate Autoimmune Protocol educational experience! Learn directly from Dr. Sarah!
6-week online course
42 on-demand video lectures
dozens of printable guides
self-discovery exercises and action steps
online forum and guided discussions
support and guidance from Dr. Sarah Ballantyne!
The next session begins January 18th, 2021.
(Use code AIPLS85 to save $85 and get bonus access to the Gut Health Fundamentals online course!)
Ingredients (burgers):
Ingredients ("buns"):
Preheat oven to 375F. Make sure you have two racks in the oven, spaced at least a few inches apart and both in the middle of the oven.
Place a metal cooling rack inside a rimmed baking sheet. You'll need a second baking sheet for the sweet potato "buns".
For the burgers, combine the ground beef with all of the seasonings. Mix with your hands until evenly distributed. At this point, you can cover and refrigerate your meat until ready to cook if you want to do some prep work ahead of time (I think it tastes better if you do this, but it isn't necessary).
Form 8 patties with the meat (these will be about 6oz each). Wrap 2 slices of bacon (3 if your bacon slices are narrow) and place on the rack on your baking sheet. You don't need to skewer the bacon, just fold the ends under the patties so they stay put. Repeat until all of your patties are wrapped.
Peel your sweet potatoes, and slice 1/2″-thick rounds. Place on a baking sheet and toss liberally with oil/fat (if using a solid fat like butter, melt before tossing).
Place both baking sheets in the oven. Bake 25-30 minutes. At the 15-minute mark, pull out the sweet potatoes and flip each one (no need to flip the burgers). Bake until sweet potatoes are lightly browned (probably closer to 25 minutes depending on their exact size) and burgers are cook to 160F internal temperature and the bacon is an appetizing brown color (probably closer to 30 minutes, depending on their exact size).
To serve, place a bacon-wrapped curry burger between two sweet potato rounds, or "buns" (if you don't have enough sweet potato rounds, just serve your burgers open-faced. If you want, you can wrap the whole kit 'n' caboodle in a lettuce wrap too (makes it easier to eat with your hands). Enjoy!