On this episode of The Paleo View, Stacy and Sarah are joined by Alaena from Grazed and Enthused and Jamie from Gutsy by Nature to celebrate the release of The Paleo Approach Cookbook, and to chat about all the delicious awesomeness that is found in this book!
*NEW* Nutrivore Weekly Serving Matrix
An easy-to-use and flexible weekly checklist
to help you maximize nutrient-density.
The Weekly Serving Matrix is very helpful! I've been eating along these lines but this really helps me know where to focus vs. which foods serve a more secondary role. It's super helpful and has taken a lot of worry out of my meal planning. Thanks!

Jan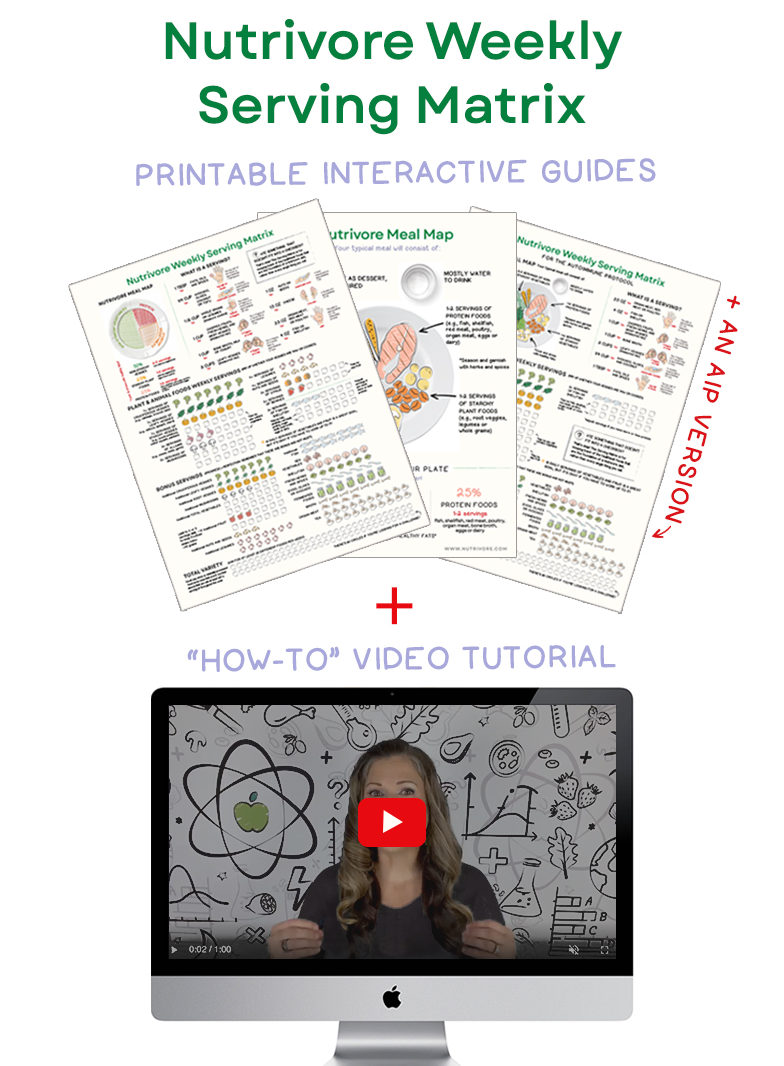 Listen in iTunes
If you enjoy the show, please review it in iTunes!
The Paleo View (TPV), Episode 106: The Paleo Approach Cookbook
Intro (0:00)
News and Views (0:56)

Thoughts from episode 105 with Mark Sisson, the show with possibly the best bloopers ever
The Paleo Approach Cookbook is about to be released to the world and this week's show is all about celebrating the excitement of Sarah's book baby number 2!
Sarah reflected on her excitement for reaching this point of the book release process and where her health is at
Welcome this week's guests:
Stacy shared on her latest competition

Tied for first and won her ticket to nationals
Stacy will share more on the experience on Strong Woman Radio

The Paleo Approach Cookbook (15:44)

Stacy's review
Check #ThePaleoApproachCookbook hashtag to see what recipes people are loving
Sarah's mission when creating the recipes for this cookbook
The value of nutrient dense meal plans
The benefit of the cookbook for those who are new to the autoimmune protocol
Sarah's inspiration
Special thank you to this week's guests – be sure to check out their sites Grazed and Enthused and Gutsy by Nature

Don't forget to leave those reviews in iTunes and to shop in the links in the sidebars for our favorite products!

Outro (59:14)