After struggling for many years with autoimmune disease, Danielle Walker took her health into her own hands and took up a Paleo lifestyle. For years, her blog Against All Grain has illustrated that healthy grain-free living doesn't have to be complicated or lacking in flavor with simple, creative recipes. Her gorgeous photos and real, accessible writing make her blog one of the best in the Paleo community. Her new book Meals Made Simple showcases her talents beautifully.
In the spirit of easy weeknight cooking, Meals Made Simple features an 8-week dinner meal plan with shopping lists, quick meals, and make-ahead meals (or meals utilizing leftovers) to save time and energy. The introductory material also includes tips for budgeting, stocking the pantry, nutrition, suggestions for using leftovers, and we haven't even gotten to the best part yet! The cookbook boasts over 100 recipes (with nutrition facts!) offering a wide variety of cuisines and flavors, from gourmet greats to comfort classics. Barbecue Salmon with Peach Salsa, Chicken and Rice Casserole, and Breakfast Burritos? Yes, please! There are also many delectable treats for last-minute celebrations. And Danielle's photos are absolutely mouthwatering. This book is pure eye candy. I had a really hard time picking just three to make for this review!
The Shirred Eggs with Ham (top) are a beautiful, quick, and easy breakfast or brunch. Who doesn't love eggs and ham? Serve them over some braised greens for a complete meal, or use one of Sarah's biscuits for a delicious egg and ham sandwich!
The Jicama Apple Bacon Slaw (center) has a light, crisp flavor and texture well-suited to warm-weather barbecues and potlucks. For those of you that don't know what jicama is, it's a wonderful, starchy veggie that has the texture of an apple and a mild, sweet flavor. The closest comparison in flavor I can think of is cucumber. I found that my slaw got a little dry after spending a day in the fridge, so plan on either eating it the day of or making extra dressing to revitalize it.
Save 80% Off the Foundations of Health
Expand your health knowledge on a wide range of topics relevant to you, from how to evaluate scientific studies, to therapeutic diet and lifestyle, to leaky gut and gut microbiome health, to sustainable weight loss, and much more!!!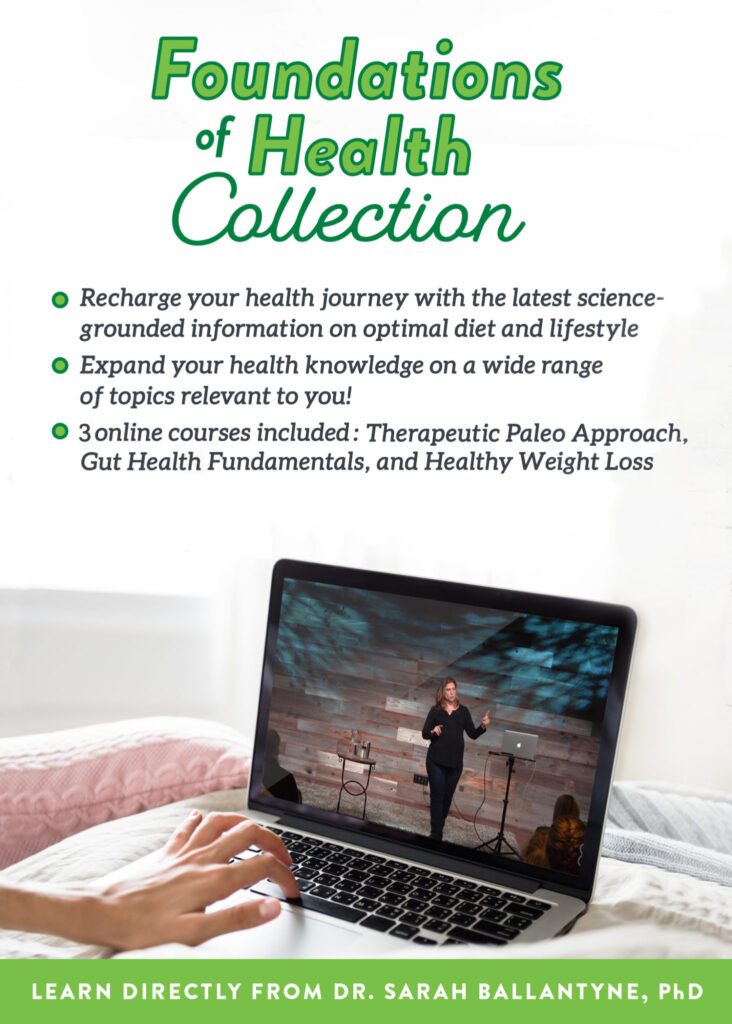 The Pepperoni Pizza Pasta (bottom) is incredible! The recipe calls for either Parmesan cheese or nutritional yeast, but I can't eat either one, so I left them out. The flavor was absolutely spot-on and the recipe was quick to throw together. It's also a great way to sneak some kale into your diet!
Danielle's recipes are simply fantastic. You just can't go wrong, and her emphasis on effortless (okay, near-effortless) dishes that pack a lot of flavor and nutrition makes this book an excellent resource for anyone who wants to eat well but just doesn't have the time or energy for anything elaborate. And with so many kid-friendly options, it's the perfect book for busy moms!
Meals Made Simple releases September 2 and is currently available for pre-order.